Are you searching for a college video editing app?? Well, here I am going to share the best video editor & maker for your Android smartphone. In the content creation age, You really need a video editor to edit videos or combine photos and add music.
These videos editor are very important for day-to-day life because if you want to edit your recorded video then there is a required Video editing App on your smartphone. You may also like to see the top Screen Recorder app for your mobile.
In our colleges or school, we always record some video and after that want to make it more beautiful or want to some text in it. Then we require some video editing apps for it. Even these video editing apps also help us to make motivational or inspirational videos. That's why today we are sharing some Video editing applications.
List of Best Video Editors for Android
You can install any one of the given below video editing apps and can enjoy your videos in a unique manner.
#1. VideoShow Editor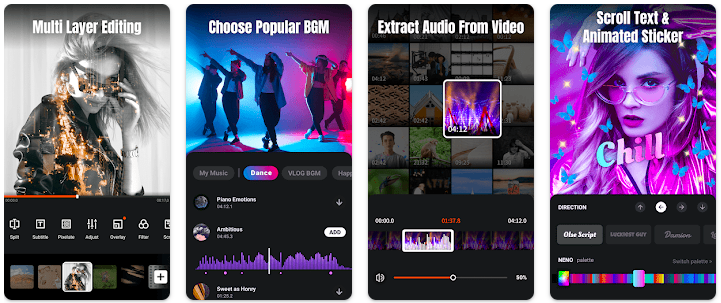 The video show app is another famous video editor app as similar to Filmora app. This app is also known as a Moviemaker. It is having 120 million users in the world so it's become the topmost video maker app in the world. This app has no duration limitation. We can use this app as a video clips editor, Photo Video Editor, Background Music editor & useful tools (cut, trim, compress, convert, shoot video, etc.) and have a lot of original effects to add to the video.
Also Read : Top 5 Best Photo Editing Apps for Andorid (Offline)
---
#2. Funimate Video Editor & Maker
Funimate is a wonderful video editing app for editing videos on your phone. Experts are saying that girls like this app more than boys because it is known as Fun App. Lots of people who use Funimate make really cool video edits without any trouble.
You can use Funimate to make really cool fan edits or make your freestyle videos even more exciting by adding special things like smooth transitions between clips, animations that you make yourself, cool effects for your video and text, and different filters to change how your video looks.
Also Read : Top 5 Best Video Calling App for Android Mobile
---
#3. Filmora – Video Editor & Maker
Filmora App is a famous Video editor app for Android mobiles. You should install this app if you really want to edit video magically. It's a complete all-in-one video editor app. This video editing App is also famous for desktop PC. It means that we can also install it on our Laptop or PC. One important point is that its basic version is free for everyone but if you want to enjoy some advanced features of this app then you have to pay some money for it.
Also Read : Top 5 GIF Maker for Your Android Smartphone (Make Animated Image)
---
#4. Splice – Video Editor & Maker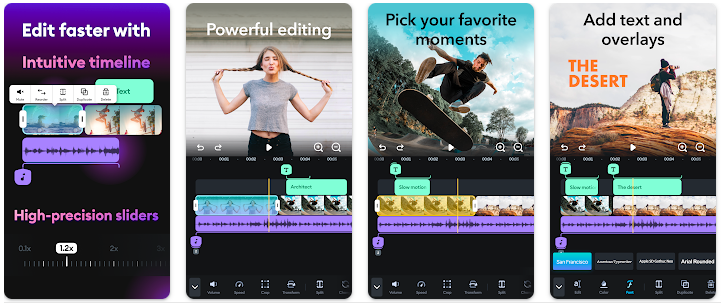 Splice is for creators like you who want to make their videos go viral with amazing effects. It's super simple to use, and you can create your own awesome masterpiece right from your phone. You can do professional-level desktop editing on your mobile. Here you can cut and trim video clips, change the speed, and slideshows, and add your favorite music.
Also Read : Top 5 Instagram Photos/Videos Downloader App for Android Mobile
---
#5. AndroVid Video Editor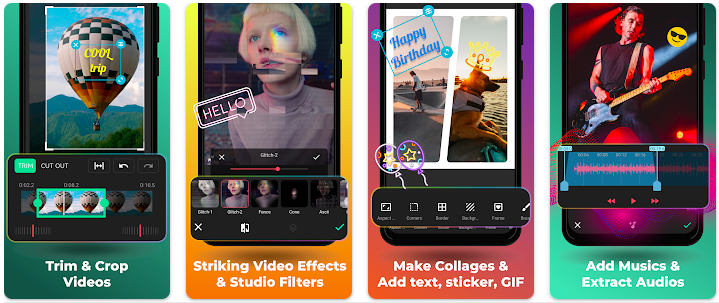 With the help of the Androvid App, we can easily cut our recorded video and make a small and beautiful featured video. We can also add slow as well as fast motion in our videos with the help of this App. It means that our recorded videos are really going to be excellent videos. If you do not want to add more effects to your video then a basic version of this App is good for you otherwise you have to pay some money for it.
Also Read : Top 5 Slideshow Maker App for Android (With Photo & Music)
Conclusion
So these are the list of best video editing apps. I hope you enjoyed this video editor app that also helps with the photo-video editor. Please let us know your experience with these video maker apps and also comment if you are using any other video editor app on your smartphone.