Here are Music streaming apps. There was a time when listening to new song needed lots of research in the market of music cassettes and compact disks. Then time changed and the digital era begins where you can easily download any of your favourite songs through the internet instantly. You may like to know which is the best contact manager app in the play store.
A whole library can be stored in the small memory device called SD card. But the advancement never stops so the latest method to listen songs is music streaming apps. These apps require an internet connection to stream music from across the entire world.
These applications are very useful because you can get every kind of song on a single platform without doing any further research. These apps are available for almost every smartphone platform such as Android, iOS or windows. Just enter the name of the song and it will provide you all possible search result within few seconds.
Also, it doesn't require a high-speed internet connection because audio files are less heavy as compare to videos. There is no need to store songs in bulk in your phone or PC storage unit without listening to them, just stream whenever you want. All the music streaming apps on the internet are not reliable so a list of best applications is mentioned here.
Best Music Streaming Apps
Below are high rated online music streaming apps for the smartphone. You may like to see best video streaming apps to talk anyone face to face.
#1. SoundCloud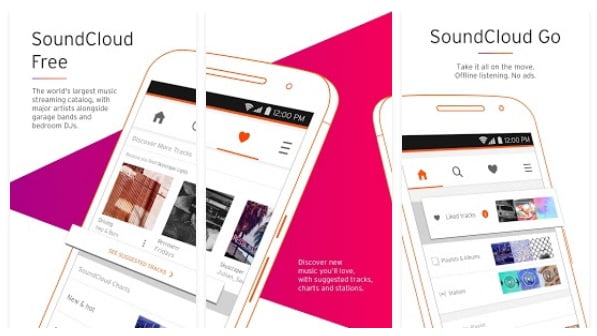 The sound cloud for online music streaming is one of the most reliable and popular apps among regular internet users. You can use it as streaming application on your smartphone, as well as it is also accessible through the official website in the desktop.
To use the services of SoundCloud, you need to signup first of all with a valid mail id or through your Facebook account. Once the account has been created, you are free to access unlimited songs by just entering the name in search box. Also, you will get options to organize the soundtracks according to the artist name or album. As being a registered user, you are also authorized to upload the audio file directly from memory device to internet. The forward seeking feature of this app is very interesting and useful tool.
Also Read: Top 5 Best Video Editing Apps For Android
#2. Pandora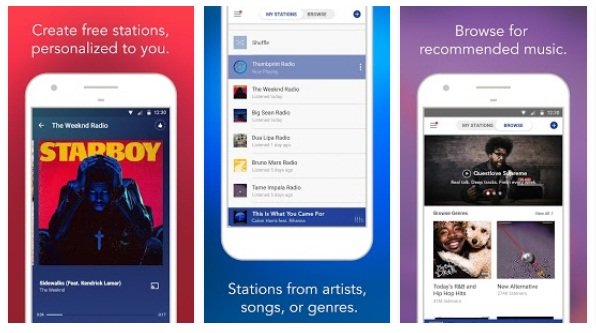 Pandora is a widely used application by interned users to create your own radio stations. You can upload songs in a playlist or listen to the songs of other's genre section by just entering the name of artist or album.
The first step to use this music streaming app is signing in for the creation of a new account. Once the account has been created, you can create your own playlist by uploading new songs, edit the station, edit the shuffle and delete the station. There is also a sharing feature provided an app to share any specific song through various social media applications.
#3. Slacker radio
Slacker Radio application of music streaming comes in both paid and free versions to browse music online. It contains hundreds of music stations which provide free access to every kind of music. The free version comes with various advertisements that may interrupt you while listening. Also, you can skip only 6 songs in an hour with the free version.
To avail the full features, it is suggested to subscribe for the premium version of slacker radio app. You can download the application of slacker for Android, iOS, and Windows operating systems from their official website for free of cost.
Also Read: Top 5 Best Download Manager Apps for Android (FREE)
#4. Spotify
The name of Spotify comes in the list of modern music streaming apps which are very rich in features. You can get more than 30 million song tracks while using Spotify in your smartphone or through the desktop. It contains a large variety of audio tracks from old to latest ones. So if you are an old music lover, then Spotify is also useful for you.
You may signup through mail id or simply connect the app to the facebook account to gain instant access. It is available as both free and paid format. The free version of Spotify contains advertisements, which can be removed in the premium version.
Also Read: Top 5 Best Quote Maker apps for Android
#5. Deezer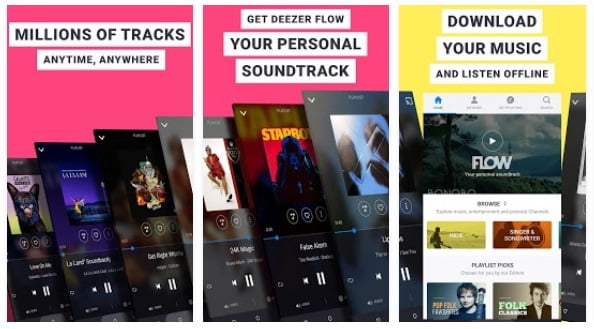 Deezer can be used as a music player to play downloaded songs as well as stream audio files through internet. It has a crystal clear and user-friendly interface to perform various functions. You can easily search music by entering the name of artists or albums in the search box.
This is one of the music streaming apps which are capable of displaying music lyrics along playing tracks. You can also listen to the live radio stations by spending just a little amount of data. If the advertisements coming during streaming interrupts you, simply switch to its premium version.
Conclusion
So these are free/paid online music streaming apps. I hope you are enjoying these streaming app. If you are using any other streaming app then let us know in the comment below.
And don't forget to share this article with your friends.