Do you want to make quotes from your Android mobile? Here are the five free quote maker applications for your Android device that help you to create quotes images without the internet. You can also be quotes creators professional with these apps.
Actually, Quotes are the best way to deliver a meaningful message but writing them is not attractive as Image quotes. It connects your sole with each other. Quote text is boring so why not? Use the quote maker apps and generate your text into inspirational or meme quote images without paying anything and with no copyright.
Here we have selected quotes-making apps that can provide you with some unique and stylish features. These applications which we have mentioned below are the most appreciated by thousands of other Quotes creators. Just have a look at the list and if you have any doubts then do let us know in the comments down below. If we won't interact we won't help.  One more thing I want to tell you is that these Quote Makers for Android are best for you if you are looking to make a professional profile on social sites like Facebook, Instagram, and others.
List of Quote Textual Image Creator Apps
With the help of the below apps, you can create quotes images for your Instagram account and you can upload them freely. So let's see the quote creator for your Android mobile.
#1. YourQuote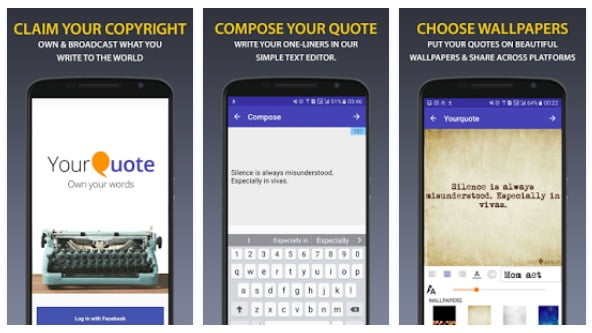 YourQuote is the very first application that can transform you from a writer to an artist. This fantastic app can make your simple sentences more attractive and meaningful. You just have to write your beautiful creation. With the help of this application, you can insert images behind your text.
Its interface is very user-friendly. This application is not only for quotes, but you can also use it to write jokes or a small letter. If you are a professional writer and you create your original quotes, then the YourQuote app would be helpful for you to get a copyright claim. Once you have created a copyrighted quote, you can make it searchable on Google.
Features of Yourquotes:
Get inspired with a huge collection of quotes.
Design your own quote images easily.
Share quotes instantly on social media.
Discover trending and popular content.
Connect with your favorite writers.
Also Read : Top 5 Best Photo Editing Apps for Android (Offline)
---
#2. Kwote
Kwote is another app that allows you to create some decent quotes. You need not worry about your simple text, as you have the support of the Kwote app that can help you generate inspirational sayings. In this application, you will find hundreds of customization tools that allow you to design your quotes according to your preferences. Around 5 million people are using this app, and they have rated it 4 out of 5. Unlike the YourQuote app, this one doesn't provide copyright claims.
Features of Kwote:
Select from ready backgrounds or your gallery.
Customize background with favorite colors and gradients.
Choose words from a diverse Quotes Library.
Customize words with color, fonts, and alignment.
Also Read : Top 5 GIF Maker for Your Android Smartphone (Make Animated Image)
---
#3. TextGram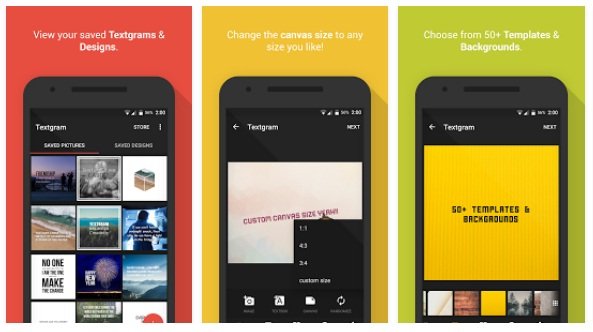 Textgram is a stunning application that allows you to create cool quote pictures. It enables you to write on top of different images and mold your beautiful thoughts in such a way that they will be appreciated by the audience. TextGramApp does include in-app purchases. If you want to create custom quotes, you can buy some paid backgrounds. Give them a chance to serve you at least once.
Features of TextGram:
Add text easily to your photos.
Multiple text layers with easy editing.
Move, scale, rotate, edit, copy, and delete text with handles.
Format tool for fonts, alignment, size, bold, and italic.
Access a store for elements and beautiful fonts.
Rotate, flip, and edit photos before adding text.
Also Read : Top 5 Slideshow Maker App for Android (With Photo & Music)
---
#4. Quotes creator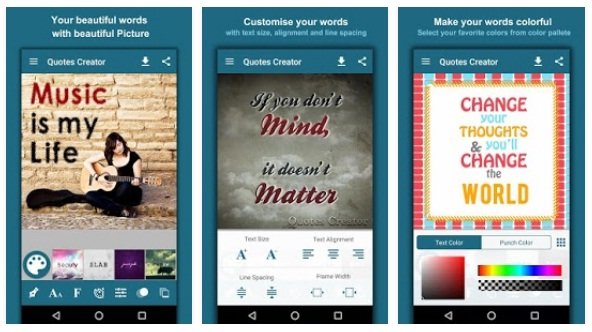 Quotes Creator is a great app with a simple interface that allows you to express your creative words in a very pleasant way. Once anyone has an eye on it, they will not forget it easily. The tools provided by the developer are pretty decent, offering a good platform for users to create attractive quotes and earn respect and fame. Quotes Creator App is not limited to quote creations only; users can also share some good sentences with their friends by placing those sentences on any picture.
---
#5. Quote Creator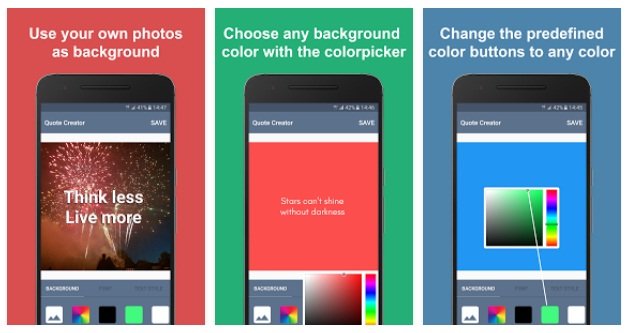 The last app, but not least, can help you create inspirational quotes, sayings, and poems. Users can convert their own thoughts into sayings and quotes that will look professional to viewers, thanks to the tools provided in this app. Moreover, it is a lightweight application that won't be a burden for your device. Deep thinkers need not waste their stunning thoughts by posting them with a white background; they can write their ideas on attractive backgrounds.
---
Conclusion
If you are worried about the above-mentioned app then trust us. We have checked them and they are trusted apps. All the apps are available in the Play Store and can be easily downloaded. We won't recommend you download the APK files of the quote creator mod from the external app providers as those files might harm your device.
These were the best Quotes creator apps that we have hand-picked for you. Look how much we care for our readers, so don't forget to like our Facebook Page and also share this quote creator app list with your friends on Social Media.