Are you looking for a GIF animation maker and GIF editor for your Android mobile? Then this post is for you. Here I'm going to share five apps to make funny GIF images from videos or photos on your smartphone.
GIF, a few of you might not be so familiar with this word. No worries, we are here to help you to figure out what actually Gif means and why are they so popular these days. After giving a brief explanation of the above topics, we will be providing you best GIF Maker app for your Android device.
First of all, let's understand what actually, Gif is. Basically, Gif is an animated loop that is very popular on the web nowadays. If you have watched a tiny movie scene then it was a Gif, my friend. Gif stands for Graphics Interchange Format. These are created with the help of a bunch of images that you need to upload.  If you have written on a trending topic and you want to make it popular soon then adding a Gif could be a marketing strategy. The addition of GIFs could make your content viral easily.
Many Content marketers use this as a promotional tool. Although for some normal social platform users, Gif plays a vital role. Sharing a cool Gif will create a good image in front of others. If you have shared a Gif then, people will get to know how much simplicity you have in your Nature. Gif is used to invite someone to an event. Maximum companies are using Gifs to express the happiness of their clients and some are using Gifs to represent their Brands.
Sometimes it is not easy to write on a sensitive topic and to show your anger, you can place a Gif there. Gif usually has a hidden message, since these are attractive and everybody will get the message easily. We have selected some Gif makers who are the best in their class and will serve you the best. So, let's begin with a GIF generator to create gif images.
List of Best GIF Makers for Smartphones
The below apps are useful to make your own gif images. You can convert your video to gif images through the below apps. Let's see the gif generator for Android free.
#1. GIF Maker, GIF Editor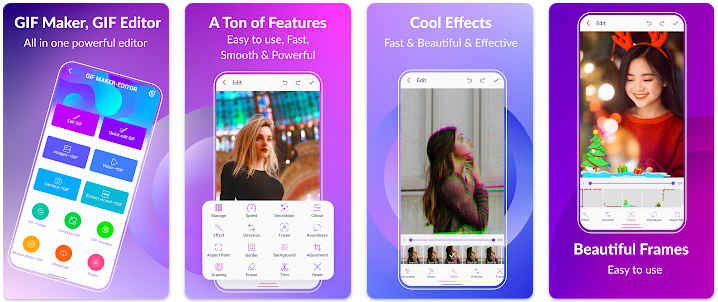 GIF Maker app is a pretty good Gif Creator and is very light to use. With the help of this application, you can emerge Photos and Videos in a single Gif. If you want to convert a Live stream into a Gif then, Gif Creator is the best application to use. In terms of rating, it is capable of getting 4.7 stars, thanks to its live video to Gif converter.
Also Read: Top 5 Best Video Editing Apps For Android Smartphone
---
#2. Gif Me! Camera – GIF maker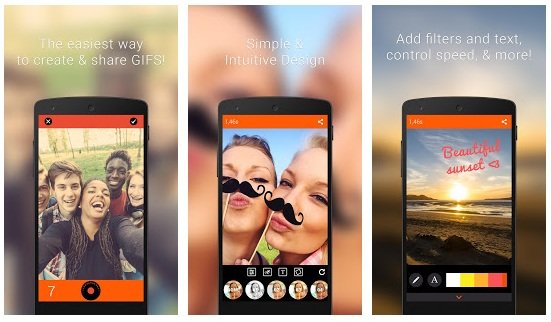 Our very first participant and a very popular Gif maker. Gif Me! Is the best tool to create a Gif or to animate a Gif. There are several features offered by Gif Me! The main feature is that you will not get any Watermarks that the maximum of the Gif makers gives. This stunning application has the option by which you can email the Gif which you have created.
It is having the support of some Real-time filters which can enhance your hard work. If you want, you can create a time-lapse and you have access to stop Motion in the Gif. If we compile all these points, then Gif Me! is among one of the best applications to create Gifs of your own choice.
Also Read: Top 5 Funny Apps for Android User (Jokes/Images/Videos)
---
#3. GIF Maker – GIF Editor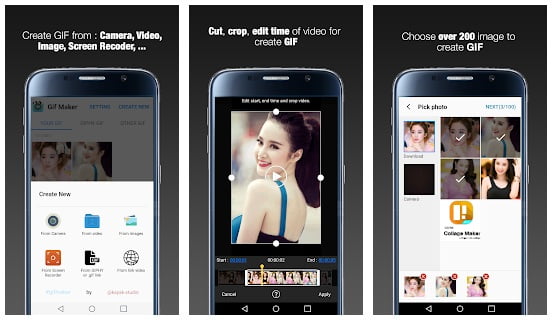 Another Gif creator and an editor. This time, a less popular but more appreciated Gif creator. This application had a 4.1-star rating and has more than 5 million downloads. This application will provide you with some customization tools that will help you create a more attractive Gif. It gives you a tool to Trim the video and a tool to crop the video screens. Along with this, you will be getting more than 100 stickers which will no doubt help you to create impressive GiF.
Also Read: Top 5 Slideshow Maker App for Android (With Photo & Music)
---
#4. Video2me – GIF Maker & Editor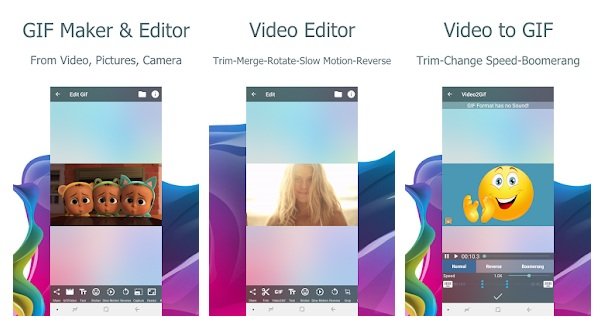 Video2me is a Music app, Video Player, and Gif maker. It's an all-in-one solution for your desires. There are some features such as you can add text to the Gif, you can trim the size and can crop the Gif screens. As it is a converter app too, so you have the privilege to convert a video into Gif or vice versa. In terms of ratings, this Application has 4.5 overall stars.
Also Read: Top 5 Best Free VPN Apps Download for Android Device
---
#5. PicsArt Animator: Gif & Video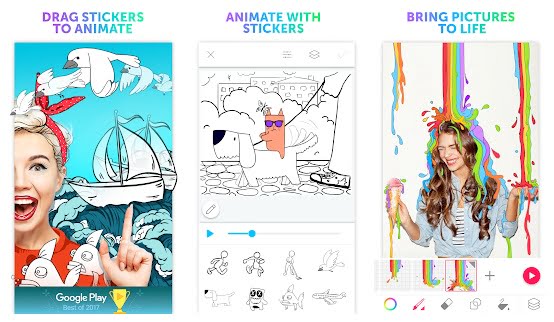 Creating Animations is very easy if you are having the PicsArt Animator app installed on your Smartphone. You can make cartoon animations and tiny GIFs with a single click. There are several unique frames that will help you to make GIFs more interesting. This application has the ability that it can replace the track with your recorded voice n any video or Gif. If we talk about its ratings then, PicsArt Animator is having a 4.2-star rating, which is quite decent.
Conclusion
These were GIF makers from videos or photos. I always used to make funny gif images to upload on my funny Facebook page. It's really amazing experience with the above give makers.
I hope you also liked our GIF maker list. So I would like to know which one is the best gif maker for you. If you are using any other gif animation maker then let us know in the comment section. And also please share this list with your friends on Facebook, Twitter, and WhatsApp.