Today I am very excited to bring very interesting apps that will make you laugh. If you like Funny Jokes, Videos, and Photos then this post is for you. In these top 5 apps, I will share the Funniest android apps that will entertain you with lots of funny jokes. In the technology era, We are busy surfing the internet and we have no time to watch funny shows.
As you know laughter is the best medicine. There are lots of meme websites in the world. Do you know Android is one of the widely used mobile platforms? So People are demanding Android apps instead of browsing websites. That's why I thought why not? make lists of funny apps for Android. Now let's see the funny application to install on your Android smartphone.
Best Funny Apps for Smartphones
Now start your day with fun apps. The below Funny apps are able to make you laugh without paying anything. Have a look Best funniest Android apps.
#1. 9GAG – Collection of LOL Pictures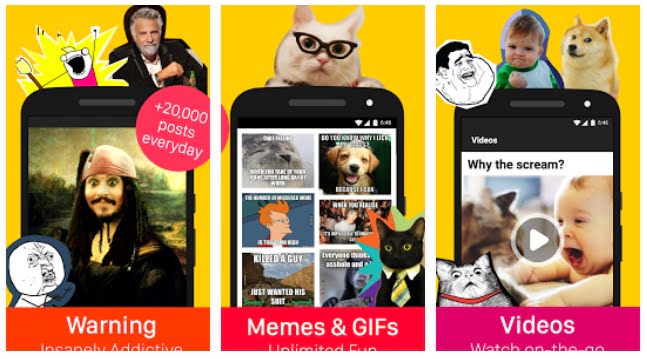 9GAG is one of the best funny apps in the Android app market. Do you know 9GAG is a very popular website for funny images & gifs but it is available in the Android app to direct access millions of funny videos, funny GIFs, and many more? You can say this is a tube of hilarious videos and images, failed images, funny quotes images & GIF images.
Download anime, cute animals, dogs, cats, memes and lots of funny pictures.
You can upvote or downvote any of the funny videos or images.
Give a reaction to any funny stuff.
Also share with friends on any social messaging sites like Imgur, Reddit, Tumblr, Facebook and more.
Also Read : Top 5 Sites to Download Funny Pictures (Unlimited Fun)
---
#2. iFunny – Cool Memes & Videos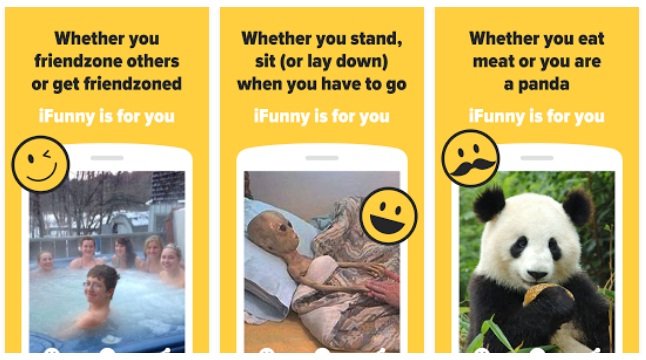 Meet another of the best funny Android applications, which is iFunny. iFunny is one of the best hubs for new funny memes and pictures. So don't wait to download this app and start laughing without limitation. Here you will fall in love with comments on images from people :) Well, In one word this funny app is very addictive.
Also Read : Top 5 Sites to Watch & Download Funny Videos (Unlimited Fun)
---
#3. Imgur – Hub of Awesome Images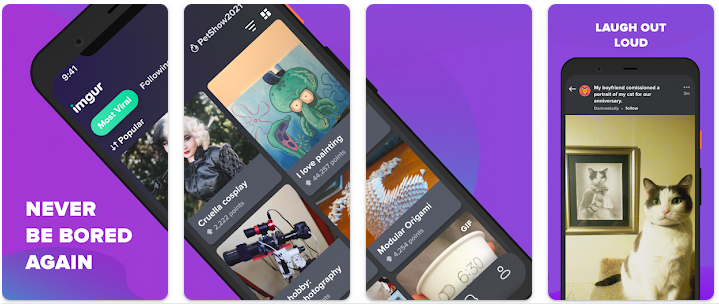 Imgur is one of the best websites which is having entertaining content like humorous photos & videos, cute animals, viral images, and GIF photos. It is not only a collection of humorous images but also funny articles. So now let's download the most popular funny images, political memes, etc.
Also Read : Top 5 GIF Maker for Your Android Smartphone (Make Animated Image)
---
#4. Cheezburger :)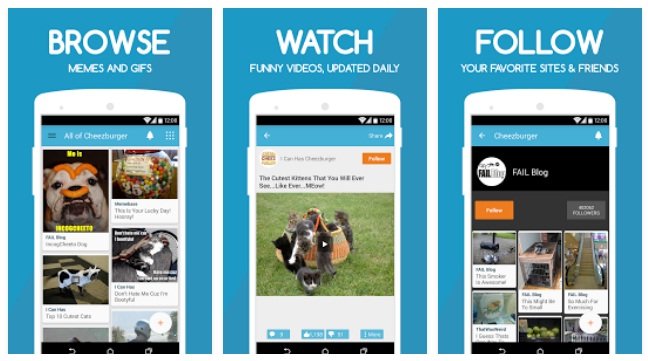 What a hot name, Cheezburger ;) The Cheezburger app is also providing funny GIFs, Jokes, Images, Videos, Comics, Memebase, Fail images and LOL photos, etc. It is having 25+ million memes and GIF images.
The Cheeseburger app is an app for Android devices in which the user can share their favorite cheeseburger. The app is so easy to use and has many options when it comes to sharing photos. The whole point of this app is to share your favorite burger with friends and family, or just anyone who loves burgers. This app also lets you save your photos to your gallery for later access.
Also Read: Top 5 Sites to Watch & Download Funny Videos (Unlimited Fun)
---
#5. Memedroid – Center for Memes & Funny Pics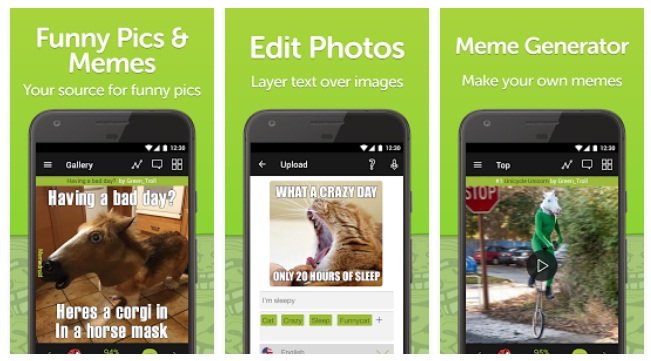 Memedroid is the hub of memes. It is having lots of funny memes, Gifs and Pictures. This funny app is for adults and kids to read funny jokes. Either you can download funny memes or contribute your created memes to Memedroid users. So make your own memes to show the world. They regularly update their funny database with memes.
Also Read: Top 5 Sites to Download Funny Pictures (Unlimited Fun)
---
Conclusion
So these are funny apps for your smartphone. I hope you like all the funny apps. At last, If you are using any other funny application on your smartphone then let us know in the comment section and also share the funny apps list with your friends on Social media.