Have you ever thought of combining games with knowledge? Almost everyone, be it, children or adults, has an addiction to games. Now, these games will help in improving your vocabulary. The more you play the more words will you discover. The introduction of the best word game apps has made the playing of games a quite beneficial thing for children. 
These word games are not like simple word games. You have to do a bit of brainstorming to find out some of the difficult words. These games are not only for kids, they can put even adults in deep thought. The levels in the game are absolutely fun and interesting, and you will not be bored even once while playing it. Finding a simple word within the jumble of words is easy.
These are some of the word game apps that will give you an altogether amazing experience of playing with the words. You can solve word puzzles, crosswords and find out some of the most difficult words from the jumble of words and show off your vocabulary skills among your friends.   
List of Best Word Games for Android
Below is the list of the best word games for Android users. If you want to play mind games then you should download word games and play like a champ. Let's try the below mind word game on your smartphone.
#1. Word Cookies – Word Game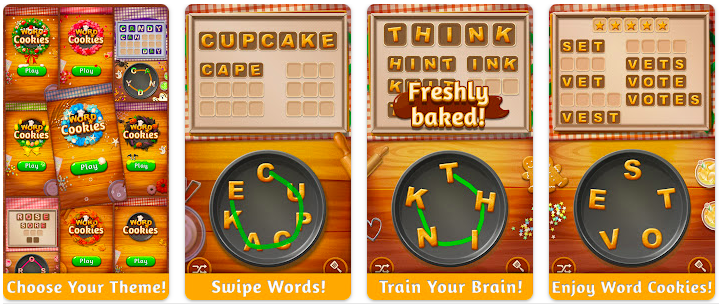 Word Cookies is a fun word puzzle game to test your spelling and vocabulary limits for all age groups. There are more than 300 different levels with varying degrees of difficulty which gradually makes the game competitive. With every level passed, bonus points and hints are earned which makes the game more interesting.
The letters appear in the shape of cookies on a pan, and then you have to arrange them to make meaningful words. Since there is no time limit, one can think and answer correctly without any time strain. Word Cookies is an addictive game that is not only entertaining but also educational which is apt for all age groups.
Also Read: Top 5 Best Cricket Games for Android
---
#2. Word Connect – Classic Word Games
Word Connect is an exciting and challenging word game that will challenge your knowledge of various words. All you have to do is slide the letter blocks and form a new word. Every time you form a new word you receive coins as a reward which will encourage you to form more words. There is no specific time limit within which you have to complete the words you can take your time in forming words.
It features different modes and also daily challenges by which you can earn bonuses. The best part about this game is it does not require internet access. Thus, you can play it anywhere at any time without worrying about the internet.
Also Read: Top 5 Best 1GB Size Android Games
---
#3. Wordscapes – Cross Word Puzzles Game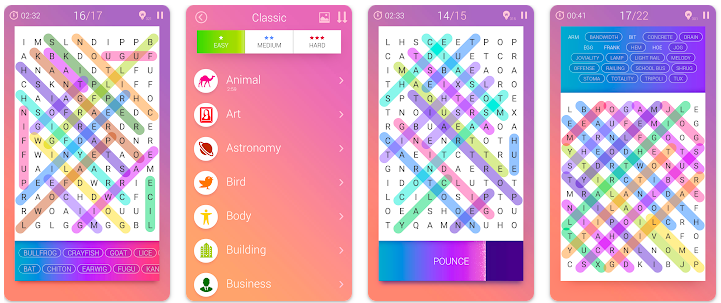 Wordscapes is one of the most addicting word games that you will ever come across. Your mind needs to brainstorm some of the best words to meet up the challenges of this game. It has some of the best word searches, anagrams and crosswords.
At first, you might find it quite simple but as you move on in the game you will get to experience the real challenges in the word hunt. It is one of the perfect games for people who are always into crosswords or solving word puzzles.
Also Read: Top 5 Best Shooting Games for Android
---
#4. Blockscapes – Block Puzzle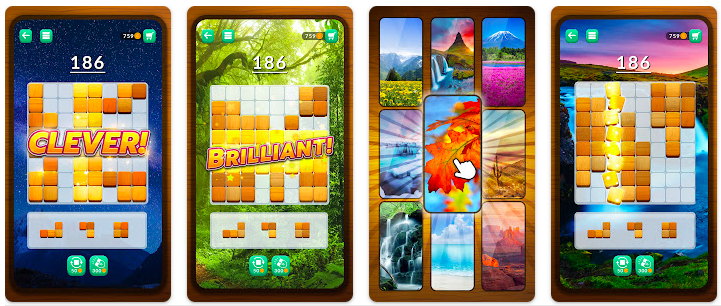 Searching for the best word puzzle games all you need to refer to is the Blockscapes. It has some exciting word puzzles which you can solve with your friends and family. All you have to do is arrange the block and solve the puzzle.
It does not comprise any one category but different fun categories which automatically attract you to this game regularly. There is always a new puzzle to solve every day. This has been inspired by a popular game show in which you can possibly be a contestant and win exciting rewards in the game.
Also Read: Top 5 Best Car Parking Games for Android
---
#5. Word Search Puzzle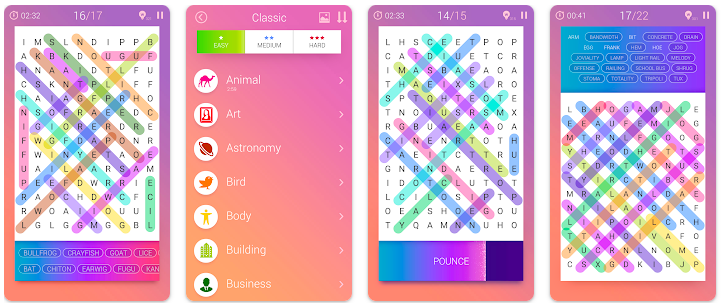 Word Search Puzzle is one of the most trendy games nowadays. All you have to do is find the hidden words in the bunch of words just by swiping left, right, up, or down. It's an amazing way to make use of your vocabulary skills. The game is split into three modes: easy, intermediate, and hard; you can choose accordingly.
It also contains certain hints in case you are unable to solve the puzzles and become frustrated. There is a beautiful color display at the selection of the correct display of words.
Conclusion
These word game apps are great apps to sharpen your mind and are the best exercise for your brain. Although, you might find all the word games similar each of them has its own unique theme that makes it a bit different. Well, then why sit back and study the words just in books, it's now time to play with the words and gain knowledge via gaming. The best part is that even your parents will not stop you from playing these games. 
If you like word games list then please share this article with your friends and family on social media.