Do you want to buy or sell cryptocurrency? Here I'm going to share cryptocurrency websites where you can sell crypto coins to someone or buy crypto from others easily.
Bitcoin has managed to grab everyone's attention. Even though there have been a few years since cryptocurrency started, people nowadays are looking to invest in these new things. Investing is an essential element of our financial planning, and since cryptocurrency is the new form of asset, right now is the best time to invest in them.
Even though there are many websites through which you can now buy/sell cryptocurrency, sometimes lots of options available can make you confused. So in such a situation, what you need to do the most is analyze which you would go with for buying the cryptocurrency. Here we have solved that issue of yours, by listing out the best websites only.
List of Websites for Cryptocurrency Trading
Since it's quite hard to list every website's name, we analyzed each of them and came up with the top 5 best crypto trading sites for buying and selling cryptocurrencies.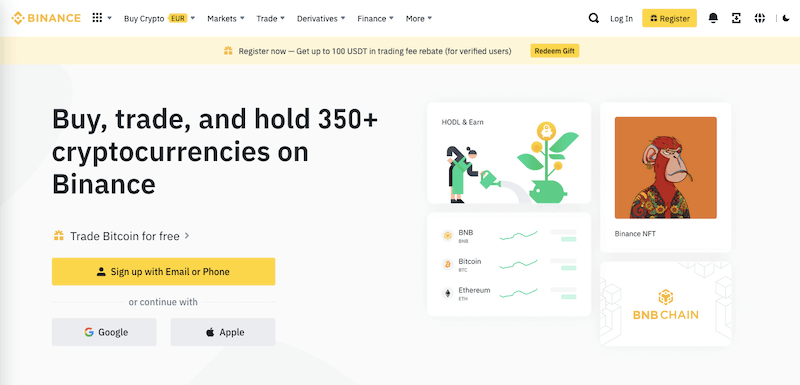 It wouldn't surprise you if you see Binance being promoted everywhere when searching for the best platform to exchange cryptocurrency. This platform is made so that you will do all the required trading of Bitcoin and many other cryptocurrencies quite easily.
Finance, which is based in the USA, is quite famous among crypto investors here because you can buy more than 200 various types of coins here. The application is quite handy and easy to use for all types of investors, from a beginner to an expert level. Whether you want to invest in Bitcoin or any other local coin, everything is available on Binance. I still remember when I started using Binance for buying Bitcoin, and it was quite a great experience being nice in the field of cryptocurrencies.
You can get various types of services in margin trading, futures trading, etc., and the brokerage fees are also low. If we remove the ID verification process, which takes quite a lot of time, everything is quite great.
Features of Binance:
Availability of Native Binance Coin (NBC).
Only a 0.1% flat trading commission is levied on transactions.
More than 200 cryptocurrencies are available for trading.
There is a secure asset fund for users (SAFU).
---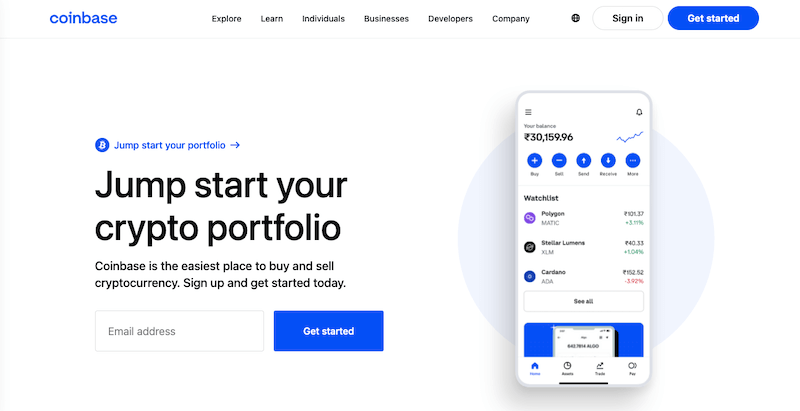 When it comes to Bitcoin lovers, coinbase is the platform that they would love to use. CoinBase has managed to win the hearts of beginner investors who are trying to enter the world of cryptocurrency, especially Bitcoin. This platform is developed in a way that will help you trade every other cryptocurrency easily.
It's a common platform for everyone, whether you are a seller or buyer of Bitcoin; the AI is developed in a great way that it will make the payment and deposit process quickly. You will find Etehremiu, Litecoin, and many cryptocurrencies for trading purposes.
The platform was started in 2012, and since that time, it has managed to get more than 30 million active users. The fee is 0.5 percent for the premium trading also, which might look a little bigger but considering the situation where you are getting such a highly advanced platform for crypto trading, it's worth it.
Features of coinbase:
It's a great place for Bitcoin buyers and sellers.
You can make payments through debit, credit cards, and wire transfers also.
The UI is quite great for beginners in crypto trading.
Premium-quality services while trading any cryptocurrencies.
---
#3. Coinmama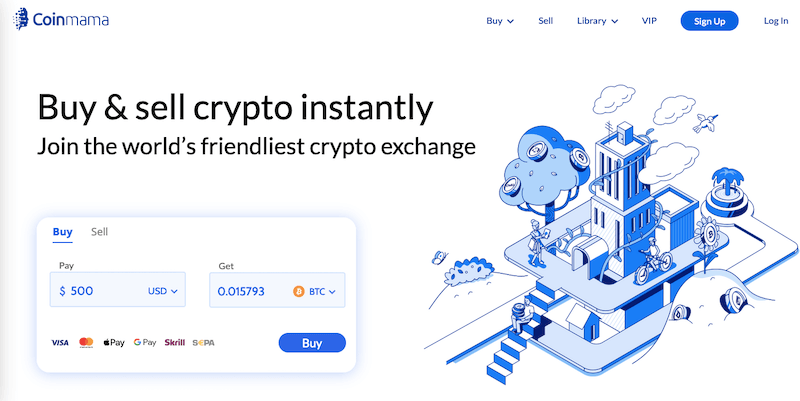 Coinmama works differently but in the same direction when it comes to the trading of cryptocurrencies. Because it's a place where you can buy cryptocurrencies like Bitcoin and many other currencies from them and not other users. Coinmama acts as a brokerage service, and you can buy, and sell cryptocurrencies with them.
The main reason why you would like to use Coinmama is because of the fast and reliable services. Here you will have to deal with a top authoritative company, and it gives you the guarantee of crypto transactions and money transfers. However, the fees are quite high compared to others, in the range of 2.5-3.9%. But, if you are the type of person who is looking for a long-term and better platform for buying, and selling cryptocurrencies, then it's not a bad option for sure.
If you are living in the EU region, then there is a high chance that you will be quite familiar with and like this platform. The customer service is quite great and can be called upon to solve any issues you are facing.
Features of Coinmama:
Buy Bitcoin and other cryptocurrencies without any forbiddance.
A great customer support system.
You can buy up to ten different cryptocurrencies here.
Check the live pricing in the US and EU regions.
---
#4. Cex.io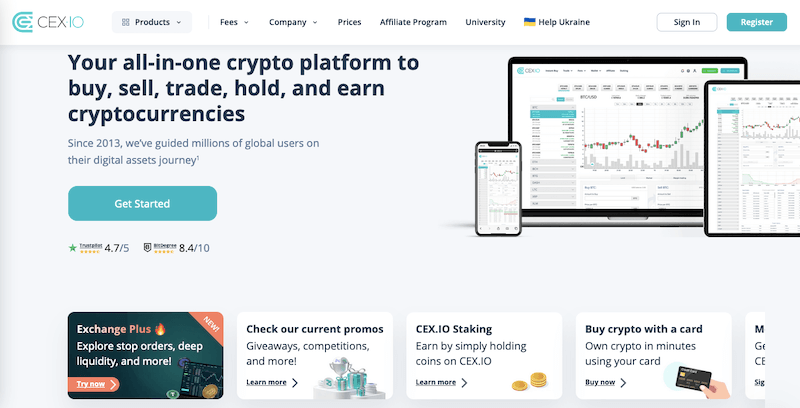 When it comes to trustworthy platforms, crex.io has managed to win it by providing continued great quality service to the users. Originally from London, UK, the platform has managed to grab users from other countries also. At the start of the crypto wave, everything was great, and that's when many started using crex.io.
You can trade everything like Bitcoin, ethereum, Bitcoin Gold, Ethereum, Zcash, Dash, and many other currencies. You can use the platform even if you are a beginner because the UI is developed in a way it helps new users understand everything about the crypto world easily. Whether you want to transfer money through a debit or credit card, everything is accepted here, so there are no issues with the payment procedure.
The commission percentage here is based upon the transaction volume, and it can vary from 0.1-0.25% again depending upon the transactions. The platform uses REST API and FIX API for automated trading, and many users love it.
Features of Cex.io:
A reasonable rate of commission is based on the volume of the transaction.
Strong security is provided against DDoS attacks, data encryption, and other cyber attacks.
Multiple payment methods availability.
24/7 customer support.
---
#5. Coinsmart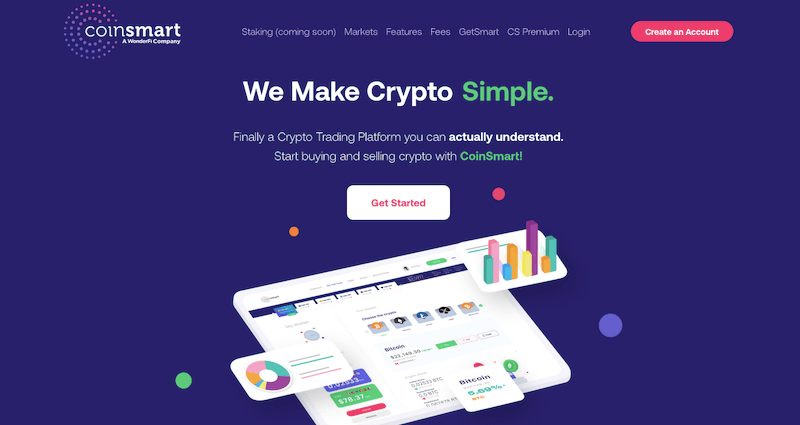 When it comes to cryptocurrency, very few people nowadays might not know what it is because everyone is interested in trading these new digital assets. Coins Mart offers you a simple yet effective way of trading crypto coins in the largest manner. Here you can purchase, sell and hold various coins for a certain amount of commission only.
The availability of the mobile app makes it easier to operate various repo transactions. Whether you are a beginner or an expert-level of crypto trader, it doesn't matter because buying and selling are quite simple here. Bitcoin Cash, Cardano, Stellar, XRP, and more with CoinSmart, everything is available on this platform.
Deposit the money through various card modes, and make transactions of buying, and selling quite easily. Each account on coin smart is verified, so there are no chances of making any fraud or anything illegal everything is legit here.
Features of coinsmart:
A trusted and reliable platform for buying, and selling cryptocurrencies.
24/7 good customer support.
Coinsmart provides top-class custody to the users.
Advanced level of crypto tools available.
Conclusion
These are the top 5 best websites to buy cryptocurrency in 2022, and we hope you like this list. We have made it in a way considering every customer's demand, and that's quite important here. If you have used any other platforms for trading cryptocurrencies, we would be glad to hear about it. However, if there are any doubts or questions about the platforms mentioned earlier, leave a comment down below.