Do you remember? I shared how to earn Google Play credit easily. Now I am going to share how to redeem Google Play credit to your bank or PayPal/Paytm account. Yes! It's very easy to transfer your google play balance to PayPal or a bank.  Recently I converted Google opinion rewards to real money.
In this post, I will share the best apps to redeem Google's rewards balance. If you are not using your google play balance or google opinion rewards in the play store then why not? transfer your Google Play balance to the bank account.
As you know Google's opinion survey rewards credit expires after 1 year of earning. So, In this situation, We must use google play balance either in buying Apps, and games or converting into real bank amounts.
Rule to Redeem Google Balance
Before using the Google rewards redeemer app, You must know the below things-
You'll receive 50% of your Google rewards redemption balance. (After 30% Google commission & 20% app commission)
You have to wait at least 15 days or more to get money.
Be sure before redeeming the balance on the rewards converter app because you can't undo this.
Be patience!
List of Best Apps to Redeem Google Rewards
Now, you have finally planned to redeem google play credit which is earned by the Google rewards app or earned by other survey apps. Let's see which is the best Google rewards redemption app.
Note: You have to wait for 15+ days to receive your payment. I have used the first two and got the payment and other apps are taken according to Google Play user reviews. So, Use these apps after your research and at your own risk.
#1. Rewards Converter: Redeem coupons or rewards
The rewards converter app is very useful if you have to exchange your play credits for a bank balance. You can redeem your Google credits in Phonepe, Gpay, Paytm, PayPal UPI, and others. Please be sure They take 60% of redeeming amount and transfer the amount within 15 days. If you haven't received your balance then contact them via email.
Also Read: Top 5 Website to get Unlimited Social Likes & traffics
---
#2. Reward Converter – Redeem cash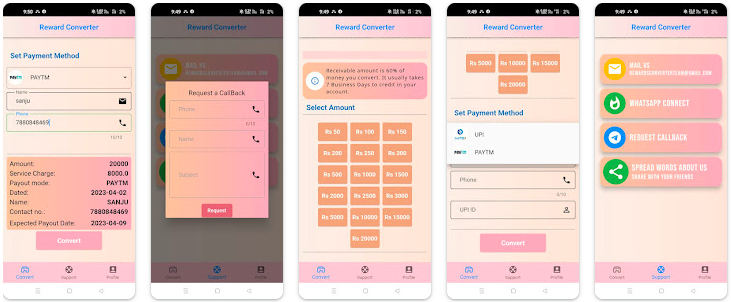 Rewardx converter is the best google play rewards convert app which allows you to redeem rewards to your main wallet. You can redeem the min 50 balance. They charge approx 40% including in-app purchase charges and their charges. Note: You have to wait 7 or more days to receive your balance on the preferred wall.
Also Read: Top 5 URL Shortener to Earn Money Online
---
#3. Rewards Converter Hub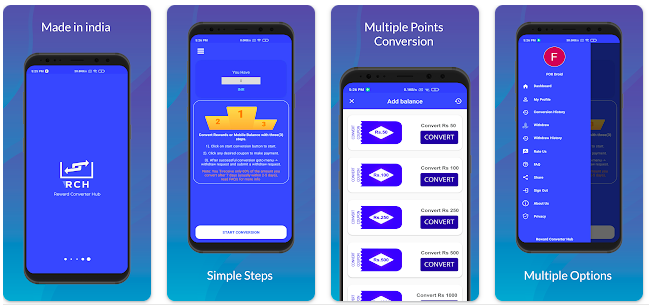 Rewards Converter Hub is another app for converting Google rewards into different payment wallets. You can easily redeem Google rewards to your bank/Paytm in 15 days. They give only 60% of your redemption amount.
Also Read: Top 5 Ways to Earn Google Play Credit Free
---
#4. Reward Converter – Redeem Wallet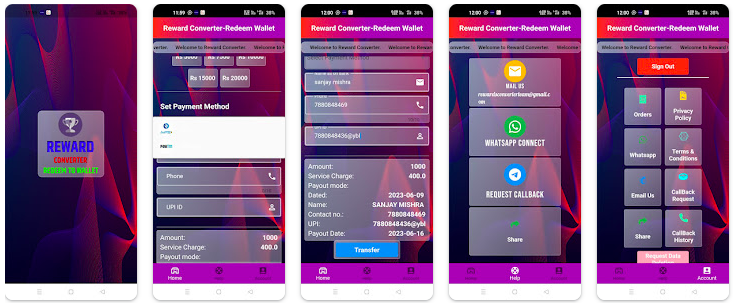 The reward converter app helps you to convert your unused play credit balance into Paytm cash credit. It's really awesome Google credit converter to redeem google play credit balance. Note: It gives 60% of the redeemed amount and takes 50+ hours to redeem the balance.
Also Read: Top 5 Best Video Editing Apps for Android
---
#5. ConvertX Reward Converter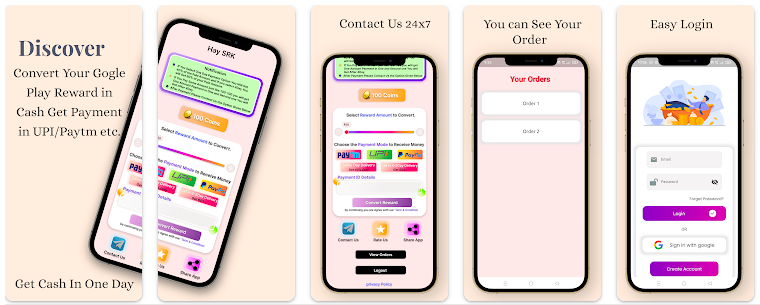 ConvertX reward converter is the best app to convert your play credit to cash. Here you have to choose a rewards gift and use your play credits by making a purchase in the app. Enter your mobile number to register on Converx and select the payout method. They will pay you back 60% of the total amount you redeemed or converted within 7 days. It might take up to 15 days.
Also Read: Top 5 Best Mobile Screen Recorder App in Play Store
Conclusion
The above apps are the best redeeming app for Google opinion rewards. As we know US & tier 1 county users are getting higher survey rewards in $$ but they don't know how to redeem their google play balance to their PayPal account. Well, now you can use these to get money for real use instead of purchasing games and apps from the play store.
If you found this article helpful then please share this with your friends on social media. And also comment if you found any problem. Thanks :)