Do you want to run the same apps multiple times on a single android device? Well, Now your searching ends here. Today I came with another list in which I will show you the best apps to clone android apk.
So if you want to run multiple messaging accounts on your android mobile then try multi accounts app. These apps will help you in managing multiple online accounts without changing the device. You may also like to know which file sharing app is best for Android to send clone app or any file to your friend.
As we use the double sim in one mobile as the same now we can use double or multiple same apps in a single smartphone. We all know, Many social messaging apps like WhatsApp, Facebook, Messenger, Clash of Clan, etc are not available for multiple users on one device. Don't worry, below apps are able to provide two accounts on your mobile.
Best Apps to Clone Android Apps
The cloning app is the best way to run multiple accounts on the same device. Now let's try the below apps to run multiple accounts on the same smartphone. And then you do not need to log in and log out every time. Only you have to switch the multi-account app and enjoy the same app without signing out.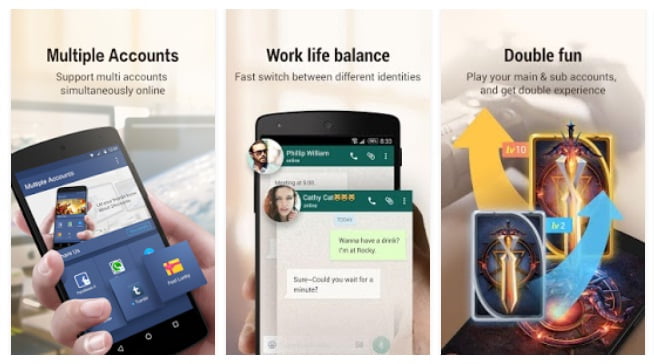 2Accounts, Multiple accounts are the best alternative to Parallel space and the Go Parallel app. This app is developed by Excellence Technology. Now let's try to do a single app into the double app on android mobile. 2 Accounts app enables you to cone the app and use multiple accounts with different storage.
Run double Game accounts in a single mobile
Use two apps with different user-id
Lock the apps (Pro feature)
---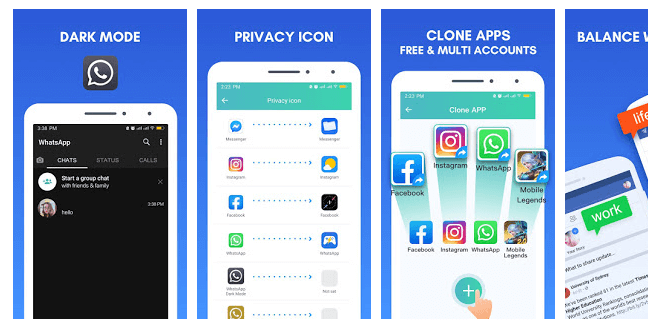 The clone app is the best app cloner that clones any of the Android apps and makes it dual space to run multiple accounts on one device. It's totally free and no ads on the app. This cloning app is developed by the Arty product company. You can run the simultaneous same app in multi-account operation on a single phone. It provides the most private VPN.
Also Read : Top 5 Emulator to Run Android Apps/Games in PC
---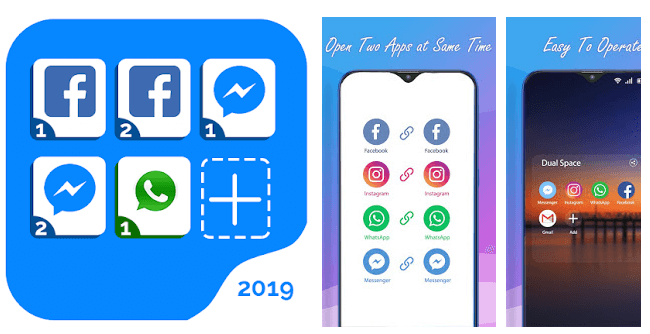 Dual space pro is another most useful app that helps you to make secret accounts to keep a balance between personal life and work by using parallel space and multiple accounts. You can consider this as the best app cloner on the play store. It allows you to keep multiple account logins by creating extra space storage in your Android device.
Also Read : Top 5 Best Mobile Screen Recorder Apps for Android
---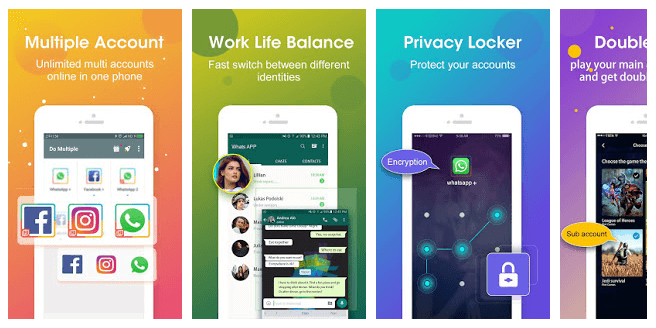 DO multiple accounts clone app is an unlimited parallel space app for multiple accounts. You can create more than 2 accounts in this clone app. You can log in to multiple accounts for Facebook, Twitter, Messenger, Instagram, or another app. Infinite clone app helps you to switch fast between dual accounts with just one tap and manage notifications of clones easily.
Also Read : Top 5 Best Photo Editing Apps for Android
---
#5. Go Multiple – Run Parallel Account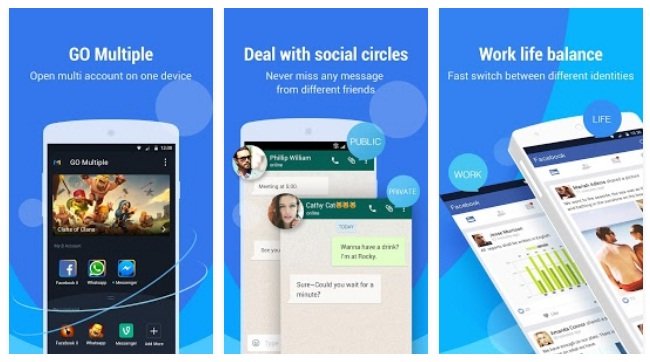 Go multiple apps allow you to run multiple accounts simultaneously and ultra-fast switch online. So if you have more than two accounts in any apps or games and you don't want to Log in/out then you must try Go Multiple parallel apps. It's the best alternative to Parallel App.
Run double messaging apps like WhatsApp, Facebook, Twitter, and more
Play double games with a different account.
Having fast SWI (Switch between Interface)
Gives high privacy and security
Also Read : Top 5 Best Automatic Call Recorder Apps For Android
---
#6. Parallel Space – Run Multi Accounts
Parallel Space is one of the famous cloning apps on the internet. This app enables you to play multiple accounts of the same apps at a time. The parallel app will clone the same app in a different environment. Parallel space is the very best performing app to clone any android app. After installing parallel space you will see Plus sign where you are allowed to select the app that you want to use the double app. And also if your Android app got updated then it will automatically update the cloned app.
Log in to too many accounts of Social messaging apps or Android games at a time.
Protect our privacy by making apps invisible (Incognito mode)
Easy to switch from one account to another account.
Also Read : Top 5 Best Messenger Apps as Like WhatsApp for Android
---
#7. 2Face – Multi Accounts App
Meet another multiple account app to run a double WhatsApp account or any other app or games you want to clone. 2 Face app is made by CleanMaster. By using this app, there will no requirement to log in again and again. Hence you can use two accounts of android apps or games on the same device.
Easy to go from one account to another account
Get separate notifications from both accounts.
Save data in a Separate folder of both app/game
---
#8. Multi Accounts

(Root Required)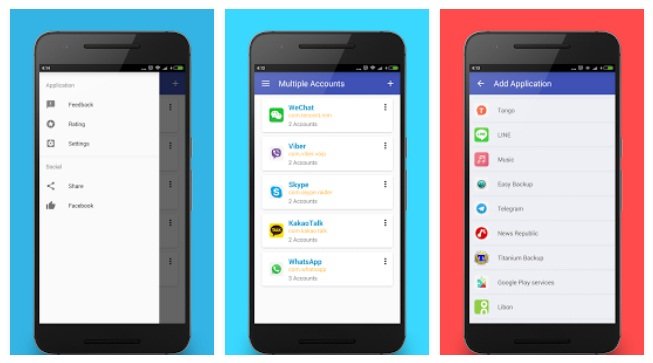 Before using these parallel multi-accounts you should confirm that your device is rooted, Otherwise, this app will not work but you can use all apps cloner app without rooting the device. As we know almost every android mobile is having 2 Sim & we know very well that we can't operate 2 WhatsApp on the same mobile. Wait.! It is possible to run 2 WhatsApp on a single device without using gbwhatsapp. Let's try the Multi-Accounts cloner app
---
Conclusion
Finally, I want to tell you that currently, I am using Parallel Space in My Device. I have tested many multi-account apps & I got five apps, are best for you. But it does not end, Please let us know which one is the best multiple accounts manager for you? And also If you got this something helpful then you should share it with your friends.
Save
Save
Save
Save