Are you looking for apps to record calls without notification? Here I'm going to share the list of best apps for automatic call recording when you talk with someone on your phone. Why is the call recorder important? Well, Suppose you are talking with your friends or boss about some important topic and end the call. But what if you forget important information which was talked about in that conversation and also You didn't note it in your diary?
So don't worry, Here is am going to give you the best automatic call recorder apps. Just download a phone call recorder on your smartphone and be smart. Now you don't have to fear forgetting what is said on call because these automatic call recorders will help you. It will automatically save your call record in mobile storage. you can either send it to WhatsApp or email. You should also download the best dialer and contact manager apps for your mobile.
At this time there are many automatic call recorder apps in Google Play Store. Most of them are garbage and have a lot of ads. So here I have listed apps to record every phone call without telling the caller. If you have used Java/Symbian then you know very well that there were already given call recording features. But on the Android device, you require to download a third-party phone recording app to record every phone call.
List of Best Automatic Call Recorders for Smartphones
I have tried many call recorder apps for smartphones. Now let's see the best call recorder app for your smartphone. You have to download the call recorder from the Google play store or play store alternative to download apps & games for download.
#1. Automatic Call Recorder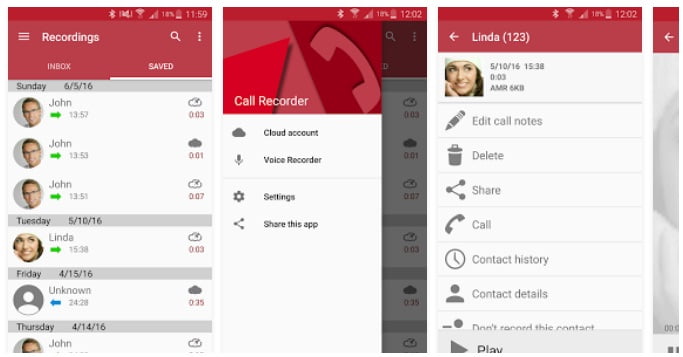 The automatic call recorder is one of the best call-recording apps in PlayStore. ACR lets you record your phone calls and listen to them when you need a reminder. The app is designed with a simple interface that makes it easy to record, listen to, or share your recordings. The call recorder also provides a choice of four different audio quality settings: high, medium, low, and AMR-WB speech mode.
Features of Automatic Call Recorder:
Set the permission of which calls are to be recorded and which should be ignored.
Directly save recorded mp3 audio to Google Drive and Dropbox
Set the number of call recording up to 200
Given 3 default settings – Record everything, Ignore everything, Ignore contact.
Totally Free but Buy if you want to remove ads and some limitations.
Also Read : Top 5 Best Audio Player Apps for Android Smartphone
---
#2. Cube Automatic Call Recorder (ACR)
Cube ACR is another most advanced automatic call recorder for Android mobile. If you are not satisfied with the above call recorder then you should try this for recording phone calls and VoIP. It supports call recording for any Android device.
Features of Automatic Call Recorder App:
Allowed call recording in Auto & Manual option
Send your saved call recording to anyone
Record calls from WhatsApp, skype, or any other messaging app
Filter recordings by Name and date
Note something while calling
Simple & easy to use.
Also Read : 5 Best Apps to Run Multiple Accounts (Clone Android Apps)
---
#3. Call Recorder – ACR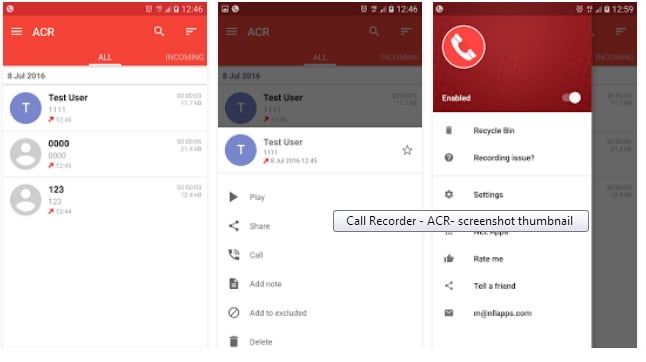 Call Recorder app is an awesome recording app which is developed by NILL.
Another Call Recorder is a free call recorder application that is the most advanced call recorder in the Play Store and offers many advanced features.
Features of Call Recorder:
Set auto delete old recordings call (Choose important recording to avoid deletion )
View contact name with saved contact photo
You can exclude a particular contact number for recording
It is having a password-protected recording
Record audio in .mp3, .3gp, .aac, .wav file formats
All above are provided in the free app
If you purchase this app you will get some extra features like Auto email recordings, Dropbox/Google Drive integration, etc.
Also Read : Top 5 Best Dialer & Contact Manager Apps for Android
---
#4. Automatic Call Recorder Pro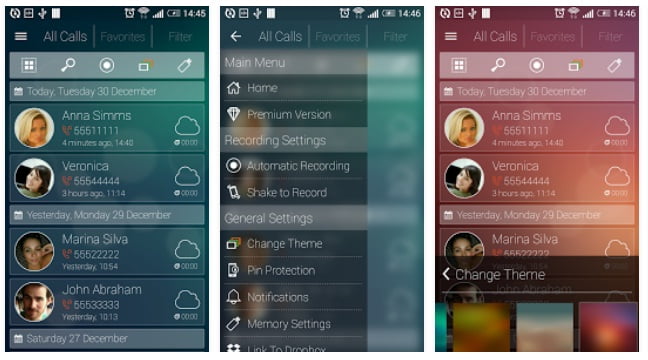 Another call recording app is Automatic Call Recorder Pro. Its developer name is SMSROBOT LTD. If we talk about the popularity of this app then pay attention to the User review of this app. You are free to use this call recording app.
Features of Automatic Call Recorder Pro:
As the same, it records incoming and outgoing calls automatically.
Do setting & Sake mobile during a call to start recording
All recorded calls in MP3 High Audio Quality
Connect your Dropbox account to save recorded auto directly
Also Read : Top 5 Best Android Emulator to Play Android Apps in PC
---
#5. Call Recorder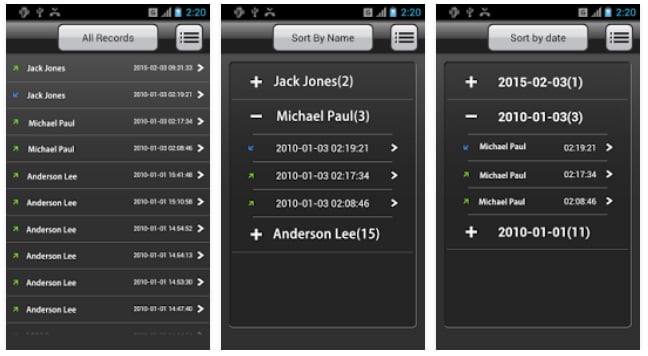 Meet this another similar call recorder app which is offered by lovekara. Till now this app is downloaded by 10 million users and collected a good rating by its royal user.
Features of Call Recorder:
Automatically record your call while calling.
Organize your recordings file.
Filter audio call record files as a list by name, dates, etc.
Save recordings in .mp3 on SD Card & share them with friends on Whatsapp
Conclusion
So these are highly rated automatic call recorder Apps. I personally used Most of the above call recorders on my smartphone. And some are made on the basis of customer reviews and ratings. Let's comment on which one is your best phone call recorder.