In this article, I am going to share the best messaging app which is similar to Whatsapp. In the technology age, Every person wants to share their feelings and thoughts with friends and family through the messenger app. So many people do not stop by the Whatsapp app and they are searching for more messenger apps to connect with lovers.
Android developer is taking benefit of this & making a lot of messaging app. That's why there is a huge number of messaging apps in Google PlayStore. Hereupon people become confused about which one is the best messenger app in every perspective like security, privacy, etc. Therefore I made a list of the 5 best messaging apps similar to Whatsapp.
Firstly I would like to tell you about Whatsapp. Whatsapp App is one of the widely used best messenger apps in Android mobile which was made by Jan Koum & Brian Acton in 2009. Both men were employees of Yahoo. After the Whatsapp app's huge success, Facebook purchased this App for approx. 19.3$ billion in Feb. 2014. Now let's see Which is the best WhatsApp alternative messenger app.
Best Messenger Apps for Android Users
Below is the famous messenger app alternative to the Whatsapp app. Here I will share five messenger apps like Telegram, Hike, Viber, BBM, WeChat, etc. Let's see it in detail…
#1. Signal Private Messenger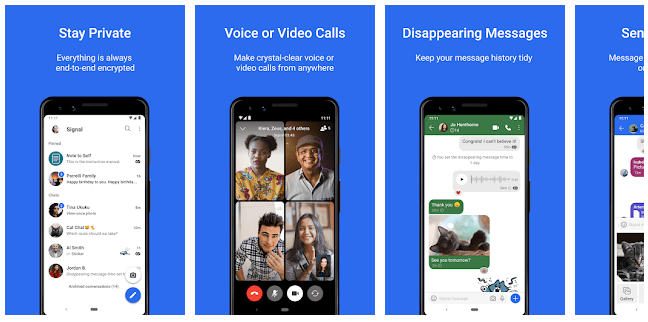 The signal is one of the trending messenger apps after WhatsApp privacy updates and Elan mask tweets. Now, there are millions of people using signal apps for communication with the world. It's totally free app with no advertisement messaging app. This app was created by ThoughtCrime because there are many people in the world who want to communicate securely without fear of being monitored.
SecureSMS is an app that can be downloaded to your Android device that will encrypt all SMS messages you send. This app has been designed to allow for secure communication for people who are dealing with sensitive life situations.
Features of Signal Messenger:
Whisper the shadows so that you can switch to the dark theme easily
It's a nonprofitable private messaging app
No advertisment No trakers
Use the built-in image editing features to sketch, crop, and flip photos
Full HD voice/video calls
Also Read: Top 5 Best Dialer & Contact Manager Apps for Android User
---
#2. Telegram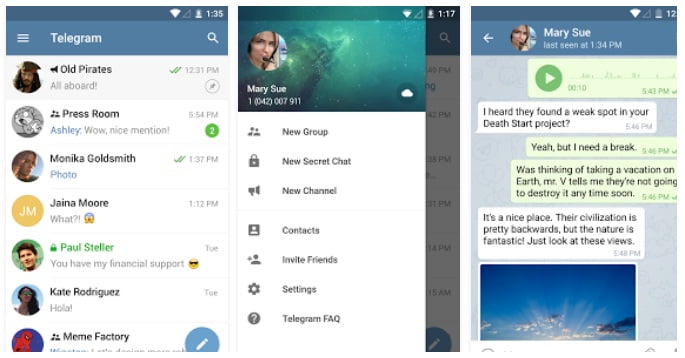 Telegram messenger app is one of the best chat apps in PlayStore. This app is developed by Telegram Messenger LLP. It is having a 4.3-star rating with 1Billion+ downloads. By using telegram you can connect with anyone in the world. There are so many people using Telegram. It is available for Android/iOS/Windows Phone/Blackberry/Symbian. You can directly download it from Google Play Store. This app is free for all.
Features of Telegram:
Send unlimited messages, and media files without size limits.
Fastest and light messaging app.
Create a group chat with up to 5000 members
Share large files (.doc, .zip, .apk, .mp3, etc)
Powerful photo editing tools.
 It is 100% free and has no ads.
Also Read: Top 5 Best Photo Editing Apps for Andorid (Offline)
---
#3. Viber – Safe Chats And Calls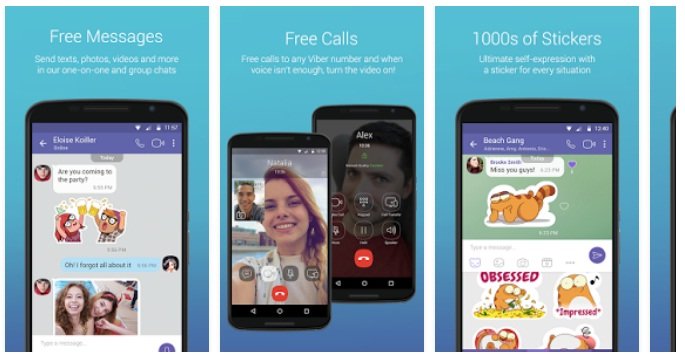 Another messenger app is Viber. Its developer name is Viber Media. If we talk about the popularity of this messaging app then pay attention to the User review of this app.
Viber is a cross-platform free messaging and calling app. Viber users can easily exchange text messages, photos, videos, voice messages, stickers, and emoticons with other Viber users across different mobile platforms – Android, iOS, and Windows Phone.
Features of the Viber App :
Chat with worldwide friends and family
Share images and videoes
200 group members are allowed
Free voice/video calls
Play unlimited games without downloading any games.
Also Read: Top 5 Slideshow Maker App for Android (With Photo & Music)
---
#4. WeChat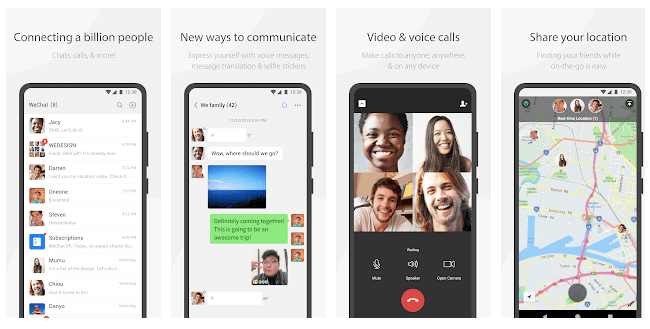 We can't ignore this WeChat messenger if we are talking about Whatsapp alternatives. Firstly you should know the name of the app developer, which is WeChat Tencent. WeChat is available for almost all operating systems like Android/Blackberry/iPhone/Java/Windows/Symbian. Do messages exchange Voice call, video conference, free calling, photo sharing, and location sharing also. You can also transfer any file without the internet using this app. You can access the latest news update directly in this app.
Features of WeChat :
Send unlimited multimedia messages.
Group chat with up to 500 people
Group video call with 9 people only
Access Hundreds of free sticker gallery
Try Friend Radar/People Nearby/Shake to meet new friends.
20 Languages supported.
Also Read: Top 5 Best Web Browser App for Android Smartphone User
---
#5. IMO – International Calls & Chat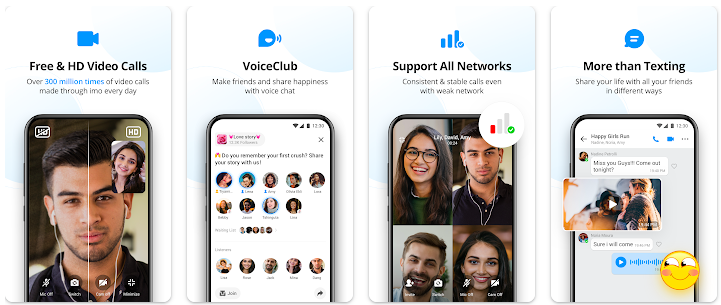 Meet this other similar IMO messenger, is another communication app for making international calls and chatting. It is a popular messaging and video-calling app that allows you to connect with friends and family.
Features of IMO :
Free voice calling
Free Video Calling
Get access to thousands of stickers
Broadcast messages to all friends
Try thousands of moods/emotions in messaging
Conclusion
Hope you liked the above messaging app. We made this list on the basis of Android customer reviews and app ratings. I know you would like to add your favorite messenger app to this list. So don't worry comment below your lovely messenger name and we will try to add it to the above list.
Save
Save