Top 5 Slideshow Maker App for Android (With Photo & Music)
Do you want to convert your photo & music to video form? Well, Now your wish ends here. In this post, I will tell you the best slideshow maker app for your android phone to make photo slides with background music. You might have heard of slideshow but we have seen that few of the video slideshow is well managed whereas few of them are not in a proper way.
Slideshow videos are usually created on Systems. But now technology is so advanced that our Smartphone can perform some of the basic operations of the System. If you people are in an age group of 17-25 years then you might be having an idea of making dozens of slideshow videos. Basically, the idea behind the huge demand for Slideshow is that Slideshow is the best & easiest way to teach some.
For instance, if you are asked to sell any products to your client on the behalf of your country then you will not go for a Notebook or any piece of paper to convince your client. In the field of Business, Slideshows play a vital role and it is the most convenient way to convince anyone. We have got many requests regarding slideshow makers so to help you, people, out we have picked the top slideshow maker app for Android from a bunch of them.
All the applications mentioned below are only for Smartphone users and these apps are completed checked and are completely trustworthy.
Best Slideshow Maker Apps
Below is the best slideshow maker app for your smartphone. If you don't have a PC then don't worry your pocket device can help you in making a photo slideshow with music. Let's see the slideshow maker app that makes videos by photo & music.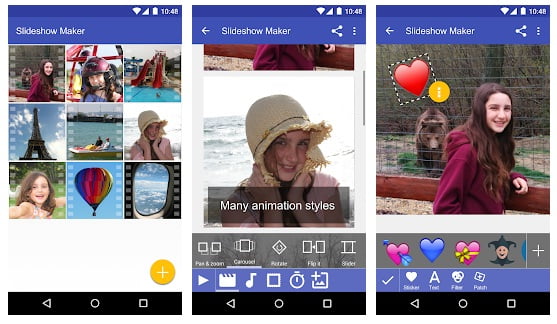 A dedicated slid show maker, although the above-mentioned apps also allow you to make slideshows. They also have the option to create small videos. However, Slideshow Maker App has a single option to create a Slideshow. Dozens of animated frames are there that can help you to convert a normal slideshow more attractive. Along with this hundreds of Stickers are being offered by the Slideshow Maker app.
Also Read : Top 5 Best Video Calling App for Android Smartphone
---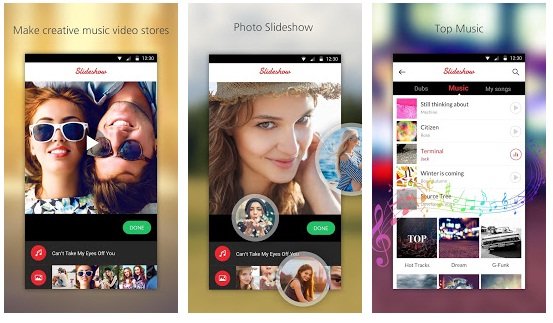 This video maker App is one of the best makers to edit Sides easily. Along with this, Music Video Maker contains some free music clips which do not have copyrights over them so you can share them on YouTube. There are many filters in this app that will make your editing part more adventurous and interesting. You can share your inspiring slide with your friends on different social platforms. It deserves to fall into the category of best slide show maker App.
Also Read: Top 5 Best File Sharing Apps for Android
---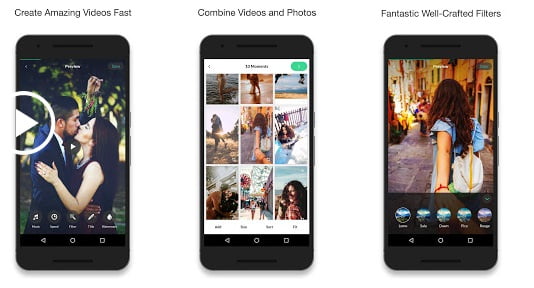 It is a stunning app by which you can customize your slides and short videos. In order to make an inspirational slide you just have to pick some photos and then have to use some filters and need to add music clips, ready! Your slide editing part is. Pixgram offers you one special option by which you can save your slides in different aspect ratios including 1:1, 9:16, or 16:9. So it's a great slideshow maker you should give it a try.
Also Read : Top 5 Best Mobile Screen Recorder Apps for Android
---
The very first application of our top 5 list and we have placed it on the top as it is one of the best applications to make stunning Slide Shows. You can select a set of photos from your gallery and then you can edit them to make an effective slide show. Users can add their favorite music. This app offers some of the great gestures to make your slideshow more attractive. You have the privilege to modify the display duration of images. Sharing option via Facebook and YouTube is also integrated into this app. Its interface is very pleasant and users had given a 4.2-star rating to this Slide Show maker App.
Also Read : Top 5 Best Photo Editing Apps for Andorid (Offline)
---
#5. Flipagram App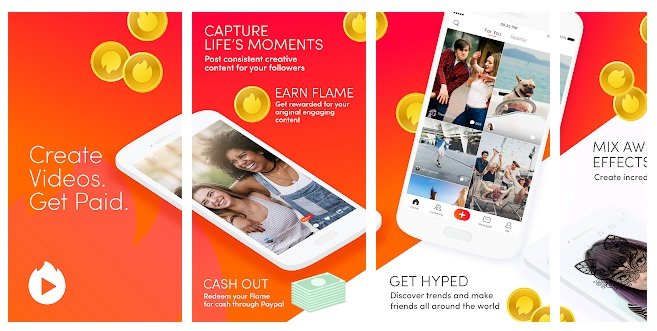 Flipagram app allows you to take photos and record videos and then you can edit those pictures and videos together to make some funny slide shows or short videos. You can insert different types of Music according to your taste and can make your slide more interactive. Editing of Slides can be done with the help of filters and other tools provided by the Flipagram App. If you have created a unique slide and you want to show it to others then Flipagram had an inbuilt option that allows its users to share their work with the Flipagram members. You can be a star if members appreciate your work.
---
Conclusion
So, people, these were the best App to make a slideshow. The above-mentioned apps are checked and we have picked these apps after deep research, so you need not worry before going for an app. These slideshow-making apps must be downloaded from Play Store. Now it's your time to use the above slideshow app and tell us which one was the best slideshow maker app for you.