Are you looking for video chat apps to call someone in video form? Here I'm going to share the best Android apps for video calling worldwide without paying anything.
Lots of apps let you have video chats with your friends and family. These apps work on phones and tablets, especially ones that use Android – a system made by Google. Android is like the brain of your device. You may like to know which is the Best Webinar Software for conducting a webinar.
I'm featuring the best video calling apps for Android smartphones, there are various calling apps available on app store alternatives. Choosing the best out of them can be a little difficult for all. But to help you here we have enlisted the top 5 best video calling apps for the Android Smartphone. Let's see the free video calling Android app for Android devices.
List of Best Video Calling Apps for Android
Below are the best video-calling apps for every Android user. If you are bored with any of the video calling apps then you can try the alternative of video calling apps. I hope you are using WhatsApp video calling. It's a very popular Android App for text/voice/video calls. Almost 90% of Internet mobile users is using this app. So I don't want to include WhatsApp in the Video Calling App list.   Let's pick any of the face-to-face video calling apps to live chat with friends worldwide.
#1. Google Duo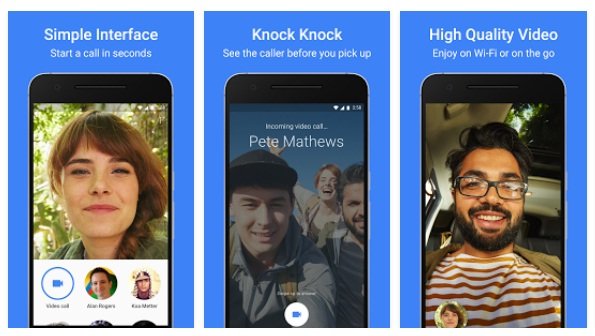 Google Duo video-calling app comes from the Google family and is available for both Android and iOS devices. This app enables you to have video conversations in high definitions and it is optimized to work in low bandwidths. It uses phone numbers and allows the user to call someone from their contact list.
The app has the ability to switch between networks automatically, whether it's Wi-Fi or cellular networks. One of its interesting features the Knock- Knock helps you to configure the caller before answering the call. This exclusive feature is available only for Android users.
---
#2. IMO – International Calls & Chat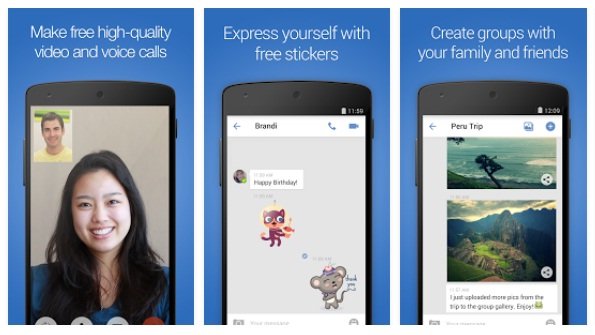 Featuring the 2nd best video calling app, it's the IMO. You can easily download this app from the leading app stores. This app is designed with the latest technologies and offers you a real-time experience while video conferencing. IMO charges you with no fee and you can talk to your family members and friends for free.
This app is very simple in nature and provides one-on-one video calling for people around the world. With high definition calling Imo also provides you with instant messaging services. It works well on both 3G and 4G networks on Android smartphones.
Also Read : Top 5 Best Messenger Apps for Android Device
---
#3. Skype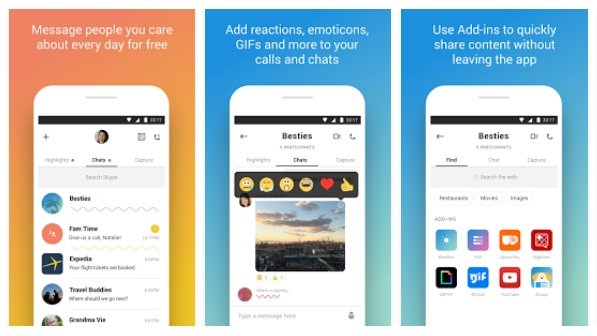 The Skype app has become an all-time favorite for its users. Since the beginning, this app is very hit among the video-calling apps around the world. It is very popular and widely used for official video conferencing mostly in every office across the globe. In the case, you are not familiar with Skype, then you don't know video calling.
Since the introduction of other video calling apps, Skype has enjoyed a monopoly in this sector. The users of this app are very confined to its performance. It also provides instant messaging services to users. The latest version of Skype has introduced many new smileys to enjoy interesting conversations. One can enjoy Skype to Skype video conferencing free of cost. This app supports all like video chatting, conference calls, and screen sharing with a maximum of 25 people at a single time.
Also Read : Top 5 Instagram Photos/Videos Downloader App for Android Mobile
---
#4. Tango – Live Stream & Video Chat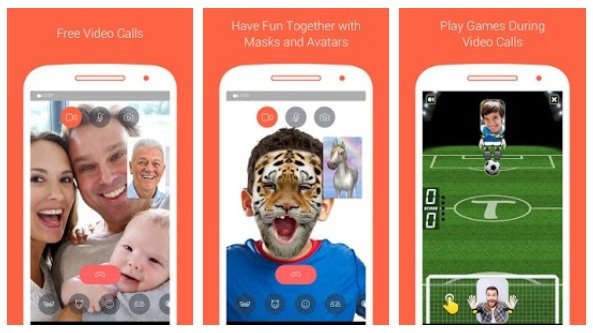 The Tango video calling app is one of the oldest apps of its kind. It offers very cool features but doesn't offer other masks and avatars. In the case, you are looking for a reliable, yet simple app, Tango is the most appropriate option for you. This app won't ask you to log in again and again. Tango offers you high-quality voice calling and video calling and that too for free. You are able to send instant messages, share files and photographs, etc.
Here you can also find people with the similarity of things in common. This app will supports group chats, video calling and conferencing, and other related and important stuff. You can enjoy all the features of the Tango voice & video calling app.
Also Read: Top 5 Best File Sharing Apps For Android (Fast WiFi Transfer)
---
#5. Signal Private Messenger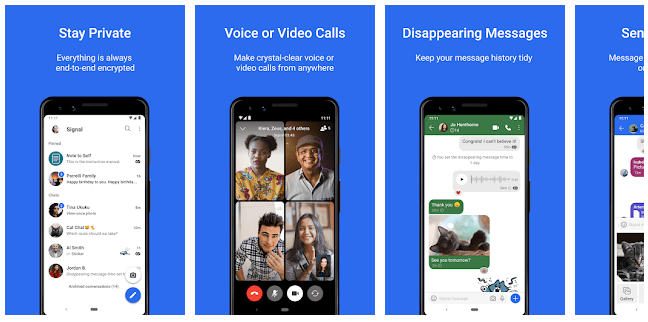 Another exciting video chat app is Signal. This application offers free video calling and unlimited instant messages for users. You can use the beauty feature while video calling and make your skin looks smoother and wrinkle-free. Group chats and video conferencing are also available with this application.
---
Another Video Calling App:
Actually, there are many videos calling Android apps similar to the above video calling apps. You can also try another video calling app as given below –
If you are using any other video calling app then let us know in the comment section. We will try to add it to the list.
---
Conclusion
So, These were the best face-to-face video calling apps for your smartphone. I usually use Google Duo & WhatsApp for video calling. They provide High-Quality video calls on the slow network. Now the world is in your hand. Whether you are in the US or Uk or Canada you can live to connect with your friends and family. Well, I would like to know which video calling app are you using on your smartphone for live video calling. Write in below comment box. And also don't forget to share this app list with your friends on Facebook, Twitter or Whatsapp.