Do you want to scan your offline document and save it in a PDF file? Here I'm going to share the best apps for scanning your paper document from your mobile and saving the document in DOC or PDF or XLS. Scanning your important documents into PDF format is quite helpful. Your smartphones have made this scanning into PDF format quite easier for you. A lot of PDF Scanner apps have now been introduced.
 
You can convert your important documents into online documents. These apps will not just scan your documents but also allow you to edit those files in your own way before you save them. Some of these apps might ask for a small fee for the additional services that it provides. 
Managing all your documents would be quite easier with these PDF scanner apps. Moreover, you can even use these apps if you want to scan your bills or receipts. Having any one of these apps will be quite beneficial for you. 
List of Best PDF Scanner Android Apps
If you seriously looking for the best document file scanner then you should use the below pdf scanner app on your Android smartphone to scan any offline document and convert it into a PDF file.
#1. Tiny Scanner – PDF Scanner App
Tiny Scanner is most of the documents that require scanning before being presented for any official use. The Tiny Scanner app turns your Android into an easily accessible scanning device in minutes. With the help of this app, you can scan anything into PDFs or images as per your requirements. This app has been very well designed for both the androids and tablets. It can be used for photos, reports, or any other documents.
It can be scanned in color or you can also keep it black or white. Moreover, you do not have to wait for going to any cyber, scanning can be done easily at your office or your workplace. You can keep your documents absolutely safe and secured with the Tiny Scanner passcode.
Also Read: Top 5 Best Office Suite Apps for Android
---
#2. Microsoft Office Lens – PDF Scanner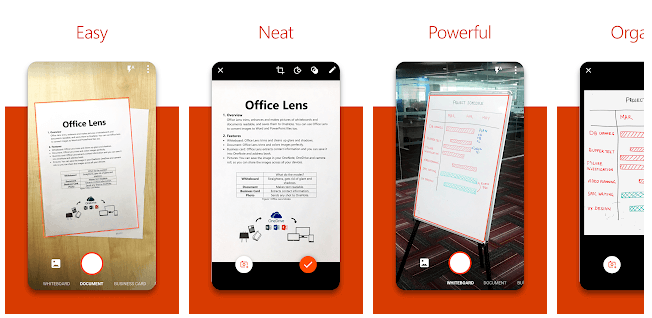 You can easily scan and create PDFs of all your notes and documents even the notes on the whiteboards are readable with the help of the Microsoft Office Lens app. Microsoft Lens even allows you to export any of the images from your gallery and crop or scan them. You can even snap your ideas and keep them stored in the drive with the help of this app.
The Microsoft Office Lens can be of great use for both educational and professional purposes. You can easily capture the ideas or discussions that have been explained on the whiteboard and save them for later reference. It makes your work of finding the documents quite easy by organizing them according to the title names.
Also Read: Top 5 Best PDF Reader App for Android
---
#3. Genius Scan – PDF Scanner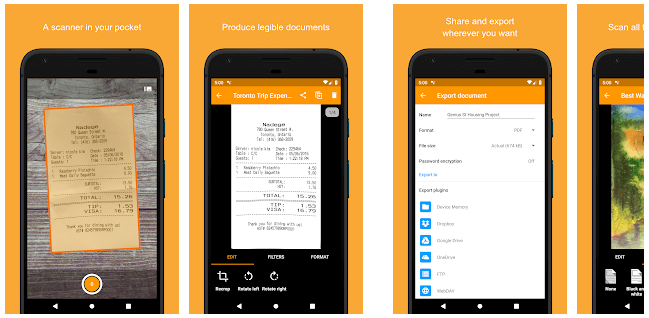 Genius Scan is a smart scanner app that immediately recognizes documents, scans them, and crops them from the background so that you can get a clear and organized picture of only your document. The batch scanning options allow you to scan dozens of documents or papers in just a few seconds without any problem.
The Genius Scanners aims at presenting a perfectly scanned document to you thus it removes all kinds of shadows or distortions from the documents. It secures your document with the features like finger lock or PDF password encryption. Moreover, you can easily export your files to your GMail or One Drive with the help of this app.
Also Read: Top 5 Best Live Wallpaper Apps for Android
---
#4. Clear Scan – Free Document Scanner App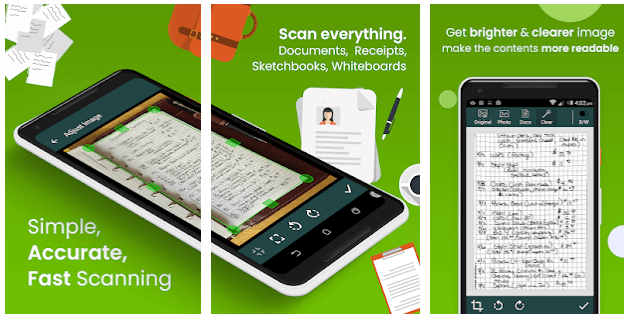 Clear Scan is the best mobile scanner app that will give you a scanned high-quality image with just a touch. You can scan all types of paperwork or documents ranging from your bills, images, and receipts to books, magazines, or notes. It can scan the image or document and convert it into PDF in a matter of seconds.
Moreover, as soon as you convert the image into PDF you can immediately transfer it to SkyDrive, GMail, or One Drive. Easy to use with amazing features, this app is present on almost every device be it a student or a business personality. You can even set the size for your pages while scanning and also rearrange the pages after deleting or adding the pages to them.
---
#5. TapScanner – Scanner App To PDF
Tap Scanner – it is a simple document scanner app that gives out high-quality PDF images. It has a variety of filters that you can apply to your documents or images to make them look absolutely perfect. You can even manage all your files easily on this app by arranging them according to different file names.
No more the stress of searching your documents from the heaps of papers. You will have each and every document in your mini-scanner app. It is a QR scanner app, by scanning your QR code you can easily convert your documents into emails or text formats.
Conclusion
These apps are not at all complicated and can be used by anyone without much effort. It even saves a lot of your money as you do not have to invest in buying a particular software in order to scan your documents. Now, you do not have to carry a bunch of papers to your workplace. Scan and store all your documents on your smartphone in an organized manner.
If you like these PDF scanner apps lists then please share this article with your friends and family on social media.