Wallpaper is actually a cover image to your screen and who doesn't want to have an attractive cover. Well, you must have seen a lot of people putting up different images as their wallpapers. However, you can stand out from everyone by using some of the best live wallpaper apps.
These apps will provide you with beautiful live wallpapers. You can choose your own theme of the love wallpaper be it nature, water or any other themes. These fancy wallpapers will altogether change the look of your mobile phones.
Sometimes you might not get the desired live wallpaper on the app you have in your mobile phone. However, there is nothing to worry about as these are the bunch of best live wallpaper apps that will provide you with your desired wallpapers.
List of Best Live Wallpaper Android Apps
Below is the best live wallpaper applications for Android smartphone. You can download and install these apps in your mobile to set live wallpaper on home screen.
The first thing you see when you switch on your mobile phone is the wallpaper on your screen. Thus it is very important to keep that wallpaper attractive and beautiful. The wallop app provides you with some of the amazing live wallpapers and 4K wallpapers. The app even changes your wallpapers automatically and provides you with the option of setting up your own videos as the live wallpapers. You can beautifully decorate your home screen as well as your lock screen with creative and unique wallpapers. Get a bunch of marvelous wallpapers regularly on Wallop.
---
Now you can have two absolutely different and unique animated or live wallpapers for both your lock screen and home screen with the help of GRUBL. It also has more than 100 different ringtones and alarm tones. Moreover, you can even set a separate ringtone for each of your contacts. The realistic effects of the live wallpapers catch the attention of a lot of people. You can make the choice of your wallpapers based on your favorite colors. It also does not consume much of your mobile battery and is quite a device-friendly app that is updated every week.
---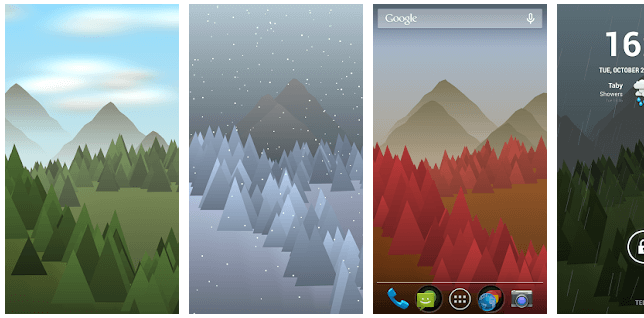 Forest Live Wallpapers app is the best app for the animated versions of trees and you can even change the weather conditions. Moreover, the unique feature of this live wallpaper is that the sky color is changed in the morning and night. It has the soothing features of mountains and stars which make your wallpapers look attractive. You can also notice the movement of the trees blowing due to the wind on the wallpaper. This app also tries to match the wallpaper to your local weather and requires internet access for setting it up as the wallpaper.
---
Water Garden Wallpaper app provides an extremely realistic water pond with the fishes moving here and there in it. You can even create ripples in the water by simply touching them. You can even play with the fish moving on the screen. This is one of the best apps for nature lovers as it has some of the unique and adorable natural scenes to set up on your wallpaper. With some of the advanced features, you can even personalize your own water Arden on the screen. The graphics of the wallpapers is quite clear and maintain high visual quality.
---
If you are a person who loves art then this app is the best place to get some of the finest artworks as your wallpaper. Each day your screen is beautifully designed with new artwork. You can even set up your favorite picture as wallpaper if you want. It also has the feature of blurring the background while you want to view the other icons. Moreover, you can even set the time interval within which you want your wallpaper changed. It has also introduced a new feature of the watch face for Android wear with the help of which you view the latest wallpapers right on your wrist.
---
Conclusion
You can customize or rather decorate your home screen via wallpaper. For a different wallpaper, you should always make a choice of the live wallpapers as it looks mesmerizing on the home screen. Once you set these live wallpapers on your home screen, you can confidently boast about your mobile phone in front of your friends and colleagues. These live wallpaper apps would be a complete makeover for your device. 
If you like the live wallpaper apps list then please share this article with your friends and family on social media.