Are you searching for Motivational quotes related apps for your Android phone? Here I'm going to share the list of best motivational quotes apps where you will get inspiring quotes daily to get some sort of motivation that would bring hope within you.
These apps will present you with some of the best quotes that you can read every morning or at least once in an entire day so that you can restore your hopes and bring in some positive vibes.
These are the best motivation apps designed to motivate you and relieve your stress. You can download any of these apps and rebuild the confidence you have in yourself. 
List of Best Motivational Quotes Android Apps
Below is the list of the best motivational quotes app for Android users. If you have an Android device and searching for a quotes application then you must install the below apps.
#1. Motivational Daily Quotes
The motivational Quotes app offers you a huge collection of some of the faithful quotes that will encourage you to dream big. It does not only comprise quotes relating to heartbreaks or success but also quotes related to humanity, self-respect, or thanksgiving. You can get anything and everything on this app.
Whenever you want to greet someone or thank someone with humbleness all you have to do is tap on the app. The app daily notifies you with new amazing quotes. You will not only love the quotes but also the beautiful background the quote. Thus inspire yourself as well as others by sharing your favorite quote collection with them.
Also Read: Top 5 Best Todo List Apps for Android
---
#2. Daily Inspiring Life Quotes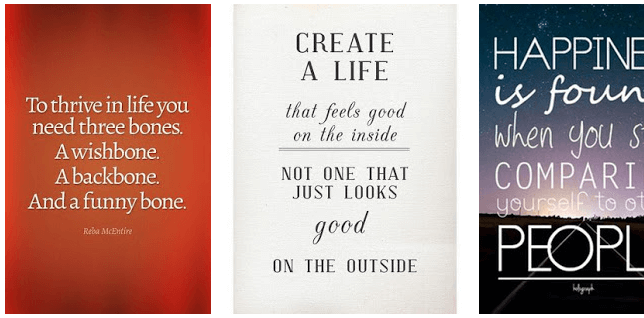 Inspirational Quotes– before beginning any work you feel quite anxious or stressed out, at that moment few inspiring words from someone to do away with all your worries. It has some of the best quality inspiring quotes. It also provides you with the feature of voting for the quotes you like or dislike.
Be it a morning inspiration or any other moment in your life where you get an opportunity to give an inspirational speech. You can do it with the inspirational quotes app. The quotes and pictures are updated regularly on this app so that you do not feel monotony.
Also Read: Top 5 Best HD Wallpaper Apps for Android
---
#3. Daily Motivational Quotes App
Daily motivational quotes is a free inspirational app that provides you with numerous exciting quotes on a daily basis at the time of your choice. It does not make you wait even for a minute and is instantly at your service with the inspiring and loving words that you need to hear at that moment of life.
It also has the unique feature of the meditation process which will calm and relax your mind. You can even comment on the quotes and share your opinions with others. In this way, you can also write your mind and share it with everyone.
Also Read: Top 5 Best PDF Scanner Apps for Android
---
#4. Always Positive – Daily Motivational Quotes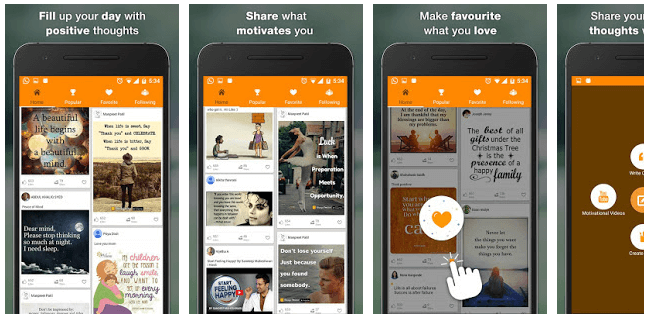 Always Positive – as the name of this app suggests it will remove all the negativity from your life and fill your mind with all the positivity in life making you an extremely optimistic person. The moment you feel that there is no hope for anything in your life take a look at the positive quotes in this app.
It will re-energize you and give you new hope in your life to continue your work. You can even share your own positive writings in this app. Thus a completely negative person can also become a positive person by using this app and reading new quotes every day.
---
#5. Wisdom Quotes: Wise Words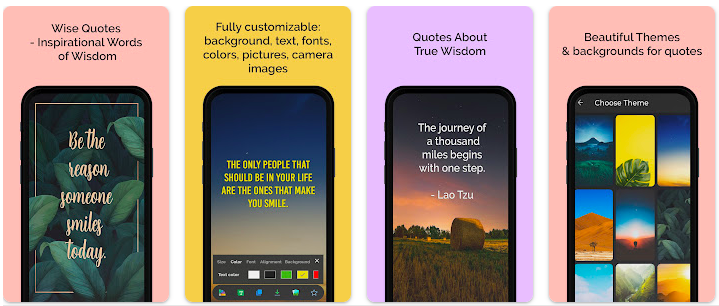 The wisdom life quotes app is a treasure trove of amazing sayings and wisdom from really wise and famous people. This app gives you a boost of motivation and inspiration through some awesome motivational quotes.
Not only a single category, but more categories of quotes are present in this app for all sorts of situations in life when you feel quite low. You can even download your favorite quotes and further share them with your friends and loved ones.
---
Conclusion
You can install any of these apps and achieve your goals whenever you think of taking a step back, all these quotes will move you a step forward towards your goals. Be more focused, goal-oriented, and positive in your life with a new inspirational quote every day. 
If you like the motivational quotes apps list then please share this article with your friends and family on social media.