Are you looking the ways to earn money or free Google Play credit? I'm sure you want to buy premium apps or games or ebooks from the play store or you want to earn extra bucks in your bank account. Well, Don't worry, Now you don't have to worry about money. Install these earning apps and earn real money & also you don't have to pay anything to get paid apps and games. You can use play credits to get access to movies, ebooks, and more. Not only this but also you can convert google play credit to real money.
As you know, Google Play is one of the biggest sources of eBooks, movies, Apps, and games either free of charge or at a cost. Well, Today I will tell you how to get FREE google play credit to get applications without paying anything to Google. In this article, I will show you where to get free google play credits in your Gmail account.
If you are still reading this means you are interested to know "how to earn money or google play credit". Here I will tell you the best apps that will provide you with Shopping or Google Play gift cards or redeem codes and then you have to redeem that gift card code to your account. Your earnings are to be credited within a few seconds.
List of Best Earning Apps to Earn Money & Credit
Here are five earning apps to earn money or Google Play credit to get paid apps & games from Play Store.
#1. Google Opinion Rewards
Google Option Rewards is a part of Google where people earn Google Play credit by simply giving an answer to an easy question. It is like short surveys and every survey can pay you up to 1$ free in your Google Play credit. You should know how to redeem Google Opinion rewards balance to Bank or PayPal.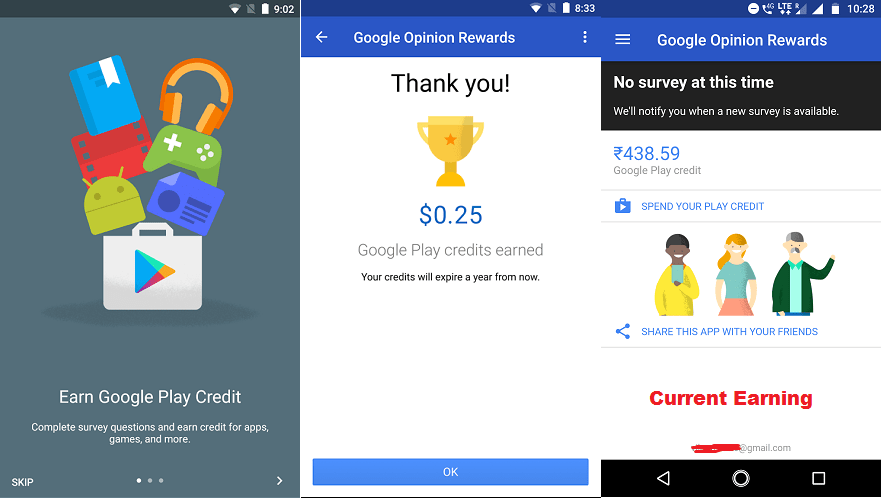 Follow the below process to get started with Google Option Rewards :
Install Google Option Rewards from Google Play Store
Open the Google Option Rewards app
Scroll and read the How to Complete survey question to earn Google Play credit for buying free apps, games, and much more
Then it will ask you almost 9 Questions about yourself.
Fill in your answer carefully. Its main purpose is to know about your interest and they will provide your interest-related surveys. The question will be What is your gender, Age, Postal code, Language etc?
It will take some time to get approval for Google Option Reward. So be patient. If you got approved then you will be able to see the Google Play credit & Reward history option.
Also Read: Top 5 Apps to Redeem Google Play Credit for Android
---
#2. mRewards – Games & Earn Money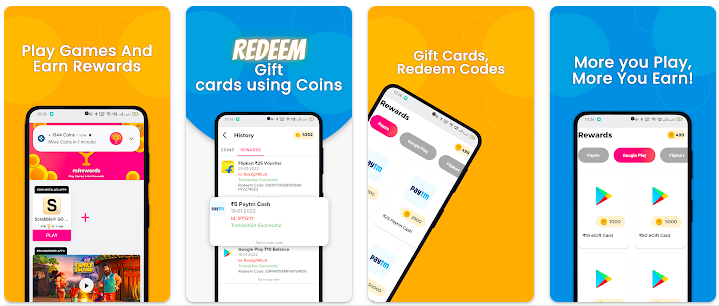 mRewards is like the ultimate money-making app. You can get free rewards by playing games, taking surveys, telling your friends about the app, and completing certain tasks within other apps. Making free money has never been this easy and enjoyable before!
Also Read: Top 5 Best App Store Websites (Similar to Google Play Store)
---
#3. AttaPoll – Paid Surveys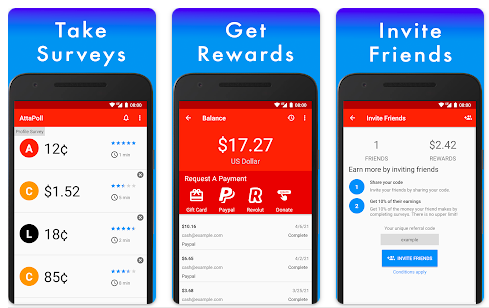 AttaPoll is money making app for your Android phone. It links you up with different companies and groups that want to know what you think. When you take their surveys, you're actually helping these companies come up with new stuff or make their existing products and services even better. And as a thank-you, they'll give you real money or cool gift cards. It's a win-win situation – you share your thoughts, and you get rewarded in return!
Also Read: Top 5 Best Grid Photo Maker Apps for Android
---
#4. Viewpoints – Earn points and rewards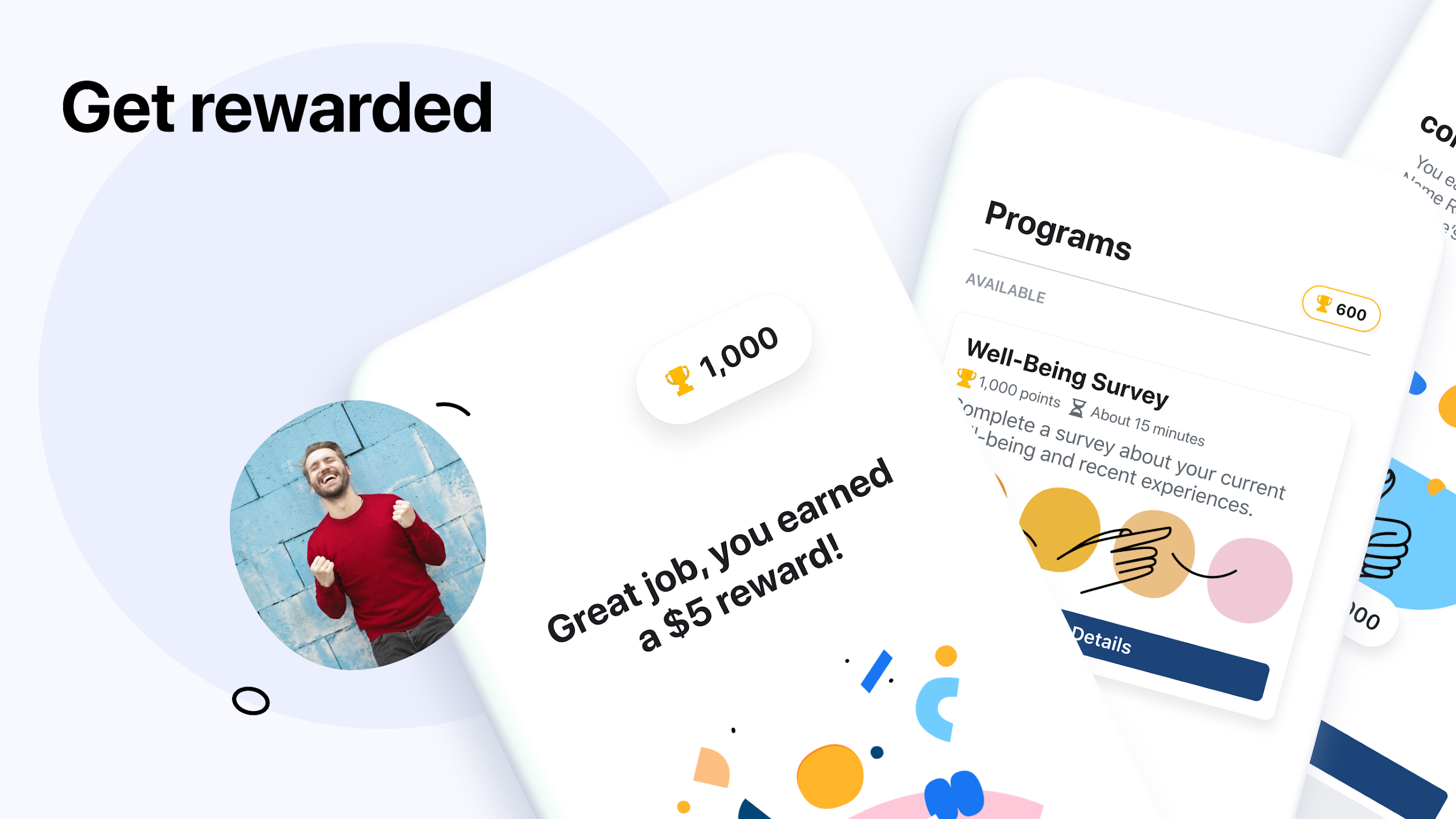 Viewpoints is amazing earning apps to get rewards on completing surveys, tasks, and research. Before you jump into a program, we'll make sure to tell you all about what kind of information they'll collect and how they plan to use it. We want you to know everything so you can decide if it's right for you.
Also Read: Top 5 Best Download Manager App for Android (FREE)
---
#5. YouGov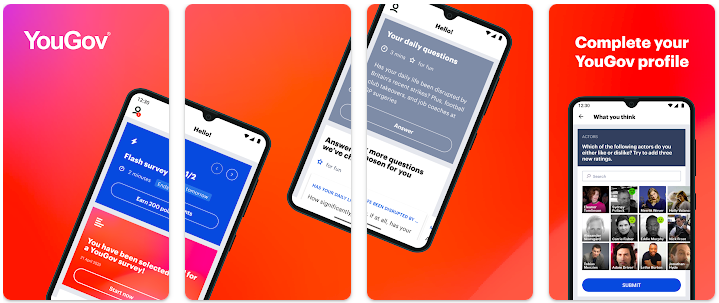 YouGov's official app is here to give you the chance to be part of things no matter where you are. You can earn points by answering surveys that catch your interest, and the best part is, you can use those points to get cool prizes – all right from the app!
---
Conclusion
I hope you got your answer on How to earn money & Google Play credit without investing a single penny. If you know any other earning app that pays a good amount similar to Google option rewards and other free gift card providers then let us know in the comment section. And don't forget to share this with your friends.