Do you want to create outstanding Instagram content and want to stand out from the rest? Then, these are the best Photo Grid Maker apps that will help you to create unique collages and edit them in quite different ways. You can layout your pictures in a way different from other followers on your Instagram!
Did you know that editing pictures can be so much fun? These apps will organize your Instagram accounts into a professional account and can even increase your followers.
Be it the splitting of a single image into nine tiles or the grid of two or more images these apps will create anything you want. Just download these apps and see the magic it does to your Instagram profile.
List of Best 9 Cut Instagram Apps for Android
Below is the list of best apps to create nine cut images and use them on Instagram. You can easily create grid photos using these apps. So, Let's see the best 9 cut Instagram photo maker apps.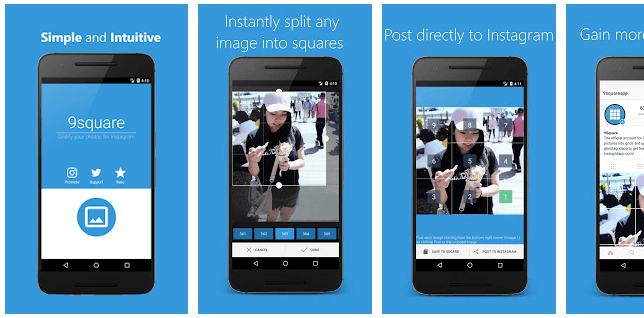 9square for Instagram – everyone wants to gain fame on the social media platform. Even, if you want to be an influencer or a famous social media personality on Instagram, then this is one of the best apps for it. You can crop your picture easily to any size which is best suited for you easily.
Moreover, if you wish to upload more than one picture you can also create a grid of your favorite pictures and post it directly from the app to Instagram and increase the list of your followers with some high quality and beautifully presented images.
Also Read : Top 5 Apps to Get Likes on Instagram FREE (Insta Likes)
---
Photo split – you must have come across the most trendy way of splitting one picture into different parts so that together it forms one complete picture. However, the question arises of how to do it? The Photosplit app makes this task easier for you. It offers a variety of split options- 12 or 43.
The best part about it is that the quality of the picture is also not compromised. This creation of one big split picture will uplift your Instagram profile and give it a professional look. You can directly post the picture after splitting it.
Also Read : Top 5 Best Remote Desktop Apps for Android
---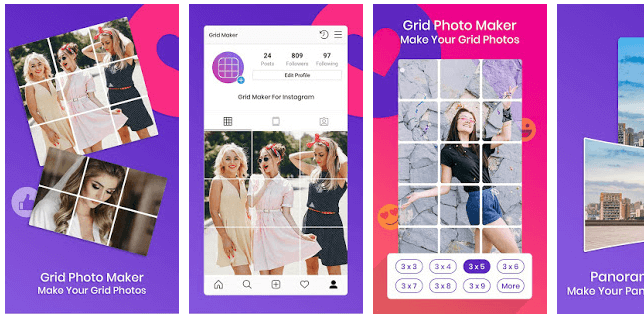 Grid Photo Maker – it becomes quite difficult to post your picture on Instagram if your picture is not square in size. To avoid the cropping of pictures and bringing them into exact squares all you need to do is rotate and adjust your picture on this app. It also has the feature of creating panorama-cropped images for Instagram.
These panorama images give an amazing look to your profile and might get a higher number of likes as well. You can easily post the images to social media and also it has the feature of automatically saving the images so that you can have a beautiful picture in your gallery as well.
Also Read: Top 5 Best Podcast Apps for Android
---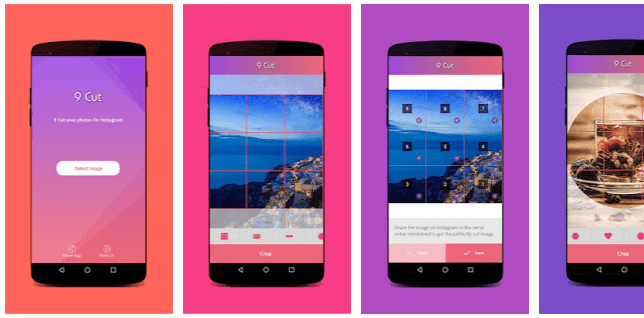 9Cut Photos for Instagram – you might have come across a lot of grid images on Instagram and might wish to grid your pictures as well. This app enables you to put down your images in a grid format. You can also put your images in different shapes like a heart, square, or circle.
Thus it is not just normal gridding of the images, you can now do it in a unique or creative way by changing the shapes. The app also does not degrade the quality of a picture, instead, you get a high-resolution image to post on Instagram directly from the app without any hindrance.
Also Read: Top 5 Best Quote Maker Apps for Android
---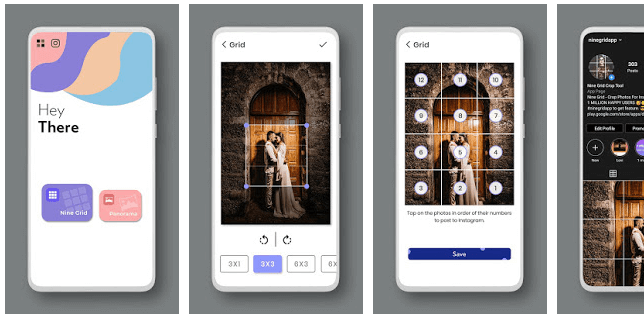 Nine Grid Crop – have you ever thought how creative it would look when you cut down your large images into small pieces of 3, 6 or 9. This app will help you to give a try this out with your glamorous images. It is a tool that allows you to brainstorm, write, and share your ideas in the most efficient way. Story Crop consists of nine different grids (9 Cut for Instagram).
Not only does it have the feature of dividing the image into several parts but also has the feature for zooming in your picture so that you can present every detail of the picture in absolute clarity to your followers. This app has been the choice of many Instagram users to crop, move or zoom their pictures without degrading its quality.
---
Conclusion
These apps create split images for your Instagram which can have a strong visual impact on the viewers. You can add different colors, themes, and tones to your pictures. These types of layouts are best for posting a glamorous picture or launching a product. These apps will surely turn you into an Instagram influencer.
If you like these 9 cut apps list then please share this article with your friends and family on social media.