Are you looking for a podcast app for your Android mobile? Here I'm going to list the best podcast app where you can host and listen to your favorite podcast on the Internet. Podcasts are a great source of information in this technical world. There are a lot of people who prefer to listen to a variety of podcasts instead of music. They tend to gain a lot of knowledge from these podcasts.
These apps will offer you a variety of unique podcasts which you would not get anywhere. You can even browse or save your favorite podcast on the app. There are some podcast apps designed especially for iOS and some for Android.
These apps are some of the podcast apps which have an amazing collection of podcasts. You will never be disappointed with these apps as they will provide you with the best. 
List of Best Podcast Android Apps
Below is the list of the best podcast to host and listen podcast. Many people used to listen to the podcast to improve their life and add meaning to their lives through stories, case studies, and interviews.
#1. Spotify – Listen to New Podcasts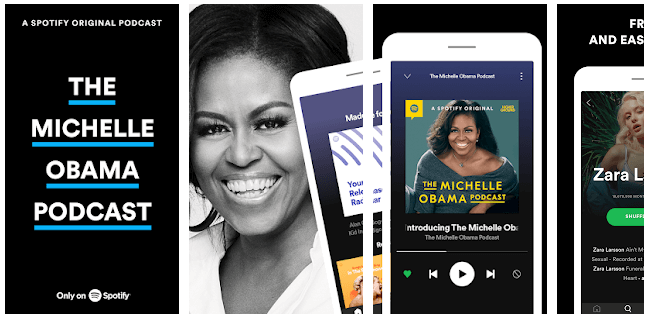 Spotify – is a free app where you can listen to a variety of amazing and beautifully composed songs and podcasts. You can find all the trending music albums and podcasts on Spotify. You will get a list of podcasts on this app that you won't be able to find in any of the apps. You can make your choice of music even according to your favorite artist, Spotify will never disappoint you in any of your music choices.
The best part is that it provides such features absolutely free for you. There are certain premium features as well which would provide more amazing features like listening to the songs offline and you would also get a personalized music experience that no other app would provide.
---
#2. Podcast Addict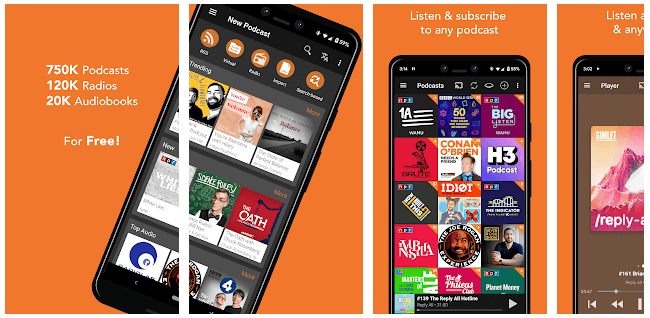 Podcast Addict is an amazing podcast app on Android with millions of downloads. By using this app, You can manage podcasts, radio, audiobooks, live streams, YouTube, SoundCloud channels and RSS News feeds from a single app. You are allowed to listen to a podcast from a listed podcast from millions of podcasts and episodes which you can browse by searching and categories wise.
Also Read: Top 5 Best Office Suite Apps for Android
---
#3. Google Podcasts – Discover Trending Podcasts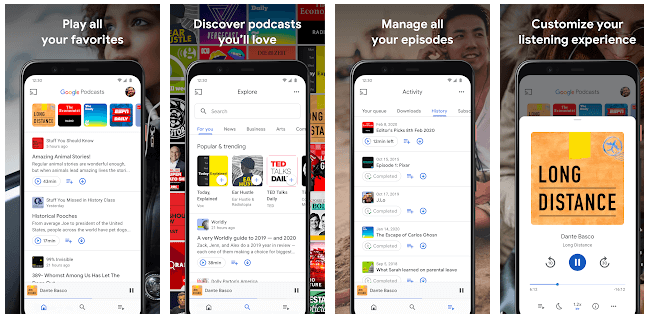 Google Podcasts – there are some unique podcasts that you can hear on this app for free. It also recommends some of the shows and episodes which you might love to watch. You can listen to the song at an even faster speed skipping the pauses wherever you want.  It also allows you to track down your listening history, downloads, and subscriptions. You can even search for trending shows, news, and sports. You can also search for your favorite podcasts easily on Google Podcasts.
Also Read: Top 5 Best Cloud Storage Apps for Android
---
#4. Castbox – Podcast Player & Podcast App
Castbox – you can discover your favorite podcasts on the Castbox and even save them for listening to the most loved ones on a repetitive basis. This app is specially designed for podcast listeners. It not only allows you to listen to music podcasts but also has a variety of other podcasts like – news and politics podcasts, sports podcasts, technology, games, hobbies, and even business-related broadcasts.
There is hardly any category that the Castbox will not provide you. Thus it can be the best partner that you can have for any matters from entertainment to politics. It will always keep you updated.
Also Read: Top 5 Best Remote Desktop Apps for Android
---
#5. Podbean – Podcast App & Podcast Player
Podbean – it is considered the top podcast player app where you can listen to all the trendy podcasts from among the millions of podcasts present in the app. You can even download your favorite podcasts absolutely free at any time and anywhere.
It provides you with customizable playlists and features like audio live streaming, intelligent speed, volume boost, and many such magnificent features. You can even subscribe to your favorite podcast channels or choose the audiobooks of the bestsellers for free. It will regularly keep you updated by providing notifications for recent podcasts.
---
Conclusion
If you are a fan of this medium of information then you should definitely have a look at the above apps and download any of them. All of the above apps are the best and have some of the best features that will completely startle you. From now on you will not miss any of the trending podcasts as these apps will offer you all of them.
If you like this apps list then please share this article with your friends and family on social media.