Are you looking for the best to do list app for productivity? Here I'm going to share the todo app list with you for your Android smartphone. The real challenge is to stay organized in daily life. If you are not disciplined then your task is not completed in the timeline. So you need to set reminders and focused on your task timeline so that you don't miss the work done on time.
You can add anything you want to your to-do lists from noting down your grocery list to the important assignments that you need to complete. Be it a minor or a major task you can keep a record of anything you want on your to-do list.
There are a bunch of apps for your to-do managing time but these are some of the best apps to choose from. Your accomplishment of the task will become much easier with these apps.
List of Best Todo List Android Apps
Below is the list of best todo Android apps for managing daily activity for 100% productivity. You should use these apps and organize your day-to-day life.
#1. Todoist – ToDo List, Tasks & Reminders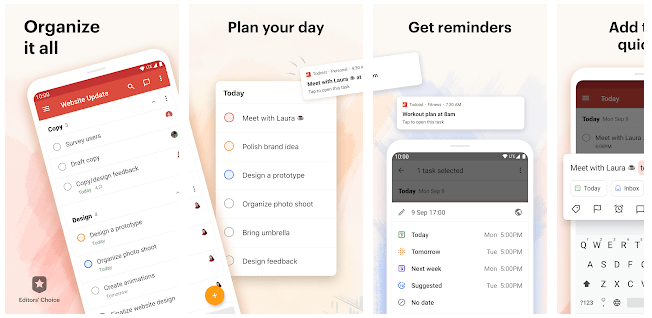 The todoist app is the best app to schedule your work to complete in your entire day. However, is it easy to remember everything once, something or the other is always forgotten. Todoist will solve all your problems and memorize everything for you. Organize all your tasks and note them down in this app.
Keep your priority tasks at the top of the list followed by other to-dos. It will remind you of everything at the exact time you have mentioned. It has the feature of integrating apps like Gmail, Google, Amazon, Alexa, or other such apps. With this app, you can get your life quite organized.
Also Read: Top 5 Best PDF Reader Apps for Android
---
#2. TickTick – ToDo Planner & Calendar App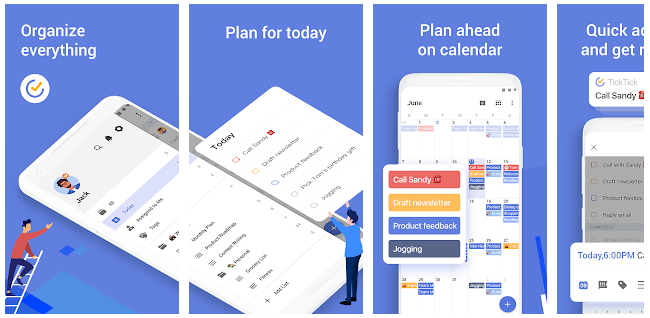 TickTick is the most recommended task manager app which has some of the best managing features and can make your everyday task simpler. You can manage both your time and work very effectively with the help of this app. Not only managing your task but this app also helps you in capturing the idea as and when it comes to your mind.
Be it a project or the birthday of your favorite person you can remember it all with TickTick at once. It also has a unique feature of a pomo timer which keeps you quite focused and away from all distractions.
Also Read: Top 5 Best Office Suite Apps for Android
---
#3. Habitica: Gamify Your Tasks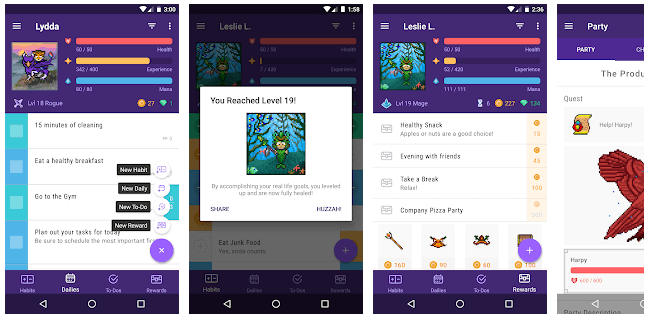 Habitica – this app makes managing your time more fun and exciting by organizing it into a game structure so that you will be motivated to complete your task according to your time. It has certain avatars or features that you can unlock only when you complete that task.
Thus like you complete the tasks in a game to achieve the rewards similarly you have to accomplish your task to unlock features like pets, armor, or even quests. In this way, you will always be excited to accomplish your goals in order to see which feature gets unlocked and gradually you will be in a habit to complete all your tasks on time with this motivation.
---
#4. Any.do – To do list, Calendar & Planner
Do you still think of making a bucket list on a piece of paper? Do away with that practice by installing the Any.do an app and create a list on your tablets or smartphones. There are a lot of features like syncing it with the phone's calendar, google, and other Facebook calendars.
Not just your worklist or bucket list but you can use this app for almost anything which also includes your household chores like the grocery list or the various tasks you need to complete at home. You can immediately add the work from your emails or attach the files from your Google Drive. Simplify all your tasks just by keeping them stored in an organized way on your mobile phones.
Also Read: Top 5 Best Antivirus Apps for Android
---
#5. Remember The Milk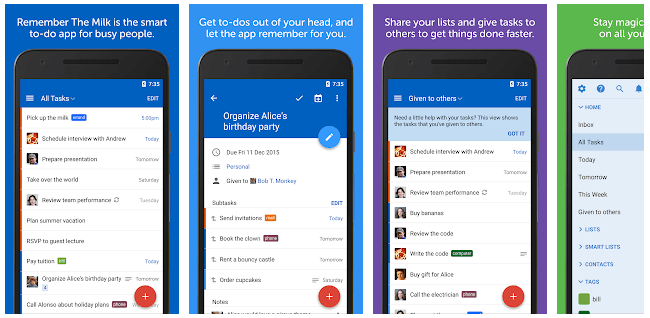 If you are always busy doing something or the other and forget to do the most important task, then remember it with this app. Just make a list of your tasks and enter it into this task manager you will never forget any of your tasks from that moment as Remember the Milk will provide you with all the information regarding the task you have to do.
It also has color tags that will make your work both organized and colorful. It also provides you an option to share your lists with your friends or colleagues.
Conclusion
All these apps will organize your busy day and make you an efficient multi-tasker. Your productivity will boost with the help of these apps. Once you install these apps there is not a single thing that you would forget. All your tasks will be completed. No more picking up your notebook to make a list as you can do it easily on any one of these apps. 
If you like this productivity to-do apps list then please share this article with your friends and family on social media.