PDF serves two major purposes one is you convert the files into PDF for business purposes or in case you want to read your e-books. You can even convert your documents into PDFs for better reading. For easy conversion to PDF files, there are a lot of PDF reader apps.
These apps allow you to perform all sorts of functions and some of them would even allow you to edit or print PDF files. Most of the documents on the internet are present in PDF formats for which you need these apps.
There are many PDF reader apps that can help you create PDF formats anywhere you want. These are some of the best PDF reader apps that you should download on your mobile phone.
List of Best PDF Reader for Android
Below is the best pdf reader for Android smartphones. If you haven't PDF reader on your mobile then you should use below PDF reader apps on your phone.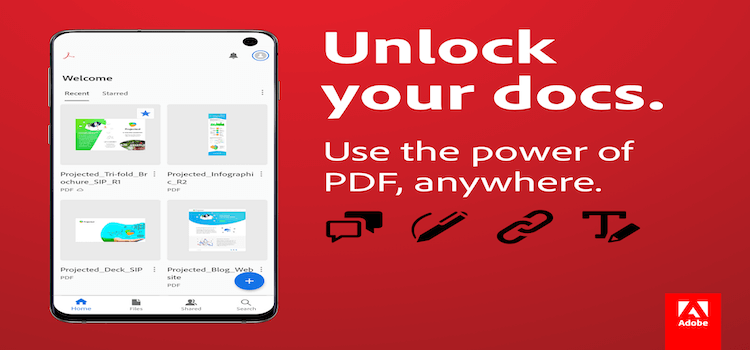 It is a free, reliable and standard app for editing or reading PDF documents. You can simply open up any of the PDF files and view them in a detailed manner with the help of this app. Elucidate your important notes on the PDF documents with the help of markup texts or highlights. You can even comment upon the documents via sticky notes. You can even share the documents easily and can keep a record of your received PDFs. you can even create PDF links in order to share them via emails. This app is also connected to your Google Drive so that you can easily access the files in the drive to the app.
---
It is a free PDF reader which is easy to use and is absolutely reliable. It opens your PDFs fast and also does not exhaust your devices. The app secures all your information and does not provide access to unauthorized. You can easily manage your files on this app and you can search out any of the texts within your document. It also allows you to share the files directly via emails and you can also keep them safe in your Drive. You can even convert your normal files into PDF documents or insert any kind of audio or videos into PDFs.
---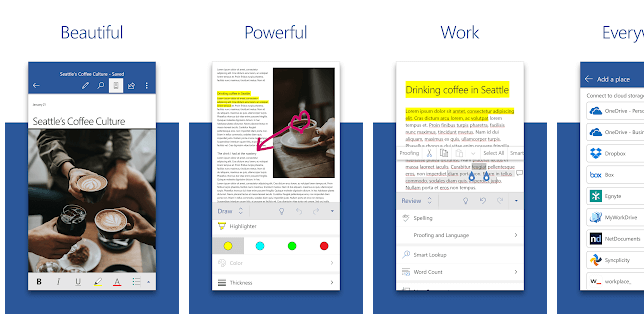 You can edit, create and share your files easily with Microsoft word. The word allows you to open the PDF documents reader for your phone. You can read or edit the PDF documents anywhere you want. You do not have to be at your office to carry out your work. You can even sit at home and create some of your important files. It has an option of reading view which only allows you to read the documents and PDFs on your device. Not only can you use it for creating certain documents but also for forms or resumes. Moreover, the layout and formats it provides make your file quite presentable.
---
It is an accessible app that allows you to view, edit and create any of the documents in Word, Excel or PowerPoint. It is quite compatible with the Microsoft formats and you can even edit and create any of the complex office documents. It also allows you to share your documents with your colleagues and friends. Moreover, it makes sure that your documents are absolutely perfect thus in case of any mistake it automatically corrects it. It keeps your files absolutely secure and it has almost 68 languages along with different Japanese fonts.
---
Often your PDF files do not open in all your apps this app allows you to open your PDFs easily without any problem. You can edit, view or search for the texts in your PDFs. Thus you can edit your files anywhere you want even during your travel. It allows you to share your files in PDF format with your colleagues quite easily. The texts can also be copied from the PDFs and edited according to your suitability.
---
Conclusion
These PDF reader apps make the reading and editing of documents in PDF format quite accessible and simplified. There are a lot of PDF readers that might cost you a large amount annually. On the other hand, these apps allow you to use PDF documents or edit them absolutely for free. You can do anything you want on your PDF files – highlight, annotate or add a bookmark anytime you want to through these apps.
If you like the PDF reader apps list then please share this article with your friends and family on social media.