If you want an amazing Android experience then these are the best Android Launchers app that you should download to upgrade your system entirely with some of the best features. Change the theme off your device and many more with these apps.
All of these apps are quite user-friendly and will make your devices quite different. Your phone's software will get a new appearance with the help of these app launchers.
You do not have to search through hundreds of options to select the best app launcher apps like the following list of apps is all you would wish to have on your devices.
List of Best Launchers for Android
Below is the list of best launcher apps for Android smartphones that will give the mindblowing design of Android mobile. Let's install these launchers on your phone.
#1. Solo Launcher – Clean, Smooth App
The Solo Launcher app is one of the first app launchers to use the material design 2.0. The best feature of this app is that it does not require much space and boosts up the performance of your phone by restoring the memory and allowing your phone to run smoothly without any hindrances.
There are thousands of beautiful wallpaper themes that can be installed quickly and easily. It also secures your phone from unauthorized users with the help of new Locker plugins. It is one of the most recommended apps and has been the most featured launcher on Google.
Also Read: Top 5 Best Office Suite Apps for Android
---
#2. Nova Launcher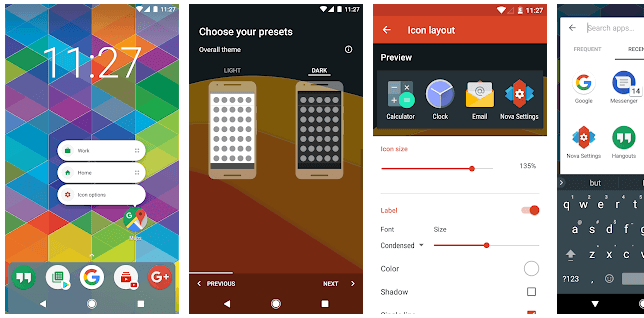 Nova Launcher is the most user-friendly app as it is quite versatile to use and has some of the most advanced features which makes it accessible to thousands of people. It does not stick to the old boring features of the launchers app instead introduces you to the most latest features of the launchers.
It has the feature of night and dark mode which you can apply as per your suitability. It even has the option of backups to restore all the data of the phone. Other features of the app include the availability of different icon themes, hide apps and also increases the speed of your cell phone functioning.
---
#3. C Launcher: DIY Themes, Hide Apps
C Launcher is one of the most customized cellular launcher apps which comprises astounding themes for your mobile phones, and with great security facilities. There are customized features with which you can DIY your themes and also saves the battery of your phone by cleaning the junk files which ultimately speeds up the functioning of your phone.
It consists of an app drawer that organizes the app according to its functions so that you can have quick access to any of the apps immediately. You can even share your DIY themes with your friends easily.
Also Read: Top 5 Best Funny Apps for Android
---
#4. APUS Launcher – Themes, Hide Apps
If you wish to have an amazing launcher theme on your cellphones APUS Launcher is most suitable for it. It brings you a whole new set of stylish and personalized launcher themes and a variety of unique HD wallpapers. There are more than 50,000 launcher wallpaper themes that will prevent you from being bored by applying the same wallpapers again and again.
It also has some the features like app lock and hides apps, flashlight, top news, and many other exciting features. Moreover, the best thing about the app is that it is available in 19 different languages. 
---
#5. GO Launcher – 3D Theme, Wall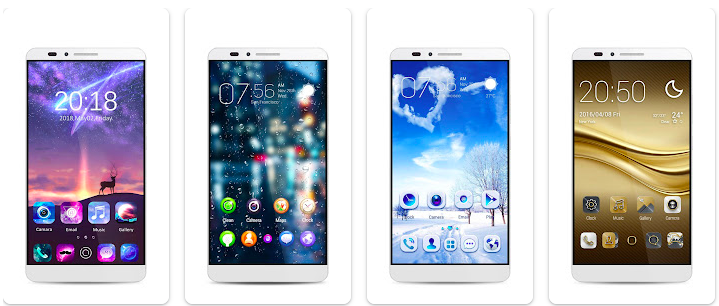 Go Launcher app will turn your dull and boring Android phone into a sparkling and exciting phone with its features. You will no longer be teased by your friends for having old-fashioned home screens or other features. This app will make your smartphone completely stylish. There are 10000+ unique and modern themes and amazing, fun-loving stickers that you can share with your friends and family. With this app, you can make your phone quite fast and easy to use as it has one of the best phone booster facilities.
Conclusion
These apps have a bundle of different options available according to your tastes. Each app has its own distinct feature some would enhance your speed while some would opt for your Flash. All the features will try to make your device more efficient. The entire system of your device will be under your control and you can change it the way you want.
If you like the launcher apps list then please share this article with your friends and family on social media.