There are several apps that you need to download for your office work. Be it PowerPoint or MS Office, installing each app would occupy some of your device's internal storage. Thus, to save your internal storage of you can find all of these apps in one.
The office suite apps are the best apps that serve multiple purposes. You can have all the apps related to your official work in these apps. You can do any of your office work anywhere. To keep your office work perfect and absolutely on time you should download any of these office suite apps that will simplify your work to a great extent.
List of Best Office Suit Apps
If you want to edit document files like Excel, Powerpoint or any other then you need to install an office suite application on your device. Below are the best office suite apps for your Android smartphone.
WPS Office app has multiple purposes such as PDF, Excel, PowerPoint, and many more. Everything you require for your office will be found in this app. The PDF reader allows you to make changes to the PDF documents. You can even scan the other documents and convert them into PDF files.
Now you can do your presentations even if you do not have your laptop at hand. This app allows you to create your presentations via PowerPoint. Moreover, your documents are saved automatically to Google Drive, Dropbox, or OneDrive. This app supports all kinds of formats and has an availability of more than 40 languages.
---
This app manages your documents via Excel, PDF, and PowerPoint. This app provides an exclusive feature for you to create your documents or edit them. Moreover, it supports all Microsoft formats. You can store your large files via this app without any problems.
It is available in more than 50 languages and also provides you with a spell-checker that ensures that your documents are written in a flawless manner. There are a lot of themes from which you can choose to create beautiful presentations. Moreover, the availability of the Chromebooks in the new version will make your work faster and easier.
Also Read: Top 5 Best Podcast Apps for Android
---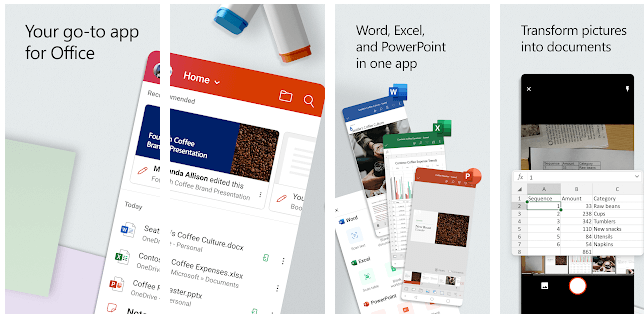 A combination of all the top applications – Word, Excel, and Powerpoint, this app will allow you to accomplish your office goals. You can complete your personal or professional work anywhere with the help of this app.
You can turn the picture of any of your important papers into an editable document. Moreover, you can even create excel spreadsheets or transfer your PDF files easily. Your files are saved automatically to the cloud storage so that you can refer to them later or share them with your colleagues.
Also Read: Top 5 Best Antivirus Apps for Android
---
#4. Docs To Go App
Docs To Go app helps you to create all your Microsoft Office files and Adobe PDF files. It allows you to create and edit your files. Moreover, the changes in the documents are automatically saved on your SD card via this app.
You can even share and receive these files through emails. Your documents are saved in an organized manner so that you can sort your files easily whenever you want. It has more than 10 different languages. You can even change the font size or themes in your documents and presentations.
Also Read: Top 5 Best Video Editing Apps for Android
---
All your office documents can be created, edited, and printed via this app. Your existing documents can also be edited on this app. All your presentations and files can be easily done on this app.
You can even convert your documents into PDF and print them effortlessly as it supports a large number of printers It also allows you to keep your files safe and protected with a password. It supports almost all file formats and has more than 30 languages.
---
Conclusion
All your documents are kept safe and organized in these apps. Moreover, you do not have to wait for your laptops to prepare your presentations as you can prepare a perfect presentation on your phone. These apps provide several facilities that will make your work efficient and perfect. Installing any of these apps will save more of your time. You will not have to sit at your office desk for hours as you can do your office work from anywhere you want.
If you like the office suite apps list then please share this article with your friends and family on social media.