Are you looking for the best antivirus and security app for Android mobile? Then you are in the right place. The security of any device is just to keep our information confidential. On laptops or PC, people install an antivirus to keep their information away from viruses and malware.
Similarly, mobile also requires some protection Apps or security Apps. Our Android mobiles are getting more secure with every new release of their operating system. Today, you will get some information about the free antivirus app in Play Store.
Antivirus is very important for our Android mobile because it always scans our files while surfing the internet. For Android mobiles, there is a lot of Antivirus or security apps. We have to select any one of the following antivirus apps for Android mobile. Before that, try to get complete information about Antivirus which you are going to install on your Android mobile.
Best Antivirus Apps for Android
Below are the best malware, junk, and virus-cleaner – Antivirus apps. You must download one of them and be safe from the virus.
#1. 360 Security – Antivirus Boost
360 Security Antivirus App is almost installed on most Android mobiles and people are using it without any problem. It is freely available in the Google play store. That's why Android user installs it easily but another important reason for its popularity is that this App automatically scans our Android Smartphone.
According to me, the 360 Security App is in the top position in the Top 5 best antivirus apps for Android. This 360 security App is having a lot of features like it can scan our Apps and games, enable real-time protection, anti-theft feature many more.
Also Read : Top 5 Best Web Browser App for Android Smartphone
---
#2. AVG AntiVirus & Security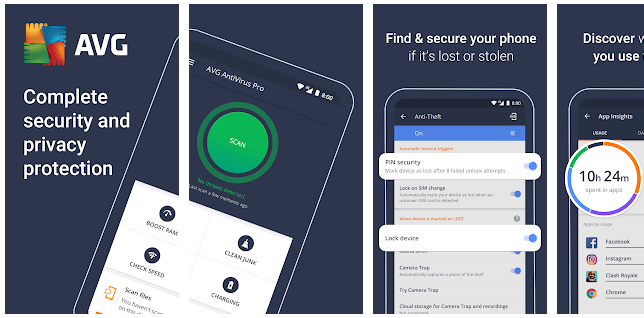 If you are looking for the best antivirus for Android security then you should install AVG antivirus. It will protect you from harmful viruses and malware. And also it will keep your data safe with an app lock, photo vault, wi-fi security scan and app permissions advisor.
Also Read : Top 5 Best Video Editing Apps For Android Smartphone
---
#3. Kaspersky Internet Security
One of the most powerful Antivirus for laptops or PC. I think Kaspersky Internet Security App is also helpful for Android mobile but it is only for those users who are having secret files on their mobile and are capable to pay some money to protect them from the virus. So you can also install this Antivirus App on your Android mobile so that you can protect your data. Those Android mobiles who are having Android 2.2 or more, can easily install this app on their mobile and can enjoy complete data protection.
Also Read : Top 5 Best HD Wallpaper App for Android Mobile
---
#4. Avast Mobile Security & Antivirus App
Avast antivirus is very much famous for laptops and PC but it is not that famous for Android mobile because it is a paid antivirus and Android users always prefer free apps instead of paid apps. But still, there are a lot of users who can pay for their data protection, they can buy it and can install it. Those people who are using Avast antivirus App, they have given positive reviews and ratings about it. So if you are capable to pay for security then it is another option for you.
Also Read: Top 5 Best Dialer & Contact Manager Apps for Android User
---
#5. McAfee Security App
McAfee Security App is also a powerful antivirus for Android mobile. Users have given good reviews and ratings to this antivirus. It is available free as well as paid but there is a small difference in the features of the free App and Paid app. But for our data protection, always go for paid security apps. Its app is having the ability to unlock the app by fingerprint also. It is a great feature in it for the young generation. Recently, McAfee antivirus added another feature i.e. power booster. Initially, you will find that this feature is useless but for security reasons, it is one of the most important features in it.
Conclusion
These are mostly used junk cleaners and virus remover apps. Let's try to above security app on your smartphone and boost your mobile performance and internet speed. If you are using any other app or have any suggestions regarding the Antivirus app then let us in the comment section. And also don't forget to share the antivirus app list with your friends on social media.