How many languages do you know? One, two, or maybe three but never thought of learning more languages. Well if you are keen to learn some of the amazing languages then these are the best language learning apps that will teach you everything from the beginning to the end. There will be nothing about the language that you would not know. 
Now you can go anywhere you want and pretend to be local because these apps will make you a proficient speaker of foreign languages. Learning the languages will be much more fun with these apps.
To make your task much easier, some of the best apps will teach you more than one language and turn you from a beginner to an advanced learner. You can choose any foreign language and begin your learning process at once.
List of Best Language Learning Apps
Below is the list of the best learning apps for any language right from your smartphone without any problem. You should download these learning apps for language practice.
#1. Duolingo: Language Lessons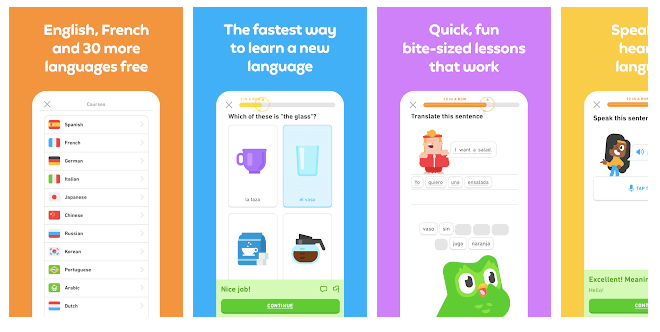 Duolingo is a free language learning app that will help you improve or English even without applying for a specific course. All you have to do is use the app regularly and try to understand and learn from the short lessons that are present on the app.
This app will make learning fun for you. You can simply learn to speak, read and write English fluently with regular lessons. Your vocabulary will be improved to a great extent. Apart from English, you can learn other languages like Chinese, Korean, Spanish, and German as well.
---
#2. Memrise: Speak a New Language
The Memrise app will allow you to learn native languages like Arabic, Dutch, Turkish, and many such exciting languages. You will get to learn these languages without attending any specific classes. The natives from all over the world are your teachers and teach you the language you wish to learn.
Beginning from the basics they will move on to difficult words or phrases making you an ultimate expert of that language. So the next time you visit any place across the world you do not have to hesitate in talking to the natives as you would be quite familiar with their language.
---
#3. Babbel – Learn Languages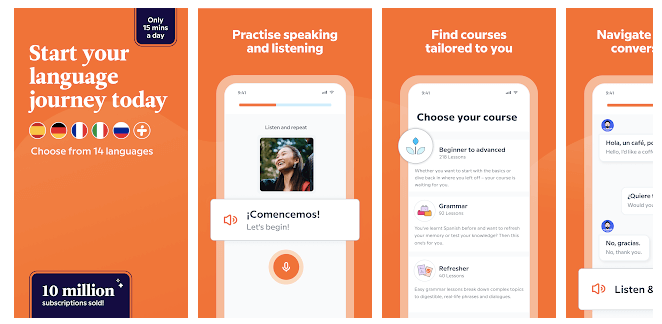 Babbel is an app designed by experts in languages and enables you to speak a specific language with confidence as you have the guidance of the experts. It gives you a choice of different languages from which you can choose something of your choice to learn. You can be quite proficient in the language in just a few months.
Moreover, you can learn different things in an effective way through the 10-15-minute lesson. There are 60,000 different learning lessons for each language. Thus millions of people choose this app for enhancing their learning.
---
#4. Busuu Languages App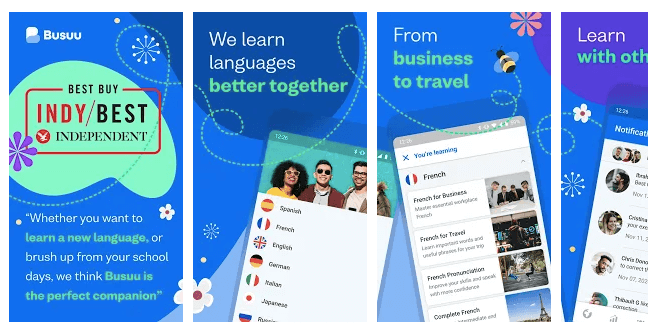 Busuu app makes learning a simplified process. Many of you wish to excel in different languages but are unable to do so because of the lack of proper guidance. There are up to 12 different languages in this app. The app has specified courses for each language so that you can learn the languages in quite a professional way.
You can interact with all the native speakers so that you can get feedback on your learning through these conversations. You can also learn the languages easily even in an offline mode by downloading the content. Moreover, you can even get official certificates by showing your proficiency to potential employers.
---
#5. Drops – Learning Games
Drops can help you memorize the lessons of the languages in an effective way through illustrations and fast-paced micro-games. This app prevents your learning from becoming dull and monotonous, instead, it makes your learning fun. In your busy schedule, you have to just take out 5 minutes to learn your lesson.
The elements of games and other such features of the app make it quite interesting. Just like you get addicted to the game, drops will make you addicted to learning and enhancing your vocabulary skills. Dedicated learners can also opt for the premium features and achieve progress faster.
---
Conclusion
Now you do not have to worry before you plan a trip abroad or you have to go to a different place for your work. These apps will bring confidence in you and teach you any language you want just in months. So if you are planning to go to France or Germany what is there to wait for? Immediately install any of these apps and begin your classes at once. 
If you like the language learning apps list then please share this article with your friends and family on social media.