Are you looking for free cloud storage for your smartphone? Your search ends here. I'm going to share the best cloud storage apps to store photos, videos, or documents online storage service. You can use cloud storage to manage files and organize virtual storage space.
Cloud storage gives you permission to store files, and then access them through Cloud service. There are three types of cloud-based storage architecture models it includes public, private, and hybrid. Cloud storage is also known as utility storage.
Cloud storage apps can be helpful for Android it allows you to upload and back up the contents of your Android to an online source. This can be further helpful to save space on a phone or tablet. You should check free & paid cloud storage services online on the internet.
List of Best Cloud Storage Apps for Android
Below is the best cloud storage to back up and restore your Android device data. Let's see the best cloud app for your smartphone. If you know of any other cloud storage app then let us know in the comment section.
#1. Google Drive
Google Drive includes cloud services and an efficient platform for storage. In Google Drive, users can easily access pictures, important files or documents, and videos. It is a secure place where files can be easily stored. One can use a smartphone, tablet, or computer for online storage benefits.
Google Drive provides 15GB of free cloud storage for their user, which is beneficial for those people who wants to store a large number of files in the same space. Google Drive can be easily downloaded from the Google Play Store. It is referred to as the best cloud storage option. Like other cloud storage services, Drive has apps for iOS and Android for managing and viewing files from your phone.
---
#2. Microsoft one drive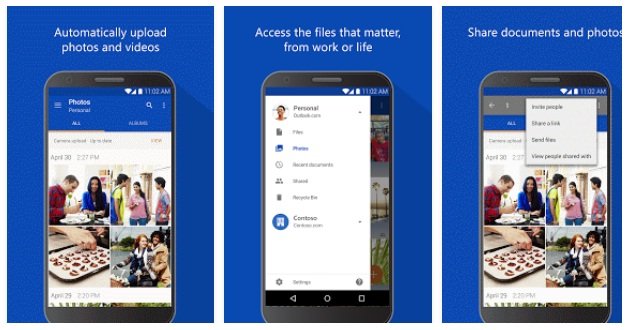 Microsoft One can store any kind of file, including photos, videos, and other documents. Then it can be easily accessed by Windows PCs or mobile devices. If you are using Windows 8 and Windows 10 then the Microsoft one drive is inbuilt into the operating system. The latest Android, iOS, and Windows apps have an automatic photo uploader which means that photos will be uploaded automatically while you shoot them. And will be automatically saved to your account. The biggest strength of One Drive is it works closely with Microsoft Office apps, such as Word or PowerPoint.
Also Read : Top 5 Best Keyboard Apps for Your Android Mobile
---
#3. Dropbox
Dropbox is recognized for its clean design, and reliability to use a cloud storage app. The files that reside in the cloud can be used anytime from Dropbox's website, and desktop applications for Mac, Windows, and Linux. Or one can also use iOS, Android, BlackBerry, and Kindle Fire mobile apps. Dropbox provides an abundance of opportunities for its users to get extra storage while signing in.
If having a quick Getting Started tutorial, then one can get 250MB of storage. To get 3GB of extra space the automatic photo upload needs to turn on in the mobile apps. One can edit and share important documents, and email attachments straight from a Dropbox. And if someone loses the Android device, then also can achieve the personal data safe in a Dropbox.
Also Read : Top 5 Best Mobile Screen Recorder Apps for Android
---
#4. Box
Box provides control for the privacy of files. You can decide who can access your specific folders, files, and other documents. One benefit is that the user can set password protection or expiration dates for shared folders. Everyone can sign up for a free individual account on Box, but the services and privacy features are built specifically for business and IT users.
The cloud storage setup is basically used to store a number of a file, sharing of files with colleagues, allocation of tasks, or leave comments on someone's work, and can easily get notifications when there will be any changes in a file. The storage app that can be used for signing up for personal accounts is 5GB of free storage.
Also Read : Top 5 Best Dialer & Contact Manager Apps for Android
---
#5. Media Fire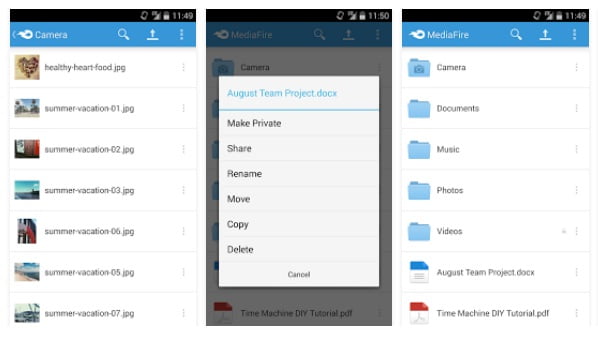 MediaFire is a cloud storage company that allows users and organizations to collaborate effortlessly. They provide the service on multiple devices, such as desktop computers, laptops, tablets, or mobile phones. This was launched in 2006 by Derek Labian and Tom Langridge. Media Fire currently boasts 43 million registered users and over 100 million active users every month. It also offers plans specially targeted at business users.
Also Read : Top 5 Calculator App for Android (Scientific & Financial)
Conclusion
So, These are free cloud storage apps for your mobile to backup phone data and restore anytime on any mobile. I hope you liked this best cloud storage apps list. If you are using any other storage app on your smartphone then let us know in the comment section and also share this list with your friends.