Are you looking for calculator apps for your Android smartphone? Here I'm going to share a list of simple and scientific calculator apps. You know the calculator is a very needy part of any business. Without the calculator, we can't imagine doing calculations fast. Whether you are working in the financial sector or you are preparing for engineering projects, Every time you need a financial calculator or scientific calculator to solve a big math problem.
As you know scientific calculators are not much handy to take in the pocket. Mathematics & Engineering students are required to keep a scientific calculator with them. Time is gone. Now you don't have to carry a giant calculator. Just install the free/paid calculator app on your Android device and use your mobile device as the super calculator.
There are many calculator apps for Android in the android play store. But the problem is in finding the best calculator app. So I planned to find the best math calculator for you and I got most of the Android calculator is simple, useless and full of ads. Well, I found a good calculator app.
List of Best Calculator Apps for Android
You are still reading this means you are really not satisfied with the by-default Android calculator in Android mobile. Now your calculator app finding ends here. Let's see below the scientific & financial calculator apps.
#1. Financial Calculators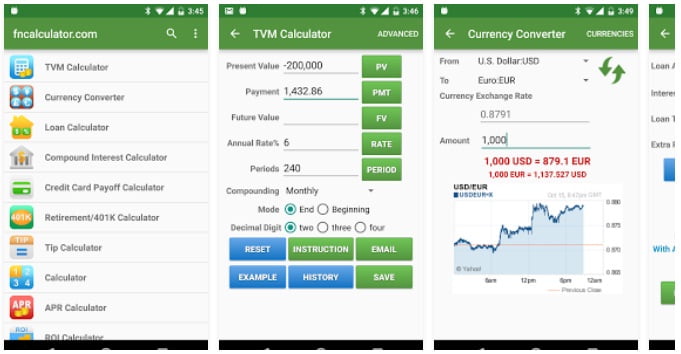 If you are in the financial sector then this financial calculator app will help you. A Financial calculator is one of the best collections of financial calculators. This app is a totally offline calculator app. It only requires internet access if there is required to know the current currency exchange rate. And also this calculator app is 100% Free to use. This app is designed by Bishinews and it is having a 4.3-star rating with a Million downloads.
Features of Financial Calculators:
Calculate Finance & Investment (TVM, Currency, CI, ROI, IRR NPV, MIRR, Bond, Tax equivalent Yield, etc.)
It is having a Loan/Mortgage calculator
Retirement Calculator
Stock Calculator
Credit card calculator
Unit price comparison and having another calculator
100% free offline calculator app
Also Read : Top 5 Best Educational Apps to take free video course from Android mobile
---
#2. RealCalc Scientific Calculator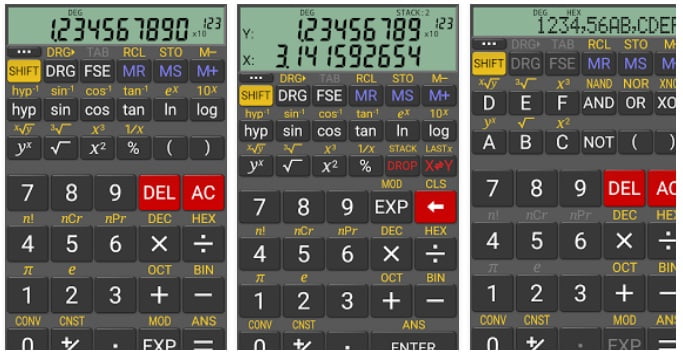 The RealCalc Scientific Calculator app is one of the best scientific calculators, is very easy to operate. It is having all the unit conversions, standard scientific functions plus history, memories, and constants. You are given a lot of calculator styles and formats to choose from. This calculator is developed by Quartic Software. It is having a 4.5-star rating with 10 Million downloads.
Features of RealCalc Scientific Calculator:
Any unit conversions
percentages
Calculate binary, octal and hexadecimal
Solve Traditional algebraic or RPN operation
A lot of math formula
Configurable digit grouping and decimal point
If you want to get extra features then buy RealCal Plus paid app for almost 1$
Also Read : Top 5 Best HD Wallpaper App for Android mobile
---
#3. Natural Scientific Calculator
Natural Scientific Calculator that can be used to calculate mathematical formulas and scientific calculations. An NSC is a calculator that uses algorithms developed by mathematicians and physicists. These algorithms are not limited to just numbers but also include functions such as trigonometry, logarithms, derivatives, integrals, and more. This scientific calculator is developed by Stultus Studios Calculators.
Features of Natural Scientific Calculator:
Zoom in to an overview of complex equations
Write as like you write on paper
Bookmark any time while calculating and also explore History
Share your equation problem with friends
Solve big equations
This is a free app but if you want to use some extra features then pay 1-2$.
Also Read : Top 5 Best Download Manager App for Android (FREE)
---
#4. Google Calculator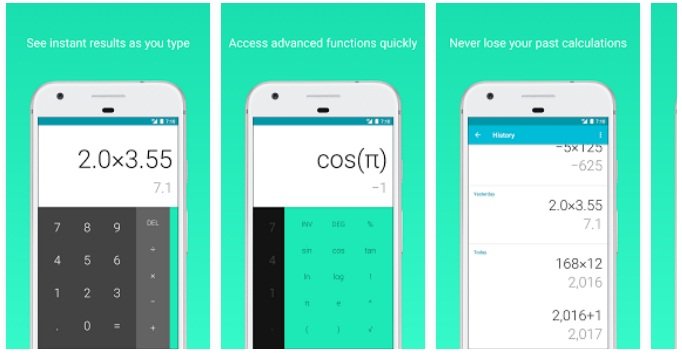 Google Calculator app is one of the simplest and most advanced calculator apps in the google play store. I was impressed with its design. Don't expect very big calculations with Google calculator. You can do basic math calculations. And also you can solve trigonometric, logarithmic and exponential functions etc.
Also Read: Top 5 Best Photo Editing Apps for Andorid (Offline)
---
#5. All-in-One Calculator FREE
All-in-one Calculator is a simple calculator that provides all the functions of a standard calculator. It is designed to be as small and easy to use as possible. It has many features like easy access to history, scientific notation, unit conversion, and more. It also has an inbuilt currency converter.
Features of All-in-One Calculator:
Having 50 calculators and unit converters
Simple/scientific calculator with 40 vibrant colors theme
Support currency converter offline
Get instant solution
Bookmarking is available and access from the favorite list
Solve Algebra, Geometry, Unit converters, Finance, Health, and Engineering equations.
---
Conclusion
Hope you liked the above calculator app. Let's use them and tell us how they are useful. If you are using any other calculator which is not listed above the calculator then don't worry let us know your favorite calculator app in the comment section.