Top 5 Best Audio Recording Apps for Android Smartphone in 2022
For recording an interview or amazing music sung by you a recorder is a must. But are you willing to spend a huge amount on buying a recorder? If not then you can save your money and install the best audio recording apps on your mobile phones and make your device a perfect recorder.
You can record anything, anywhere you want with the help of these recording apps. Even in your class when you cannot catch up to your teacher's quick notes just start your recorder and get the word to word notes recorded on your phone.
For the best audio recording experience, the following are one of the best sound recorder apps that will never disappoint you with their outstanding features. These apps are quite suitable for your smartphones and will record any kind of audio you want.
List of Best Audio Recording Android Apps
Below is the list of best audio recording apps for Android smartphones. You can install these recording apps to record voices and calls.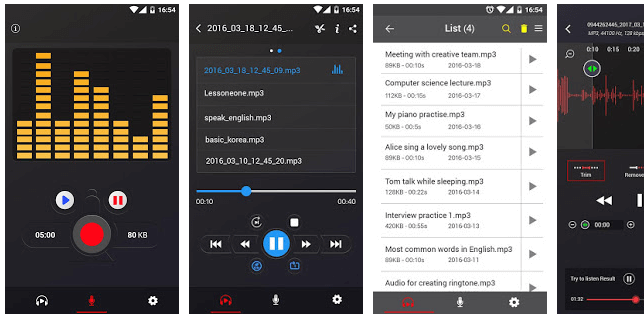 The Voice recorder app records your audio quite clearly and has a high definition sound quality. You can use this app for recording anything you want speeches, songs, or even your class lectures. It is a simplified app to use and does not impose a specific time limit upon the recordings. You can record the audio for as long as you want. You can even save your recorded files safely and share them with your friends via SMS, emails or other apps. You can search for any of your recordings easily on this app as all the recordings are organized according to their titles.
Also Read: Top 5 Best Music Streaming Apps for Android
---
Often it becomes difficult for you to catch up to the speed of your boss or your teacher, in that case, this app is the best for you as you can record everything that has been from word to word without missing anything. With the compressed format, you can even record the larger files without any time limits. It also supports Android Wear which you can record via your watches as well. You can simply record your audio from your microphone and keep it stored in the app for later use. Anything that comes to your mind is simply recorded it on this app. You will never face any problems due to the sound quality as it records your audio in high sound quality. For more advanced features you can also update to its pro version which will make your recordings much easier.
Also Read: Top 5 Best Kodi Apps for Android
---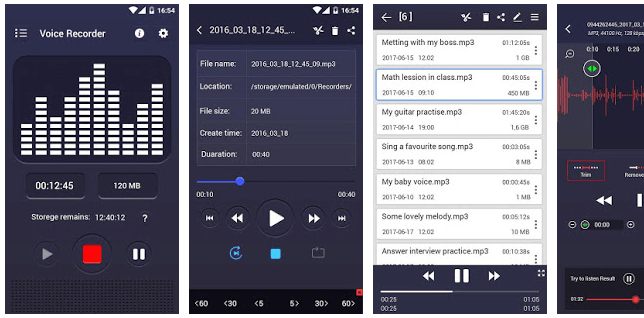 The Voice recorder app can be used for any purpose either for recording any personal meetings, lectures or interviews. It is easy to use and you can save your recordings on your phone in high-quality mp3 format. You can even edit the unwanted parts from your recording to make it perfect. You can directly share your saved audio files via SMS, emails, WhatsApp or other such apps. You can even arrange your audio files so that it is stored in your device in an organized way and can be instantly found by you.
Also Read: Top 5 Best Note Taking Apps for Android
---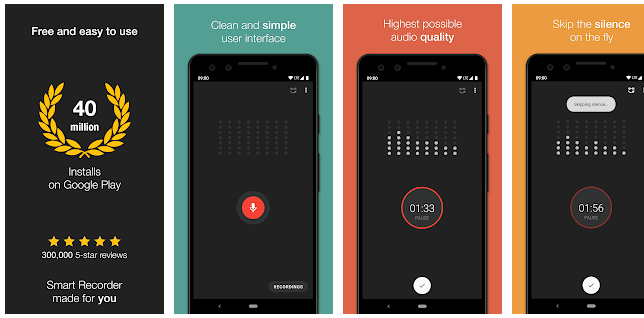 Smart Recorder app has some advanced features which will make your recording quite efficient. It provides you with high sound quality and allows you to record the audio for a long time without any hindrances. It also has a unique feature of skipping the silence, by which it can omit all the parts where there was a relative silence making your recordings short and precise. The only limit to your recording files is the internal space available on your phone. You can completely control your recordings by pausing or resuming them whenever you want. You can easily share your files via any message transferring app. 
Also Read: Top 5 Best Slideshow Maker Apps for Android
---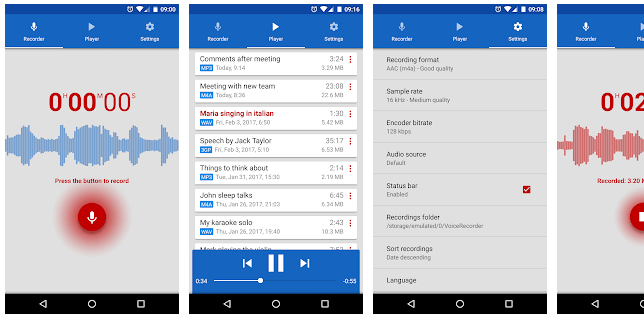 This is a beautifully designed recording app that allows you to record anything on your smartphone. It supports four different formats and is built into a user-friendly media player. You can even use your recordings as your ringtones and alarms. It allows you to record till the time your memory supports the file size. You can keep all your audios organized according to their date and duration. You can even play and edit your sound recordings in other apps. The Voice Recorder allows you to share and send your recordings to your friends via WhatsApp, emails or Bluetooth.
Also Read: Top 5 Best Audio Player Apps for Android
---
Conclusion
These apps will provide you with good sound quality. It might not be as highly defined audio as in a studio but the audio that you record will be absolutely clear without any hindrance. It also allows you to share your audio files with your friends and colleagues. Moreover, it does not have any limits you can even record sounds for a long time on these apps.
If you like the voice audio recording apps list then please share this article with your friends and family on social media.