Are you looking for Notes apps for your Android smartphone? Here I'm going to share the best list of Note-taking Android apps to write journals and notes. If you want to add to-do tasks then you can see a list of todo apps for managing your daily task. Gone are the days when you had to pick up a sheet of paper or your notebook to jot down the important things. Now your notebooks and sheets of paper have been replaced by your cell phones. There are a lot of note-taking apps. You can store all your information in one. 
Whenever you have a thought or an idea then you can immediately open your app and note down anything you want as and when it comes to your mind. Instead of wasting your time searching for a pen or paper you just have to pick up your cellphones and start typing.
These are some of the best note taking apps that will make your work quite easier and more fun. You can have all your important notes gathered in one place and there is no chance of losing any of them. 
List of Best Notepad Apps
Below is the list of best notebook apps for Android smartphones that can help you to take notes. Download these notepad apps on your mobile and use them anywhere to note down important points.
#1. Google Keep – Notes and Lists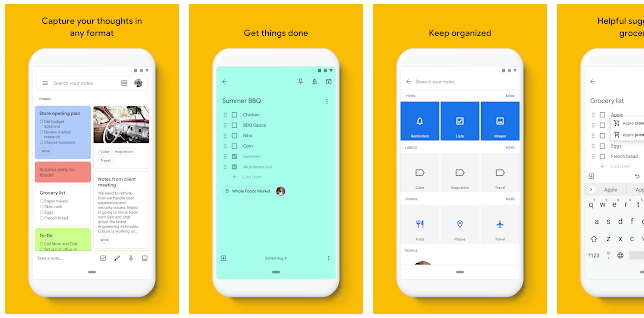 Do your ideas slip out of your mind while you search for a paper and pen to note down? Well, you don't have to face this problem again as Google Keep will allow you to instantly note down your ideas on your mobile phones. You can even voice down your important works or ideas and get them transcribed automatically. You can even capture photos of a plan or a document for later reference.
You can easily plan out anything together by sharing these short notes with your family, friends or colleagues. You can even use it as a reminder or for noting down the grocery list. This app will keep all your ideas and documents organized way all you have to do is search for the title name and you will get it.
Also Read: Top 5 Best Todo List Apps for Android
---
#2. Evernote – Note Organizer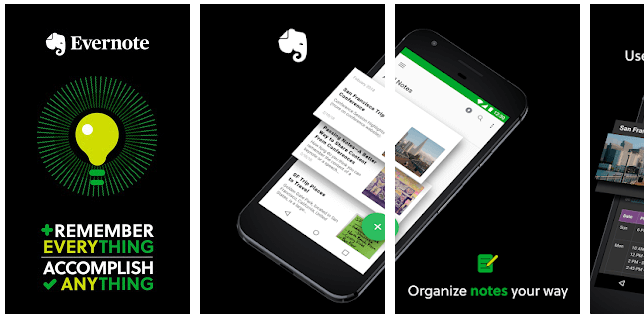 You can store almost anything on this app from your to-do list to an important picture or audio or even web pages. You can create your own notebook on the Evernote app where you can note down all the important details. You can share them with anyone at any time you want. It will keep all your plans and notes organized so that you don't have to waste your time searching for them.
Not only does it allow you to note down the ideas but you can also attach Microsoft documents, PDFs or photos from your gallery. You can not only open this app on your phone but also sync it with any device like your tablet or computer. You can plan, create or do anything you want on Evernote and enhance your skills and ideas. 
Also Read: Top 5 Best Educational Apps for Android
---
#3. Notebook – Notes, Journal
You can beautifully manage and organize all your notes through this app. You can add pictures and write texts all in one note. Moreover, you can even categorize your notes into different categories. It provides you with many amazing features other than just taking down notes.
You can capture the moments or any notes through the photo note, or even scan the documents and keep it saved in the NOTEBOOK. It allows you to secure your notes with passwords. Moreover, you can add any information or insert any of the pages at any time you want without disturbing its order. You can design the notebook of your choice by choosing specific colors for your notes or by creating your own notebook cover.
Also Read: Top 5 Best Funny Apps for Android
---
#4. Microsoft OneNote: Save Notes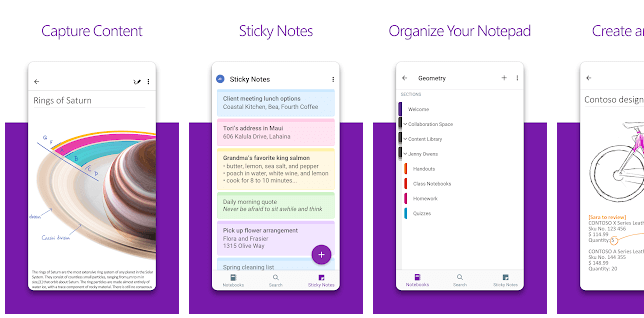 The most widely used digital notepads will simplify your planning of moments and the organization of the notes. You can instantly take down important notes and create new things. You can even plan things together with your friends by sharing these notes.
With the help of OneNote's canvas, you can put your notes and content anywhere you want. Being a part of the Microsoft Office team it can also work with Microsoft Word or Excel.  
---
#5. Workflowy – Note, List, Outline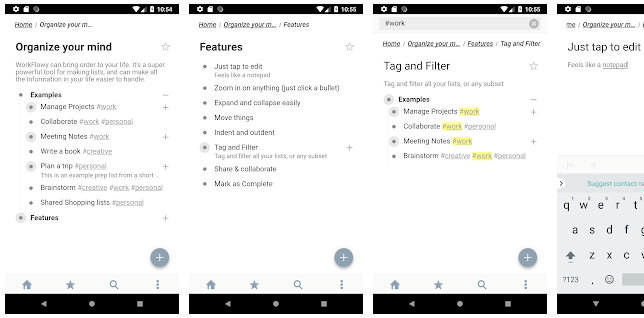 This is considered one of the most simplified apps for saving your notes and lists. You can store an infinite number of lists, ideas or plans on this app.  In case of any mistakes or the addition of new ideas, you can easily tap and edit your notes.
Moreover, you can also mark the completed items to keep track of the work that you have completed and focus on the other tasks that need to be done. You do not require an internet connection for operating this app and you can even use it offline. You can even add filters to your lists to make them perfect. Replace your notebooks and papers with WorkFlowy and keep all important notes and documents on your smartphones. 
Also Read: Top 5 Best PDF Reader Apps for Android
Conclusion
These apps will keep all your notes organized and store them in your cloud storage. Providing you with a digital notebook, these apps are quite beneficial, you can find any of your saved notes immediately. Moreover, you can even record the notes in audio form or clip the web pages. Note-taking will be absolutely different and unique with these note-taking apps.
If you like the note apps list then please share this article with your friends and family on social media.