Hey, Are you looking for the best educational apps for your android mobile? Well, Today I will tell you five apps that will help you to get online video courses on your smartphone. This is the era of extensive technological advancement and almost every sector is taking advantage in different ways.
While talking about the most useful and powerful technologies in the current world, the name of the android comes at the top. It is an open-source operating system Beneficiating every category of people whether they are related to medical, engineering, educational, entertainment, or any other field. The trend of studying in classrooms has gone old now due to the concept of educational apps that are available on the android play store. These apps have the capability to teach a person online without spending a huge amount of money on books.
There are some applications of the Android platform where you can get all the study material regarding various subjects. Not just text, but the facility of online video courses is also available there. Most of them are free of cost, all you need is to install them, signup, and start using them. With the help of videos, one can easily understand the concepts which are hard to explain in written form. In the below top 5 list, you will come to know about 5 apps that are currently available on the Google play store to download for educational purposes and take any course in the online form.
Best Educational Apps for Android
Below are the topmost useful educational apps for completing any course online through video on mobile. So why not take advantage of our mobile and let's choose any of the courses and complete it online and get a certificate. All app is free to download but they provide some FREE courses and if you like to boost your knowledge, Skill then you should involve in the paid course also. Price starting from 10$ only and apply the coupon code for more discount.
The name of the udemy application comes at the top position while talking about educational apps. It is available for free of cost to download but contains in-app purchases for various premium features. Currently, more than 13 million students across the whole world are taking advantage of this unique app for their study purpose.
You can find 1200+ topics through application especially for technical education covering concepts like web development and yoga data analysis. It is an interesting place to explore and develop new hobbies according to your interest. Expert instructors are available to help you through this app so there is no need to search for a personal tutor. Also, they offer the facility to download the courses and study them in offline mode where internet connectivity is not available.
Also Read: Top 5 Slideshow Maker App for Android (With Photo & Music)
---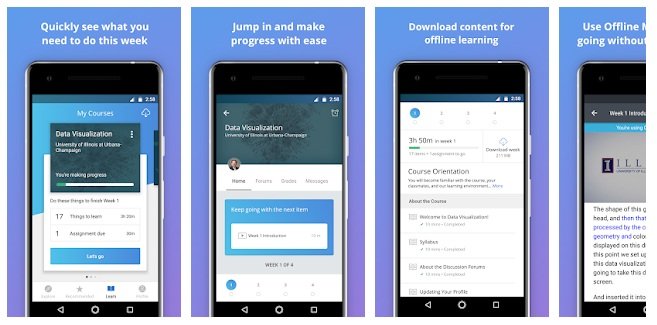 The study material available at course application is highly reliable because of their collaboration with different universities. This app is totally free and mainly focuses on study material regarding mathematics, the medical field and music. Right now, a total number of 1000 courses developed by more than 140 educational institutions are available to study through this amazing app. Both online streaming offline viewing features are available through this app. Although the study material they provide is totally free, if you want certification, then pay per course to earn a specialization tag on your profile. Whether your stream is regarding:-
Science
Commerce
Information & technology
Arts,
this app has something for everyone. Not just English, but you can study in many other languages like Russian, French and Chinese etc as per your preference.
Also Read: Top 5 Best Mobile Screen Recorder Apps for Android
---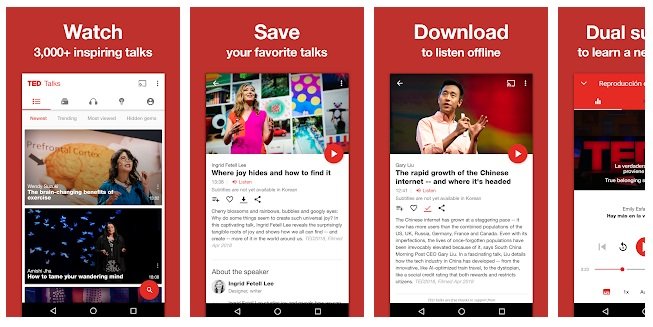 This app is completely based on social interaction on educational topics where experts throughout the world, collaborate on their experiences. Currently, there are more than 2000 ted talks available on this app on various topics. Its video library is available in more than 100 international languages so that no student will face the difficulty of understanding. Both audios, as well as video files, are available to stream or download here and this app is also available for free of cost.
Also Read: Top 5 Best Web Browser App for Android Smartphone User
---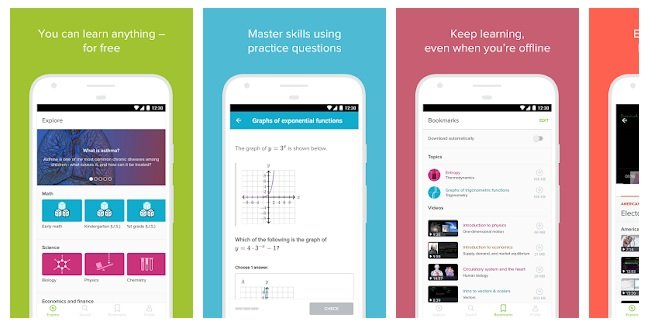 Khan Academy is an online platform to study different study-related topics without spending money on stationery material. This app has a huge database of more than 10,000 videos related to every subject of study. Not just videos, but, here you can also get interactive questions for sharpening your skills. Reading the questions and finding their answers through videos is an interesting way to study complicated and boring topics. For every age group and intelligence level, this app contains best in the class study material. So no matter, whether you are a beginner or an expert, explore this app to enhance your skills.
Also Read: Top 5 Best File Sharing Apps For Android (Fast WiFi Transfer)
---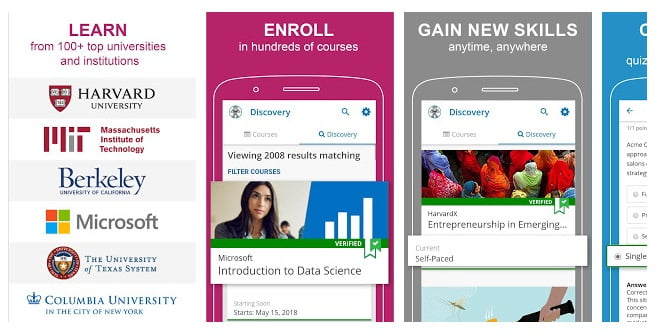 This app brings all the reputed universities like Harvard, UC Berkeley and MIT, etc inside your pocket for free of cost. One can easily live stream all the topics such as:
History
Computer science
Mathematics
Statistics
Psychology
and much more with the help of a working internet connection. Also, there are numerous quiz competitions available in this application to test and enhance your knowledge. This is a non-profit earning app that keeps you up to date regarding all the latest discoveries which are not possible through books.
---
Conclusion
I hope you have downloaded the best educational apps for students on your Android smartphone. Please tell us your experience with the above video course provider apps. If you are using any other app for online video courses then let us know in the comment section.
Don't forget to share this educational app list with your friends on social media :)