Are you bored with the default keyboard of your phone? Now you want to change it with a colorful, fancy & amazing keyboard app. Well, Here is the best list of the best keyboard Android app to make your time interesting. In our world there are two types of people, a few are those who have to habit to change themselves for some things whereas another category is those who want everything according to them.
Most people are okay with the default keyboard provided with their Android smartphones. Whereas few are keep on looking with some new Smartphone's Keyboard. We are here for those who haven't been satisfied with the default Android Keyboard.
Few smartphone users keep on chatting with their friends, continuously for hours, and in such a situation keeping on typing for a long time might cause problems. But using third-party keyboards might not create problems. Wonder why! It's quite simple as few of the latest third keyboards have the support of Swipe and type. Swipe and Type mean you need not tap on every word whereas you just have to swipe off different words without picking up your finger. Since today's technology is very intelligent so, the keyboards will type the perfect words by reading your swipe.
List of Best Keyboard Android App
After searching a lot, we have selected amazing keyboard apps for your Android. These keyboards are selected after deep research and the mode of selection was the satisfaction of users. Although these are not only the options for your Android Smartphone. But few of them are provided by external providers, they might contain some affected files or some hacking files. So, People let's begin with our keyboard app List.
Go keyboard is the best Play Store app with over 200 million happy users. A very stylish and interacting Keyboard. You will get the support of 60+ languages and 100+ font styles. The numbers of themes are unpredictable, whereas over 100+ Emojis are there in this Keyboard App. Along with this, there are more than 800 stickers present in the database of this stunning application.
Also Read : Top 5 Best Fast File Sharing Apps For Android
---
FancyKey is a completely customizable keyboard for your Android Device. You will get more than 3200 Emojis and around 50 themes. Users will get more than 70 funky fonts to write in the mood they want, along with this, FancyKeyKeyboard has the support of 50+ international languages. A tiny keyboard pack for those who use old Smartphones with less internal storage.
Also Read : Top 5 Funny Apps for Android User (Jokes/Images/Videos)
---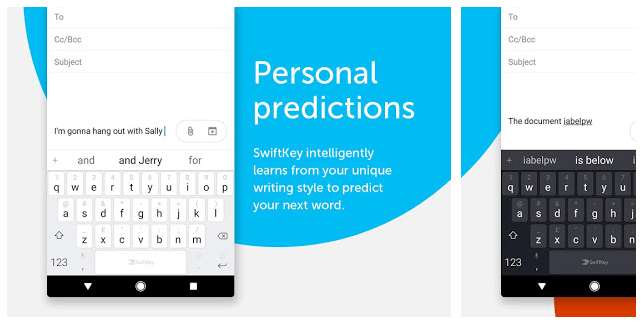 The very option in our list regarding Keyboards. SwiftKey Keyboard had crossed more than 150 million downloads. This keyboard uses Artificial Intelligence to perform the auto-correction. Users also have the privilege to save their own words in the database provided by SwiftKey Keyboard. There are more than 80+ colors, and themes that you can apply to change the appearance of the Keyboard. This keyboard can be used by different users belonging to a different regions as it supports more than 150 languages.
Also Read : Top 5 Best Office Suite Apps for Android
---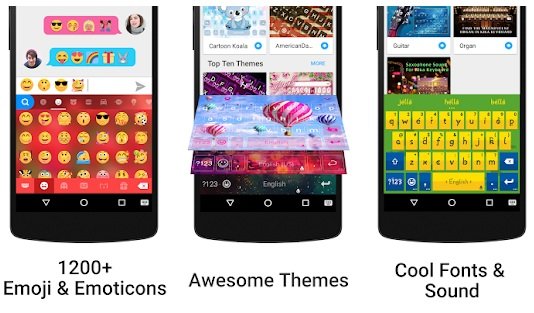 iKeyboard app is the most famous app in the Google play store. A lot of people have already downloaded this app on their smartphones. In this app, you will get a huge amount of emojis which give a funny look to our chatting whenever we send a text to our friends. Like if you want to chat with your friend in a funny mood or in symbols then this app is perfect for that. The rating is quite well and after having looked at the comments of users, now I can tell you that this app is really good for us. If you are looking for a funny keyboard then it is best.
Also Read : Top 5 Calculator App for Android (Scientific & Financial)
---
#5. Cheetah Keyboard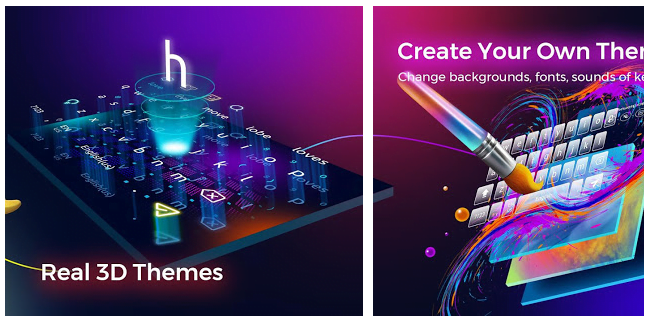 Cheetah is a well-known name on the play store. Most of us have downloaded several apps with the first name Cheetah. Cheetah Keyboard is another cool keyboard option for your Android Device. You can transform your tough conversation into easy talks by adding some predicted emojis and by voice typing feature. You will get dozens of free themes to make your keyboard colorful and interesting.
Users can type words in more than 100 languages on a single keyboard. If you love 3d effect then you can also apply 3D effects. It is one of the top 10 downloaded apps on the Play Store.
---
Conclusion
So, These were fancy and colorful keyboard app for your android mobile. Now you are free to choose theme looks according to your interest. Well, I am a simple guy ;) so I am using the Google Gboard keyboard app which looks like the latest smartphone's keyboard. I hope you got alternative apps for your inbuilt keyboard.
At last, I want to know which keyboard app you are using on your smartphone? Please let us know in the comment section. And also Share this list with friends.