Are you looking for a virtual reality app? In this article, I'm going to share the VR apps for your Android device. Virtual reality is something quite exciting and unique. It is not just a concept used for gaming but is much more adventurous. It is something like sitting at your home. Virtual reality apps can give you the experience of diving into an ocean or wandering in a desert. There are a lot of games that use these virtual reality techniques in order to bring in a real effect on their games.
These are some of the best virtual reality apps that will give you an amazing experience. You will be completely lost in that world and would forget about your surroundings. You can watch anything you want with the 360 or 180-degree content of the videos.
For an amazing experience download some of these best apps and you will never be bored for sure. You can even get recommendations of the best videos from the app or even share them with your friends and let them enjoy them as well.
List of Best Virtual Reality Apps
Below is the list of best VR apps for Android smartphone guys. If you want to experience VR then you should use the below apps.
#1. Cardboard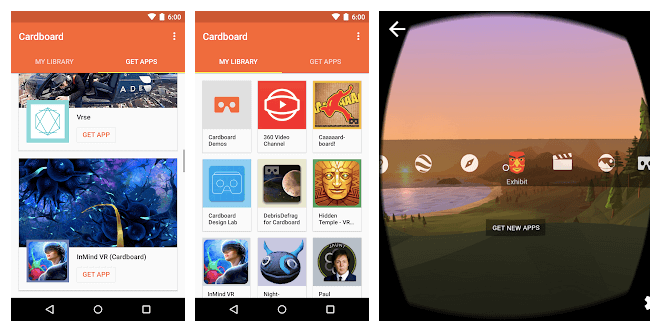 The Cardboard app is a unique video player that puts virtual reality on your smartphone. This app allows you to view your 2D and 3D movies in a virtual cinema with the ease of your phone. The app has made it easier to watch serials with 360-degree and 180-degree video content.
With simple and easy functioning, the app works pretty well. If you want to get a first-hand and real experience of cultural artifacts from every angle, relax under the northern lights and watch videos on a large screen, the Cardboard app is the right choice for you.
---
#2. Fulldive VR – Virtual Reality App
Fulldive is a virtual reality (VR) content and navigation platform preferred by millions of people where one can watch, react, and share their favorite videos. Unlike the other virtual reality apps, the Full Dive Virtual Reality app not only gives a first-hand 3D experience but also provides its, users, with other benefits.
It is more like a social VR platform where its users can earn money and bitcoins just by browsing VR. Earning by simply watching videos and listening to music motivates its users to download this app. The VR camera of the app allows one to take pictures in virtual reality, and store and access them as and when needed.
---
#3. VR Thrills – Roller Coaster 360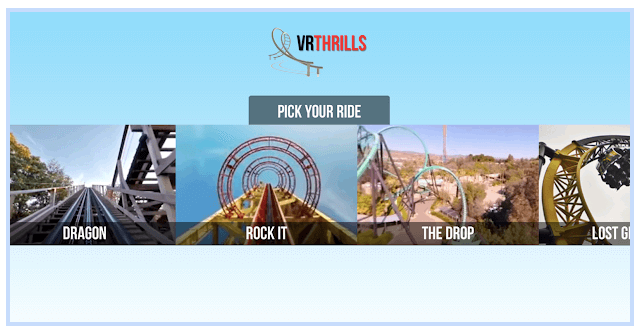 Want to experience something exciting, well VR Thrills: Roller Coaster 360 is the right choice for you. Specially designed to give its users a first-hand and real roller coaster feel, this app features multiple Virtual Reality (VR) Roller Coaster rides. Not only one, but this app gives you the experience of being present in a theme park with a lot of different exciting and adventurous activities.
The VR app is optimized for Android mobile phone users. It offers both recorded 360 videos of real roller coaster rides and interactive 3D race roller coaster rides. Besides, the users can create their own rides by listening to live music. As the name itself suggests, the VR Thrills: Roller Coaster 360 app is an amazing app that has its own thrills.
---
#4. Sites in VR App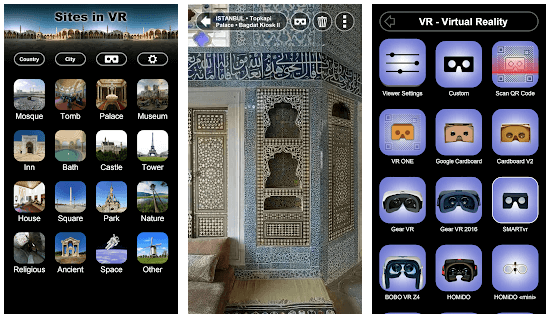 Sites in VR is a fairly decent and promising app that gives its users a virtual tour of the beautiful landmarks around the world including some museums, and other places of potential interest. With more than a thousand 360-degree panoramic high-quality images, it helps to examine the marvelous architectural monuments, religious sites, nature, and space.
Normal panoramas are projected on a distant sphere of the app, making them easier for the eyes to watch. The notable features of this app include its quality graphics, crystal clear views, and ability to work with other virtual reality apps. For those who want to go for a tour without much hassle, this virtual app is the best suitable for them.
---
#5. 360VUZ: VR Videos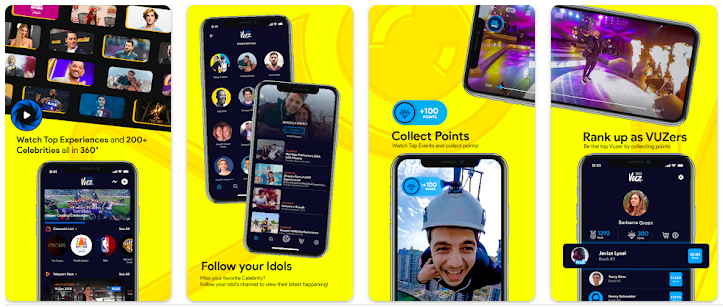 This app helps you to watch live 360-degree videos and channels in 3D. These videos cover the latest happenings like football, concerts, racing, basketball, car drifting, water sports, and other activity. This is a useful app for learning and also acts as a guide in teaching through VR trips and AR objects. You can explore distant places quite closely on your device- phone, laptop, or VR device. It is quite helpful in classrooms or groups as well. The teacher acts as a guide and provides various information to the groups just with the help of some VR imagery and AR objects.
Moreover, it has almost 800 expeditions to be explored from which you can make a choice. All these expeditions have a detailed account of the places and talking points and questions related to them which can ultimately enhance your knowledge.
---
Conclusion
Now you do not have to spend thousands of your money on VR headsets as these apps can give you the same experience as the headsets. You can easily watch your movies or videos on these virtual reality apps and bring a real effect to your videos living up that moment to the fullest.
If you like the VR apps list then please share this article with your friends and family on social media.