Now smartphones can possibly do most of the things for which you had to visit particular shops or cybers. One of the biggest examples of this is the scanning of your documents. The scanning of your documents was not at all easy. Earlier you had to visit the cybers to get it scanned. However, now you can do it easily with some of the best document scanner apps.
These scanning apps are quite easy to use and perfectly scan the entire document. It has many features that would enhance the pictures of your documents. These apps are usually free, however, for some allowing you to use some features you have to pay a small fee.
The moment you search for the scanner apps you might get hundreds of such apps on the play store, but which is the best, how would you know? Thus, for your convenience, some of the best apps have been sorted out and listed below.
Best Document Scanner Android Apps
Below are the best document scanning apps for Android devices to scan a document and save it in a PDF file.
The scanner app can scan multiple pages at once be it your whiteboard notes, important documents or your notes. You can quickly scan all the documents and then share or print them. Moreover, it also allows you to edit the PDF files easily, you can insert or delete any of the pages within your PDF files. It not only scans the documents but also the images to make it more clear for you to read. You can even open your PDFs in other apps and your PDFs are saved to your device. Now you can have a mini scanner just in your pockets. It's the best alternative to a camscanner.
Also Read: Top 5 Best Remote Destop Apps for Android
---
Tiny scanner app scans anything into the PDFs. It provides you with the feature of scanning in color, black and white. The edges of the pages are also cropped and the sizes of the pages can be set according to your preference. You can search the documents according to the date and title of the document. The app also safeguards all your documents with a passcode. This app can work on all devices and is a fast working app.
Also Read: Top 5 Best Podcast Apps for Android
---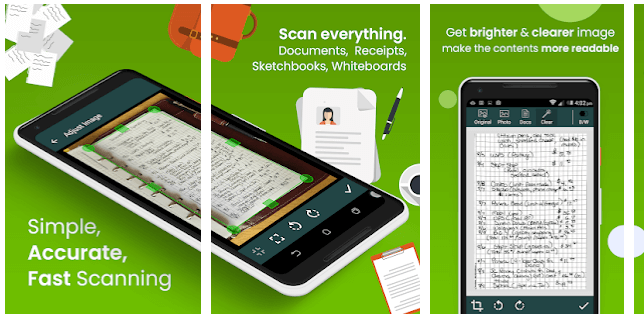 Clear scan – you often find it difficult to rush to the cybers to get your documents scanned now you can carry your scanner wherever you go. This app is your mini scanner that can scan any of the documents. This app can be used by anyone, a well-known businessman or a student. It scans the notes, magazines, bills, receipts and many more and converts them into a PDF file or JPG file. This app tries to present the absolute image of your document thus it detects the unwanted backgrounds and crops them out of the image. There are a lot of features like the removal of the shadows or adjusting the brightness which makes this app an appropriate one.
Also Read: Top 5 Best Yoga Apps for Android
---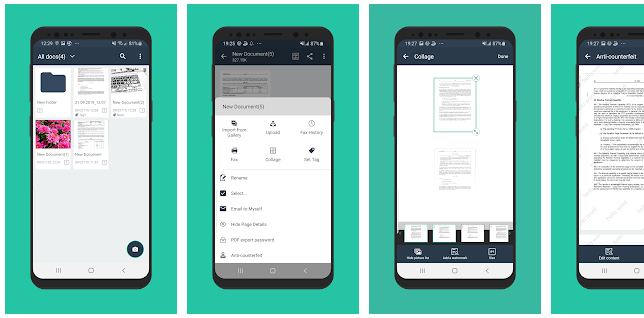 The simple scanner allows you to scan all your documents, photos, receipts or anything you want to. Once you scan the document it can be saved in your device in the image or PDF format. You can even create a folder for separate files so that all your files are stored in an organized way. Moreover, the JPG and PDF files are automatically uploaded to the cloud disk once scanned. The documents can be shared via Drive, Whatsapp or other such apps. You can even select the size of your pages and save them according to the particular titles of the document for easy search.
Also Read: Top 5 Best Calendar Apps for Android
---
This is one of the best apps that would turn your device into a PDF scanner. You can scan any of your documents and convert them into PDF files. Any of the paper documents or receipts or bills can be scanned on this app and stored in the form of PDFs. it scans the documents in such a way that all the texts of the documents are quite clear and also crops the unwanted background so that you can get a full view of just your document. You can even share the documents directly via this app in JPG or PDF format. Moreover, all your documents are saved in an organized way in the CamScanner.
---
Conclusion
So, gone are the days when you had to stand in a queue to get your documents scanned. Your smartphone will scan it for you in a few minutes. The perfection with which these apps scan your document is such that even the tiniest details of your document could be portrayed on it. Nowadays, people usually prefer scanned documents everywhere, be it in colleges or businesses or hospitals. Thus, these document scanner apps are widely used apps.
If you like the document scanner apps list then please share this article with your friends and family on social media.