Are you searching for yoga & motivation apps for your Android smartphone? In this list, I'm going to share the list of apps for fitness and yoga. Yoga has the ultimate power of healing any of your health problems. You must have noticed even the doctors suggest you practice yoga regularly to stay fit and healthy. It has the power of healing you even without the medications. There are different postures for different health postures. 
Amidst your busy life, you do not get time to join the yoga classes and go to your classes. However, you do not have to worry as numerous yoga apps have been introduced that will teach you yoga at home.
These apps might be free or for some, you might have to pay for subscriptions. However, when it comes to your health there is no compromise as these apps will teach you all kinds of yoga from pranayama to various asanas.
List of Best Yoga Apps for Android
Below is the list of best apps for yoga guys. If you want to start yoga then you must install these yoga apps on your Android smartphone.
#1. Daily Yoga – Yoga Fitness Plans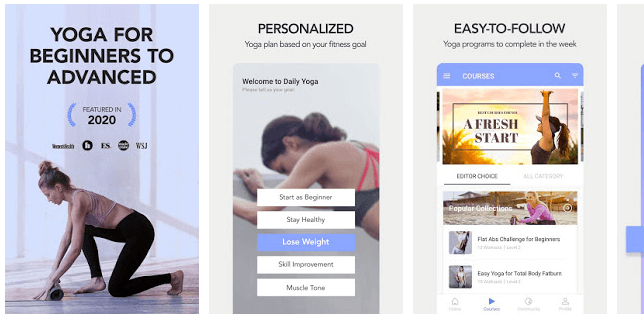 The Yoga Fitness Plans app is a great app for all those interested and who want to benefit from yoga. The app helps you achieve a sense of calmness in your body and soul. Suiting their personal needs, users can select the classes they require with sessions ranging from five to 70 minutes. 
It is a splendid app that encourages yoga enthusiasts around the world to keep up with their practice by offering 100+ yoga, and meditation classes for all levels whether be an expert or a beginner. The app gives the benefit of learning from well-known yoga masters with just a click on the phone.
Also Read: Top 5 Best Todo List Apps for Android
---
#2. Down Dog – Yoga App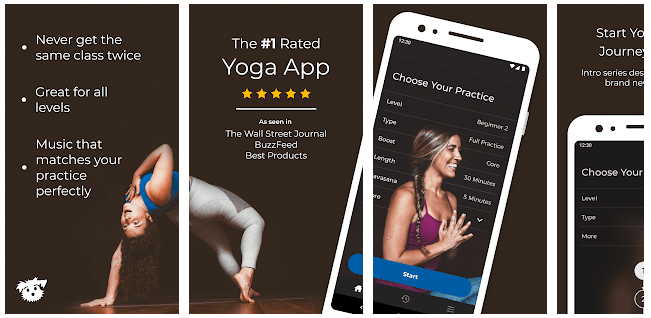 It is one of the most exciting yoga apps that will make yoga fun for you. It will help you to explore new forms of yoga styles every time you come to your mat and save you from the pre-recorded monotonous videos that you refer to regularly. It has certain features that will make you fall in love with yoga.
For beginners, it has a 3-day introduction video which will help you to a great extent. Moreover, it has videos available in different languages and voices so that you can make a choice according to your suitability. You can also save certain videos offline and practice. The boost feature and automatic sync is also an outstanding feature of this app.  
Also Read: Top 5 Best Video Editing Apps for Android
---
#3. 5 Minute Yoga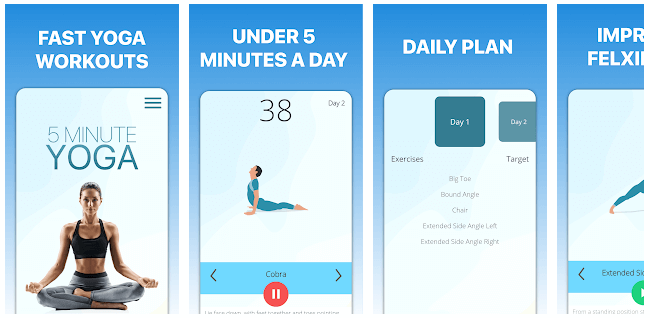 This is an ideal app for people who are in search of simple and effective yoga poses. There are clear images that portray the various yoga poses along with it there exist accurate instructions to be followed for the various poses. An outstanding feature of this app is that it has an effective timer that allows time for each yoga pose.
Thus the timer ensures that all the yoga poses are carried out at inaccurate times.  As the name suggests, each session takes 5 minutes to complete. Thus you can strengthen your body and reduce your stress daily by just giving 5 minutes to a particular session.
Also Read: Top 5 Best PDF Scanner Apps for Android
---
#4. Yoga – Poses & Classes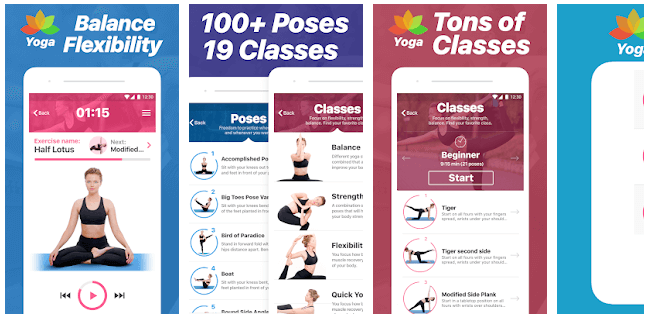 Yoga- Poses and Classes – This app features more than 20 unique yoga classes organized by experts. In these expertise classes, you can learn 100+ yoga poses which would increase the flexibility of your body and boost you up. It also has different music and sounds that you can play according to your preference at the time of practice.
It has different yoga poses directed towards balancing, strengthening and providing flexibility to your body. This app provides even a nutritional chart for what you should eat along with its recipes. You can search for yoga practice in the morning, for boosting your energy or for developing abs.
Also Read: Top 5 Best Live Wallpaper Apps for Android
---
#5. Asana Rebel: Home Workouts App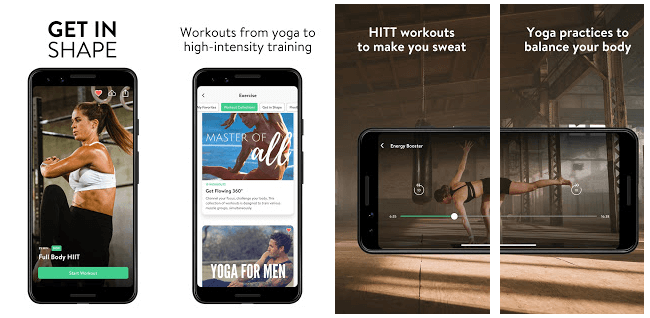 This is a yoga and fitness app for people who aspire to live a healthy and fit life. It will help you to burn all your calories by suggesting different yoga poses and at the same time will make you stress-free through the assigned yoga poses for stress.
You can search for personalized workouts as per your goals and requirements. Every time you open the app you will not have to see the repeated workouts as it has new content all the time. It is not just for the advanced workouts but also the beginners can refer to this app for accomplishing their fitness goals.
---
Conclusion
Now you do not have to spend much of your time going to a specific yoga class. These apps will make your home your yoga class. All that the app takes is a few minutes of your day to practice yoga. You will be guided by the best yoga teachers and you can accomplish your fitness goals in just a few months. 
If you like the yoga apps list then please share this article with your friends and family on social media.