The first thing that you see when you switch on your mobile phone is your wallpaper. Do you know that sometimes even your wallpaper can lighten your mood and make you happy? Well then, the wallpapers form an important part of your devices. There are some of the best wallpaper apps that will provide you with beautiful wallpaper.
These apps will provide you with some of the best and most unique wallpapers. Not only can you choose from these apps but it also allows you to make a choice from your gallery and set up any of your favorite pictures as your wallpaper. 
These wallpaper apps are specially designed to make your mobile phones look beautiful and different from others. You can change your wallpapers as many times as you want without any hesitation with the help of these apps.
List of Best Wallpaper Android Apps
Below is the list of high-quality wallpaper apps for Android smartphone people. If you want to change the background image of your website and change the wallpaper of your website then you should use the best wallpaper apps.
#1. Walli – 4K, HD Wallpapers App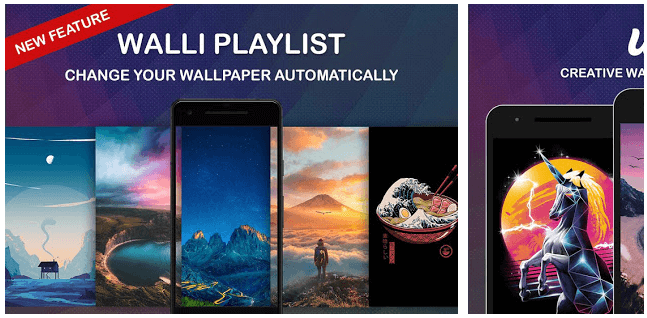 Walli is an automatic wallpaper changer. It has the feature of changing your wallpapers automatically from amongst the pictures you have selected appropriately for your wallpaper. The wallpapers will keep shuffling at the selected frequency. All the wallpapers present in this app are very creative and unique with high-quality pictures.
There are various themes on wallpapers like love, nature, happiness, and cuteness. Each of your HD wallpapers will have the profile of the artist who designed it or created it, in this way even the team of artists at Walli gets the recognition.
Also Read: Top 5 Best Live Wallpaper Apps for Android
---
#2. Walloop Engine – Live Wallpapers App
Walloop Engine is different from other wallpaper apps as it has the unique feature of offering ringtones, sounds, and live wallpapers. All of this in one app makes it distinct from others. Moreover, this app does not consume much of your phone's battery. It consists of HD wallpapers in thousands of varieties.
The system of auto change of HD wallpapers or live wallpapers is also available. Moreover, you can also use your own videos as live wallpapers with the help of this app. Moreover, it gives you an outstanding feature of sharing your videos, sounds, or ringtones with anyone. This is one of the most recommended apps for Android users.
Also Read: Top 5 Best Educational Apps for Android
---
#3. 7Fon – HD & 4K Backgrounds App
Wallpapers HD and 4K Background offers a splendid collection of amazing wallpapers for Android and tablets. It consists of all the high-quality wallpapers which have been checked manually before they are included in the app. Moreover, every time you open the app you get to see new pictures, as the app keeps on including new wallpapers 24/7.
This app not only provides amazing wallpapers for the background of your Whatsapp or other messengers. Some wallpapers become your favorite, you can save such wallpapers to your phone gallery. It does not consume much of the battery or memory in your phone.
Also Read: Top 5 Best Podcast Apps for Android
---
#4. 3D Parallax – 4D Backgrounds App
3D Wallpaper Parallax is one of the most creative wallpaper apps. Everyone has a zealousness for 3D pictures. This app fulfills their wish by providing 3D images for their wallpapers. The wallpapers are available in 4D depth which will make you feel the 3D effect on your wallpaper. These wallpapers can be edited and adjusted according to your will.
This app is supported by all devices and also allows you to share creative 3D wallpapers with your friends. You can also interpret the way in which the 3D-4D wallpapers are created. Moreover, you can also turn off the ads to avoid unwanted disturbances.
Also Read: Top 5 Best Dialer & Contact Manager Apps for Android
---
#5. Walpy – Wallpapers App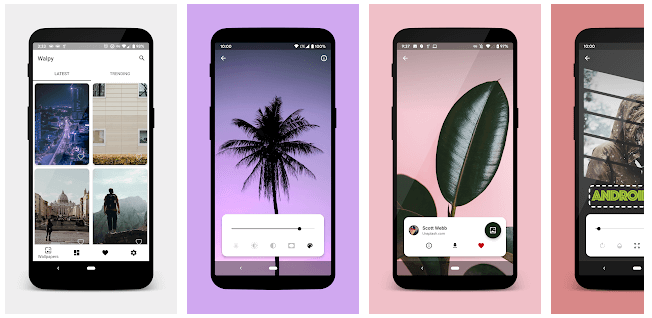 Walpy is a wallpaper-changing app that provides some of the best photographs as your wallpaper. It also figures out the best time to change the wallpaper making your task much easier. Moreover, it also has the feature of a fixed alarm but in order to change your wallpaper, it is necessary that you have a good internet connection.
It does not use up much of your data or battery and gives up the best performance with the highest quality pictures which can completely enlighten your mood the moment you look at the wallpaper.
Conclusion
The above list of wallpaper apps is all you want for a perfect wallpaper. No more, going through the monotonous wallpapers anymore. These apps will automatically change your wallpapers every day or you can even do it manually as per your choice. Not even per day, but some of them will even change it in hours!
If you like the wallpaper apps list then please share this article with your friends and family on social media.