Social Media is one of the best ways to connect with friends and family. Almost 90% of internet users are using social media. In social media we show reactions by Liking, commenting, sharing a post, images, videos etc. Well, Today I am going to show you five websites for social media exchange to get unlimited Likes, Follow, Subscribe & share.
Only you have to sign up below sites and get points by doing some tasks. Use collected points to get social media likes/Shares/Follow/Subscribe/Votes/Traffic and much more exchanges on social networking sites. This is best for social media marketers to use as a social marketing tool online.
There are many likes exchange websites on the Internet & the most popular social media exchange is Like4Like.org which is very easy to use. When you signup for this site you will get some points. I am using this for 4 years.
Suggestions Before Using Exchange Website
After using a long time, I learned a lot of things about social exchange. So, I am telling you something about before using exchange sites.
You must have the patience for unlimited likes from social exchange sites.
Don't create more than one account in social exchange for Facebook, Instagram…
Don't be in a hurry to get likes otherwise, your social account may be blocked for some hours.
Refer your friends on these exchange sites for collecting points without doing any task.
Best Social Media Exchange Sites
Before using social media ranked sites I recommend you to use the Best Facebook Auto Liker App for Android to get unlimited Facebook likes. Let's use a social exchange community for social signals for free.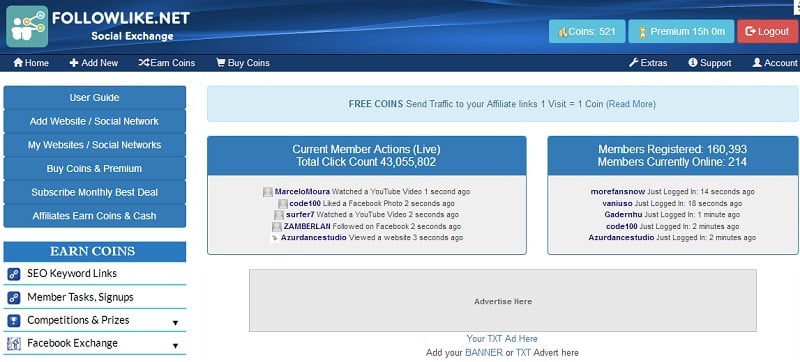 FollowLike.net is another useful website for bloggers & social promoters. Followlike is available in almost 200 countries and has 140000+ members. It is having extra features including all Addmefast services. Here are SEO promotional tools that you can easily get backlinks from someone's site & get bookmarks from popular sites like Stumbleupon, Tumblr, Delicious etc. If you are a blogger you know how Social Media is helpful in growing an online business with search engine ranking. You should also try the Traffic Booster option to increase your site's Alexa ranking.
FollowLike.net offers many Services like – Facebook exchange, Twitter exchange, YouTube exchange, Google Exchange, Pinterest exchange, Instagram exchange, VK exchange, Soundcloud exchange, Stumbleupon exchange, Tumblr exchange, Delicious Exchange, Website traffic Boost, Linkedin exchange, Diggo Exchange, Vimeo exchange, Reddit exchange, Ask.fm exchange and many more social bookmarking sites.
Also Read: Top 5 Sites to Get FREE YouTube subscribers (Sub4Sub)
---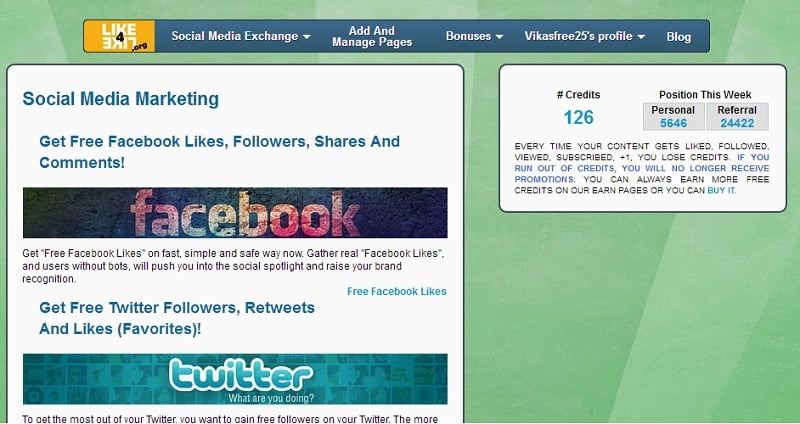 I hope you understood what is the work of Like4like.org by its name. Well, you are right. Like4like is another best social media likes/follow exchange sites. For new or old businesses, you must have a Social Presence online to scale up your business. Here you will get Likes, Followers, shares, comments, Tweets, Retweets, Followers, Subscribers, Viewers, Google Plus & circles, Pins, Repins, Ravines, Connections, Fan exchange, join exchange & Website hits. It is the same as Addmefast.com.
The main thing about Like4Like is, It doesn't sell Likes/Follows/Subscribe as most social media exchanges do. Well, you must try this site also to increase your social media likes. It is the best alternative to follow like.
Also Read: Top 5 Facebook Auto Liker Websites to Get Unlimited Likes FREE
---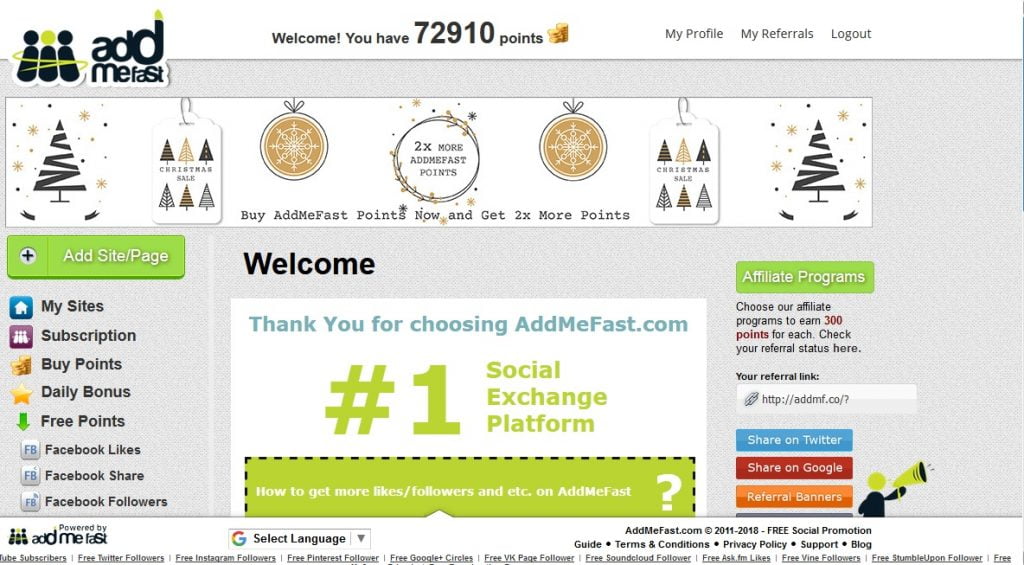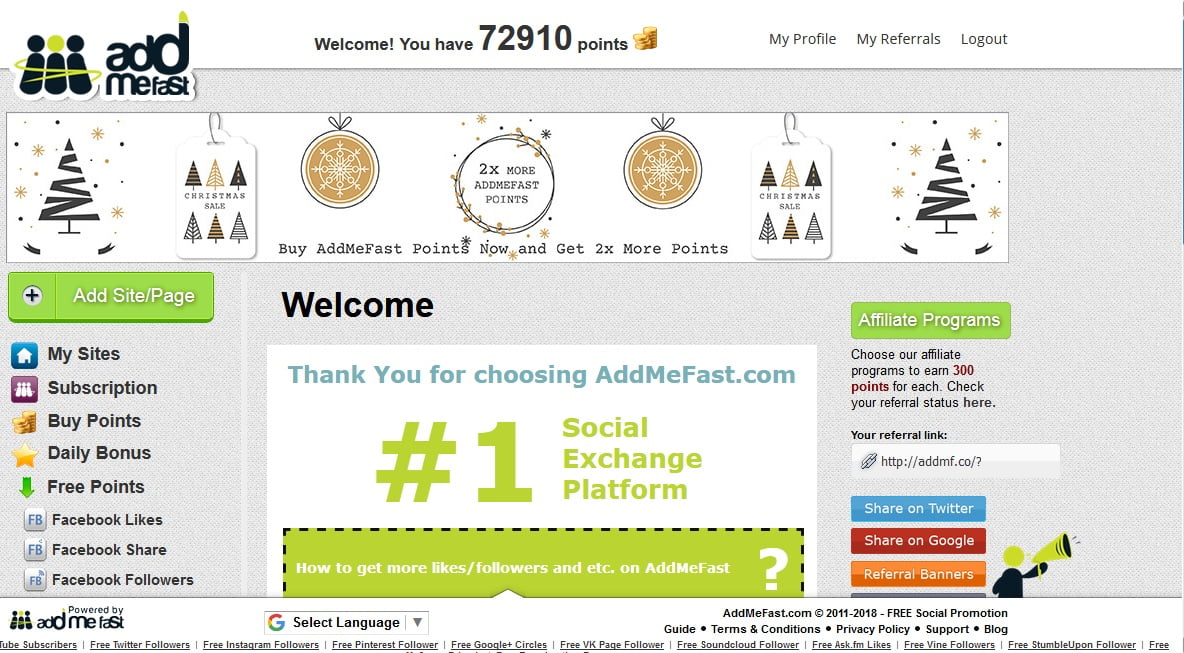 Addmefast.com is another top-level website for social exchange. Now it is easy to exchange likes. Here you will get points on liking and subscribing to others. After that, You can use your points to get signals for Facebook, Reddit, Youtube, Twitter, Pinterest, VK, Ask.fm, Instagram, Reverbnation, Soundcloud, Twitch, Tiktok, Likee, Telegram and websites hit (autosurf). Join now to get 200 points for free and do activities to get a 400 bonus daily.
Also Read: Top 5 Best URL Shortener Websites to Make Money
---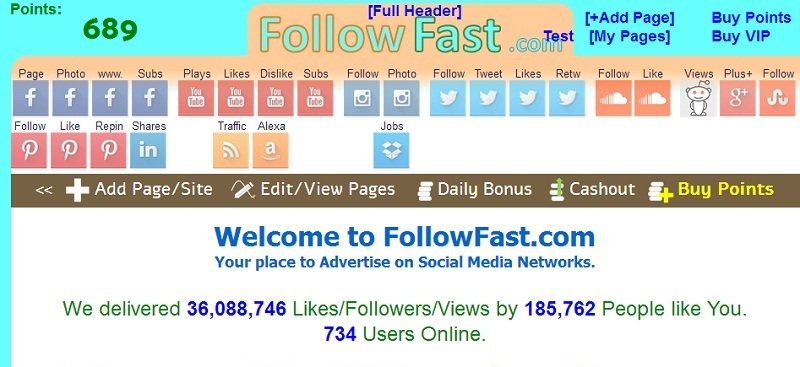 Followfast.com is one of the best sites for social media likes. This site was started in 2012 with the aim to provide unlimited likes on social media posts. It is based on Like 4 Like method. That means when you like/follow or subscribe to someone you will get Point and then you can use that point to get likes on your post.
There are four-way to get Points. #1. Get point by Liking, Subscribing & Following #2. Referral your friend & when they join through your link, you will get 100 points #3. Pay some dollars for Point #4. Log in every day and do some tasks to earn a daily bonus.
Also Read: Top 5 Free Fake Email Generator Online for Unlimited Email Id
---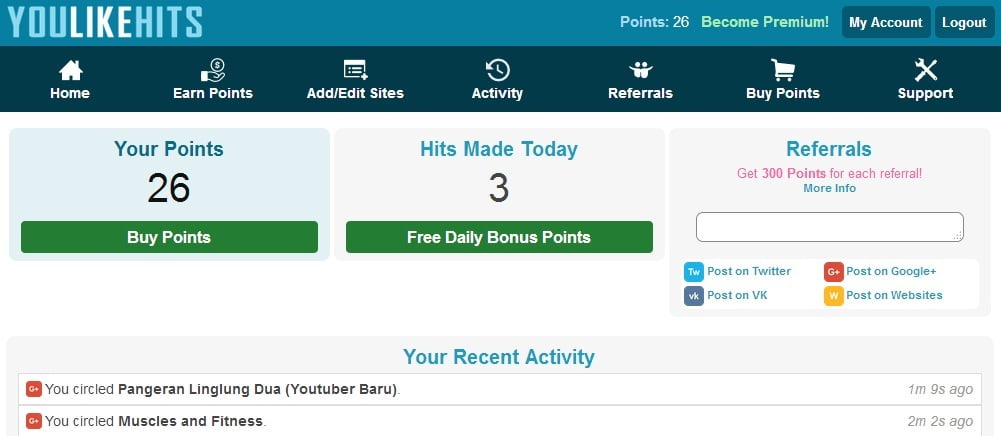 Meet another social media exchange network & promotional tool provider, is YouLikeHits.com. YouLikeHits will help you to grow your Social media account (Twitter, Pinterest, Google Plus, YouTube, StumbleUpon, SoundCloud, VK) and give you huge website traffic also. It's very easy to use to gain free likes on your Photos. Only you have to add a social media post link or website link. That's it.
Also Read: Top 5 Apps to Get Likes on Instagram FREE (Insta Likes)
If you don't like to collect points or want to save time then you can directly buy social likes and followers.
---
Linkcollider.com is the most popular social exchange. If we talk according to the popularity of social media exchange Linkcollider will be in Top social media exchange site in the world. There are 420,000+ active members. With the help of this, you can get Web Traffic, Facebook Likes, Google Plus, Pinterest Pins, Twitter Tweets, Tumblr Posts, Stumbleupon Posts, Blogger posts, Backlinks, and much more. If you are a blogger then you must use LinkCollider exchange for improving the SEO of your blog. LinkCollider is an online marketplace where you can create, share, trade, and exchange likes and shares.
Also Read: Top 5+15 Social Bookmarking Sites to Boost SEO & Get Unlimited Traffic
---
Join other social exchange sites for Social Exchanges :
There is more social media exchange there will be more social Likes. So I am not limiting this list. Join social exchange sites, Given below –
If you are using any other social exchanges then let us know in the comment section. We will add it to the list.
---
Conclusion
So these are high-quality sites for social media exchange to gain likes. I am using all of the above sites to promote my blog articles. Well, there are many sites for social media promotion.
If you are using any other site then please let us know in the comment section. & Also share this article with your friends.