You are here so I can understand you want to know how to use a fake email generator to get an unlimited temporary email address and use them as fake email addresses to signup on Facebook and other social networking sites without email id. Disposable temporary email is like temp mail.
Yes! Disposable emails are used to create an unlimited email and use them on any site for email verification. These disposable emails areas the same as the disposable pen (If you completely used it then through it). A temporary email address is one of the best things to STOP spam.
If you doubt any site which may sell your email addresses and is requiring your email addresses then you must use below fake email generators below to get the temporary email address. Disposable email is the same as your Gmail address but the main difference is, You don't have to signup for the email address as you do while creating a Gmail account.
What is Disposable/Temporary email?
The Email address, Use it and forget it. There are many disposable email generators on the internet. They provide unlimited email addresses without any verification. You are allowed to use temp mail for email signup, newsletter, email verification purpose.
Why Use Fake Email Generator?
Now, It's time to use a fake email generator to prevent SPAM sites. These days, many fake sites are offering something and asking for the email address to send the email. It's very dangerous to share your own email address with frauds.
Do you know?
Your email ID can be sold to a third-party company to promote their product. I was shocked when I knew that many companies are selling email directories by people categories (Interest, Profession, Education, Location). That's why I always recommend our visitors use a temp email generator to generate an unlimited temporary email.
List of Fake/Temp Email Generator
Below are good temporary/disposable email providers to get the throwaway & random temporary email. Let's try the below sites to generate temp mail in seconds.
#1. Temp Mail Id – Temporary Email Generator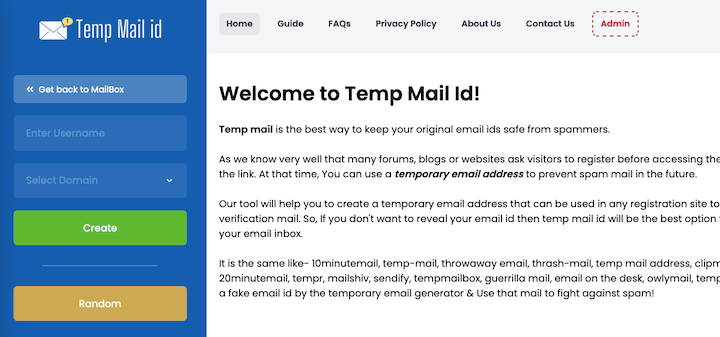 Temp mail id is a very famous website where you can get temp mail addresses without registration or verification. Using temp mail is the best method to prevent giving your main email address to any spammy websites. So you need to get a fake email id for grabbing freebies from the website without using your personal mail id.
Also Read : Top 5 Best URL Shortener Websites to Make Money (Highest Paying)
---
#2. Guerrilla Mail – Disposable Email Address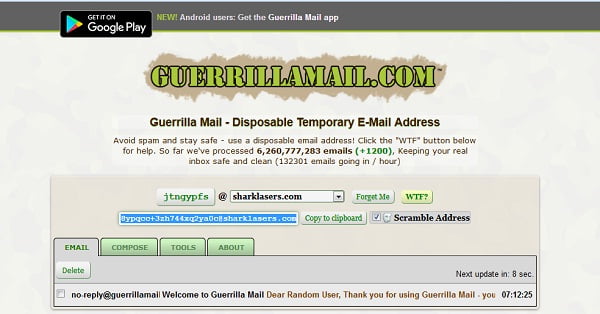 Guerrilla Mail is one of the oldest disposable temporary email generators on the internet. It has everything that you got in the real email address.
Guerrilla Mail provides many features you should know:
Select any one domain (@sharklasers.com, @guerrillamail.info, @guerrillamail.biz, @grr.la, @guerrillamail.com, @guerrillamail.de, @guerrillamail.net, @guerrillamail.org, @guerrillamailblock.com, @pokemail.net, @spam4.me) and type desired email name.
You can use either a temporary mail address or a Scramble address.
Receive mail from anywhere as every temp mail provider do.
Compose a mail by temporary email address. You are allowed to send email from temp mail. It's a really superb option given by Guerrilla Mail.
Attach document/media file when composing a mail.
Reply to any received email.
Access Guerrilla mail from the Android app. This means you can use the temp mail service from your android mobile.
---
#3. Temp Mail – Disposable Temporary Email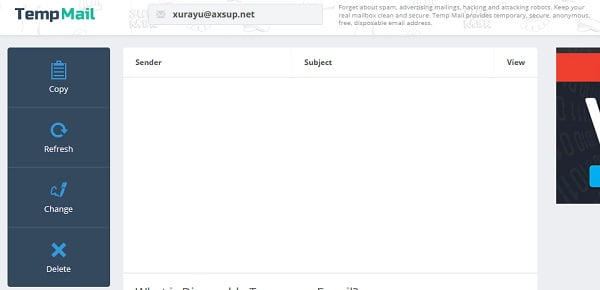 Meet with another fake email generator – temp-mail.org. Here you can create an unlimited Disposable email and use them to signup on any website for email verification.
They have given the option to change domain name which is always updates. (@send22u.info, @ugimail.net, @20box.me, @mail4-us.org, @crypemail.info, @youzend.net, @cryp.email, @endrix.org, @zhorachu.com, @ethersports.org, @tinoza.org, @payperex2.com, @nezdiro.org, @ether123.net, @reftoken.net, averdov.com, @axsup.net, @datum2.com, @geronra.com, @asorent.com, @balanc3r.com, @c1oramn.com, @letsmail9.com, @tm2mail.com, @cobin2hood.com, @minex-coin.com, @ax80mail.com, @muimail.com, @hitbts.com, @crymail2, @o3enzyme.com, @sfamo.com, @trimsj.com, @larjem.com, @yk20.com, @l0real.net, @topikt.com, @99pubblicita.com, @taylorventuresllc.com, @fxprix.com, @loketa.com, @nickrizos.com, @vpslists.com, @dumoac.net, @creazionisa.com, @shinnemo.com, @autowb.com, @rsvhr.com, @heros3.com, @moruzza.com, @zsero.com, @idx4.com, @kulmeo.com, @virtual-email.com, @click-mail.net, @easyemail.info, @globaleuro.net, @mail-pro.info, @mail4.online, @next-mail.info, @nextmail.net, @quick-mail.online, @webtempmail.online and much more.)
Note: You can't create or reply to the mail but 10minutemail, Guerrilla Mail provides reply & send mail option to respond to the mail from temp email address.
Also Read : Top 5 Free Email Providers to Send & Receive Mail
---
#4. 10 Minute Mail – Temporary Email Address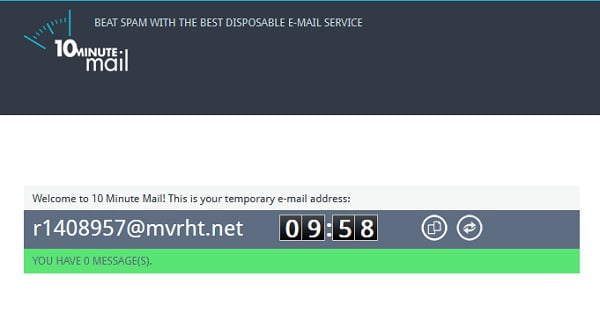 10-minute mail is one of the famous fake email generator sites like temp mail, trash-mail, throwaway email or fake-mail. When you visit the 10minutemail site, They will randomly generate a temporary email address and the countdown will start at 10:00.
They will give you 10 minutes time to access temporary mail. If you want to extend timing then you can increase by hitting on the refresh icon which is given just after the countdown.
10-minute mail allows you to reply to the received mail. It's really osm.
Also Read: Top 5 Best Working Proxy Sites to Unblock Website (Hide IP)
---
#5. Fake Mail Generator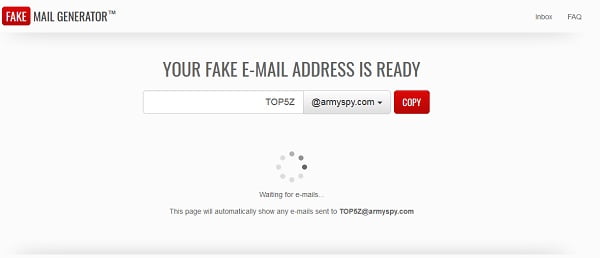 Fake Mail Generator.com tells everything about its work. Yes! It will generate fake mail ids for you and then you can use them for your online email verification.
FakeMailGenerator.com has many domain supports like @teleworm.us, @armyspy.com, @cuvox.de, dayrep.com, @einrot.com, @fleckens.hu, @gustr.com, @jourrapide.com, @rhyta.com, @superrito.com. You can choose any one of the domains while creating a temporary email.
It's a 100%, free disposable email provider. Only you have to enter a name & then select a domain name. That's it. Now your new email id is created within a moment.
---
#6. Trash Mail – Temp Mail provider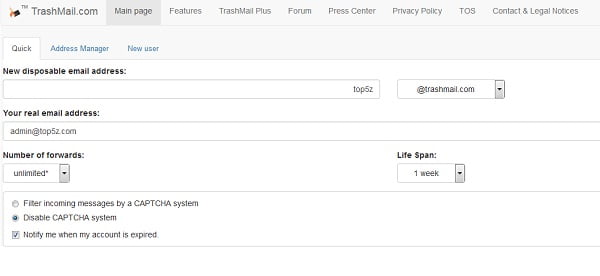 At Last, I am using Trash Mail for getting a disposable email address. It is having the same features as 10-minute mail. Here you will get unlimited mail forwarding.
TrashMail gives access to the mail address without time limits that mean you don't have to think for a temp mail account to expire. You can also send emails to anyone from trash mail.
It supports almost 16 domain names for making a temporary email account :
@0box.eu, @contbay.com, @damnthespam.com, @kurzepost.de, @objectmail.com, @proxymail.eu, @rcpt.at, @trash-mail.at, @trashmail.at, @trashmail.com, @trashmail.io, @trashmail.me, @trashmail.net, @wegwerfmail.de, @wegwerfmail.net, @wegwerfmail.org and also you can use your domain name in the custom domain option.
Also Read : Top 5 Best Virtual Credit Card (VCC) Provider FREE
---
Other temp mail generators as like 10-minute mail & guerrilla mail :
Below is the temp email generators similar to 10minutemail, guerrilla mail & temp-mail.org to get a temporary email for online email verification purpose.
Yopmail.com
filzmail.com
mailto.space
nospamme.com
Conclusion
So, These were free disposable e-mail service providers. I hope you learned very well "How to create temp email id?".
Now, It's your time to tell us which temp email generator is best for getting the disposable temporary email. Let us know in the comment section. And also don't forget to share with your friends.