Do you want to download Android games under 100MB? Here I am going to share a list of amazing games for your Android mobile in up to 100MB size. If you have read our previous article on which is big 1GB Android games then you may have also followed 10MB Android games.
There are many Android games that come in 100MB which is best for low-RAM smartphones. It will run smoothly on your device and give the amazing experience of a 100 MB game.
If you are still reading this line, I am sure you are in-game mania like me. I love to play the latest Android games. You should follow our game category where we used to share the top and best Android games list from time to time. You may also like to download 500MB Android games.
Best 100MB Android Games
Below is the list of 100MB games for Android devices. I am 100% sure that you will be loving these 100MB games. So why way, let's see offline Android games under the 100MB list.
#1. Traffic Rider Game
Traffic Rider is another game under 100MB for motorbike racing. If you love racing then you must try this traffic racer game. This game has been downloaded by 500M+ and collected a good number of rating reviews.
Also Check: Top 5 Cricket Games for Android
---
#2. DEAD WARFARE: Zombie Shooting Game
Dead Warfare is a famous Zombie shooting game. If you really love zombie-killing games then you must also check the best zombie games for Android. I want to tell you that dead warfare is used by 10 million people.
Also Check: Top 5 Best Word Games for Android
---
#3. Blue Ninja: Superhero Game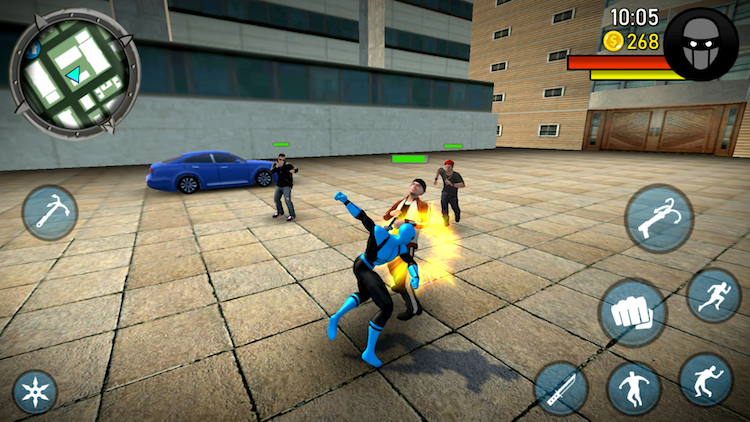 Blue Ninja is an exciting game where you become a super-strong spider. The game looks really amazing and makes you feel like you're playing and fighting with the enemy. You swing around the city, holding onto high buildings and doing daring work. It's like you're a superhero with superpowers.
Also Check: Top 5 Car Parking Games for Android
---
#4. Wild Hunt: Hunting Shooter 3D Games
The wild hunt is an amazing game who loves hunting. It's stimulating 3D graphics shooting games. Here you have to spy closely on hunted animals through the weapon scope, take aim and pull the trigger. This game has been downloaded by 10+ million users and given a good rating. If you like shooting games then have a look at the list of best shooting games for Android.
Also Check: Top 5 Best 2GB Android Games
---
#5. Vector Arcade Game (90.55MB)
Vector game is an amazing & exciting arcade game. The game opens with a view into a totalitarian world where freedom and individuality are nothing more than a distant dream. Till now 100M+ users used this under 100 MB game.
Bonus 100MB Games Games
If you are still not satisfied with the above given 100MB games then you can try the below games:
Conclusion
So, These were the best games under 100 MB. I hope you liked these games. At last, I would like to know which game made you addicted. If you are playing any other game of almost 100MB and you like most then let us know in the comment section.