The best thing about online presentations is that even though we all were stuck in the home due to the coronavirus pandemic, our work continued, and advanced technology was the main reason behind it. The demand for the various web conferencing software has grown a lot because every person who works in the office has to meet their colleagues online or offline to get the work done. So in such a case, you need to have the best web conferencing software installed on your PC since it will become easier for you to connect with colleagues.
Deciding which web conferencing software you should choose might be confusing, and I agree on that topic. Because I have faced tons of issues while trying to use the low-quality software, so here I have shortlisted some of the best web conferencing software.
List of Web Conferencing Softwares for Remote Training
Since there are many options available to choose from, I have shortlisted some of the top ones.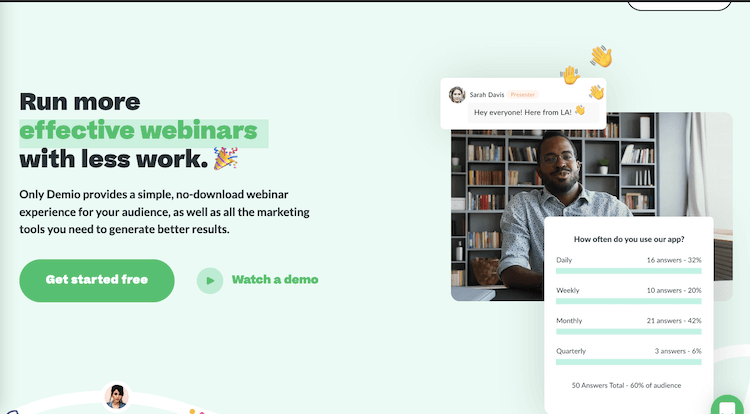 Demio is a webinar platform that can host various web conferences, market seminars, and various types of webinars. In a nutshell, this is the type of software that you can use to make a strong connection with your colleagues and form various strategies by meeting each of them virtually. Demio lets you use all the prime features and tools that will be essential for making a good conference and getting the best results. You can arrange various Q&A sessions, arrange the voting mechanism on certain topics or projects, and do various things.
Become a host or invite anyone to do that job with just one click. The experience of interacting with others through Demio is quite great, which I loved about this software. You can do an advanced meeting set up before starting the conference and make further changes. Download or upload any important document with much ease.
Features of Demio:
On-demand and automated webinars.
Screen sharing with just one click.
Live chat and poll voting on important matters.
Interactive and outstanding user interface.
---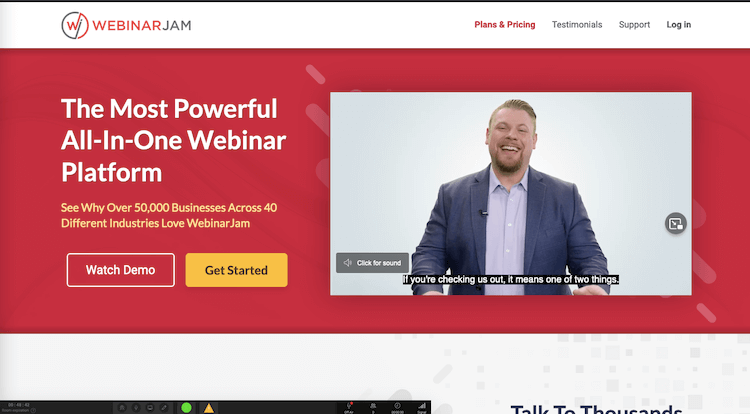 WebinarJam is the type of web conferencing software suitable for organizing a webinar for many people. They claim to host a web conference for people up to 5000 without facing any technical issues. You can host the melting solo or invite a bunch of experts to host it up for other attendees. The quality of the web conferencing will surprise you just like it did to me. The presenters can be up to 6 and if you want to increase more, upgrade the plan.
There will be no pixelated images or faulty frame rates, what you need is a good internet connection, and then you can go with any web conferencing quite easily. You can access Webinar jam on any device; whether it's mobile, tablet, PC, it's made for every platform. Considering the amount of money you are spending on this tool, it's worth every single penny for sure.
Features of Webinarjam:
Automated recording of the webinar.
Q&A sessions can be held.
Sticky announcements let you promote products or services.
High-quality web conference meetings.
Secure and private chat available.
---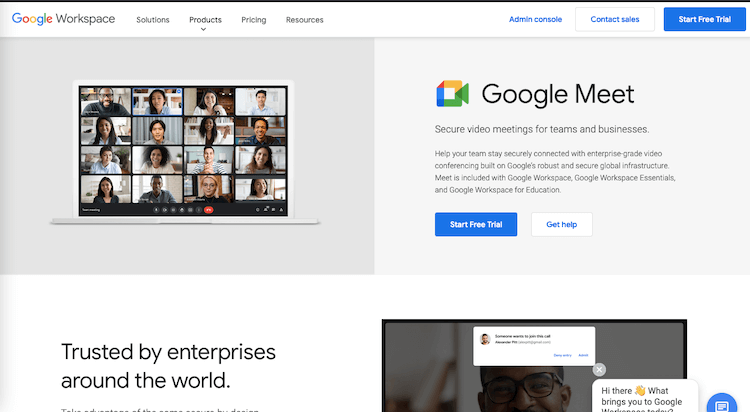 Google a few months ago decided to shut down the google hangout operations, but they decided to merge the services of google meet, a video conference tool, with G Suite. So if you are a subscriber of G suite, consider yourself a lucky person because you can use Google Meet to do various business conferences, random webinars, and lots of things. Google Meet is designed to help everyone connect with your hosted webinar since it does not consume much internet data and is pretty easy to use.
You can use Google Meet through the chrome browser on the desktop. There are also dedicated apps available for android, iOs, and other types of smartphone users. Google Meet has become quite famous among the various types of business enterprises because of its easy-to-use interface. Every Google Meet is secured and protected by the proper encryption that it's quite hard and impossible to break into the system. There is no headache with joining Google Meet, click on the link, and that's it. There are many helpful features like noise cancellation, live captions, low light mode, and many others which will keep the meeting hosted properly.
Features of Google Meet:
Join meetings with just one click.
Share documents or surf on the computer while in the meeting.
Easy to operate and arrange any meeting.
Already integrated with google workspaces.
---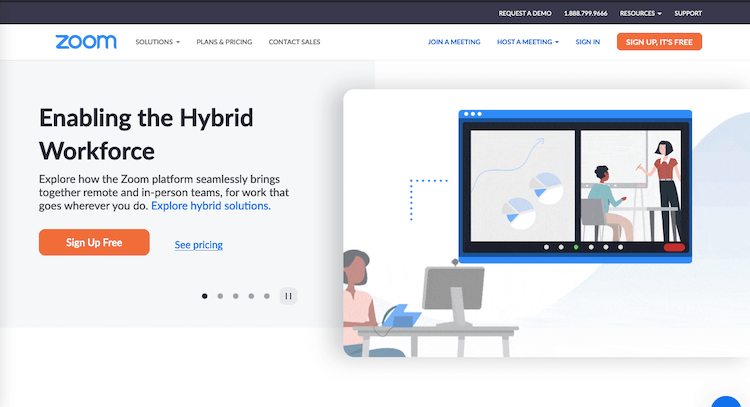 One of the most famous and probably the best web conferencing software that everyone must have used last year. Since the pandemic started, everyone jumped onto zoom because of their simple-to-use and beneficial user interface. You can host, attend, co-share the various zoom meetings, and further upgrade every single feature with just one click. The one thing which I liked the most about Zoom is that here every web conference will become more interesting and fun. You will not feel bored while attending the web conference through Zoom for sure.
You will get to device the whole audience into the various Zoom rooms and access various tools and software through the meeting. Share the screen or upload the document when you are asked to do that with just one click. Millions of business enterprises are constantly hosting web conferences through this single app.
Features of Zoom:
Simple to use from everyone's point of view.
Public or private chat options are available.
24/7 technical support system available.
Attend zoom events, app marketplace.
---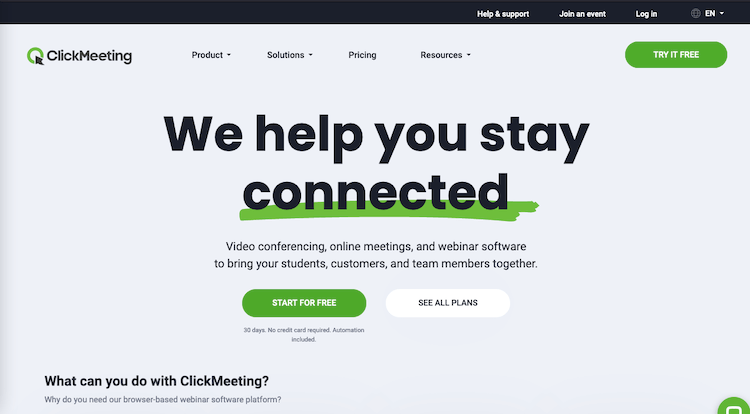 Clickmeetig helps you to host the online web conference consisting of various students, members, and various types of people who will get tons of valuable information from it. There are multiple usages of click meetings since you need to select the type of meeting you wish to conduct, and then everything will be done automatically. You can go with the free trial plan in which a host can conduct the various types of meetings and if the requirement is huge, then go with the premium plan also.
I have seen many schools and business meetings conducting click meetings because of its simple user interface and tons of various premium features available. There is a reason why so many big to small companies use Clickmeeting personal plans to host their most valuable web conferences. Clickmeeting is designed in a way that will make the communication flow between the members effectively. Generate various leads, further take your business to the next level with the help of clickmeeting.
Features of Clickmeeting:
Automation, live, and paid webinars option available.
Integrated with tons of premium features.
Screen sharing made it easily available.
24/7 hour technical support system.
---
Conclusion
So these are the best web conferencing software for remote training that you can work on. Even though the industry is filled with tons of options available, I have decided to list down the best ones. Choosing a web conference software is crucial for you and the business since it will help connect various types of stakeholders. Whether you are working as a teacher in school, freelancer giving services, or doing a corporate job, web conferencing is essential. So leave a comment down below if you have any further doubts.