Usually, people are not interested in those hosting services which require specific actions from your side, like coding, programming, and managing your own control panel. Those who are not interested in hosting services based on Linux operating systems can quickly go with Windows asp.net hosting services. Even though very few people do that because those whose sites are built around Microsoft's ASP.net framework need these types of hosting. Usually, Microsoft's windows asp.net hostings are expensive, hard to find, and require technical experience to deal with it.
If you are the type of person who doesn't like C-panel and wants to optimize the hosting services based on your own requirements, this is the best type of hosting for you. Windows asp.net hosting might be complicated for some people, but those who have the proper knowledge of optimization will be able to use it to its full potential, and that's why here in this article, we have shortlisted a few of them.
List of Best Windows ASP Hosting Service Providers
There are many options available when it comes to windows asp.net hosting providers, and for those who didn't have any experience with it, it could be confusing, so here we have shortlisted some of them.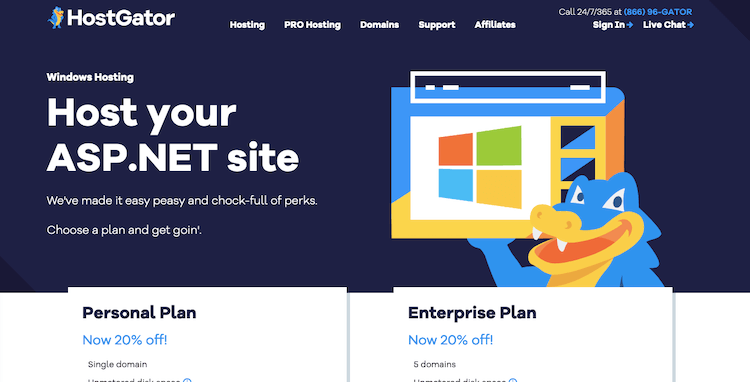 Hostgator is already famous among bloggers for hosting their WordPress websites, but very few know that they also offer different Windows hosting options. Here are two plans available for the ASP.NET website, personal plan and enterprise plan. The personal plan starts at just $4.76 per month, and the enterprise plan starts at $14.36 per month. A personal plan is good for small websites; it gives you a free domain, SSL certification, Enterprise plan; on the other hand, it also gives you support of up to five domains and a dedicated IP address.
Whether you go with a personal or Enterprise plan, here you get unlimited bandwidth and storage space. Hostgator's windows hosting will give users Parallels Plesk Control panel through which managing things will be easier. Along with that, you get unlimited subdomains, email addresses, FTP accounts. You can choose from more than 4000 website building templates to select the best design for your own website and one-click installation script. Get technical support from highly trained individuals, and resolve any matter you are facing immediately.
Features of HostGator:
Free website builder available.
Unlimited storage and bandwidth.
Free email and domain.
24/7 hour support system.
---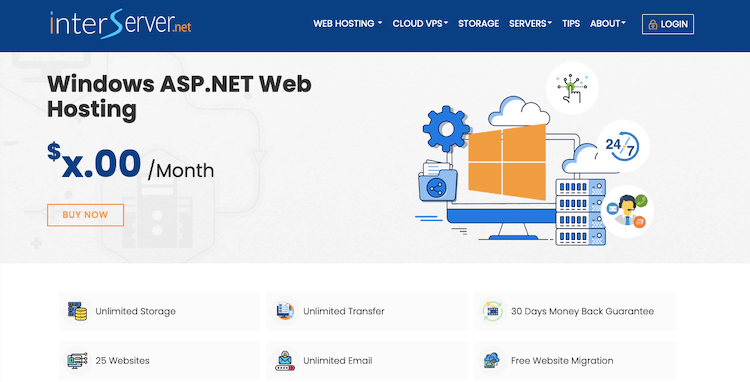 You would choose windows hosting because you must have developed your website based on the .net language. Interserver's windows-based hosting service is one of the best that will satisfy every need of yours. Here you have the options of choosing shared, VPS, and dedicated windows hosting, and that's quite the best thing from the website owner's point of view. Hosting plans start from $8 per month, with unlimited storage and bandwidth. In addition, there are many things like free Cloudflare CDN, automated backup of the important data, unlimited FTP accounts.
You can cancel the plan under the 30-day money-back guarantee scheme and don't have to worry about renewal charges. You can choose Windows VPS hosting using a Windows server; it would cost you extra few bucks and offer you data transfer of 2TB and 30GB SSD storage. The best thing about the Windows VPS plan is that you can access it remotely at any point from anywhere. You can use the Windows VPS plan for working, gaming, remote working, and lots of things.
Features of Interserver:
Unlimited storage and bandwidth are available.
The support system from highly technical skilled employees.
Automatic database backups.
Unlimited FTP accounts.
---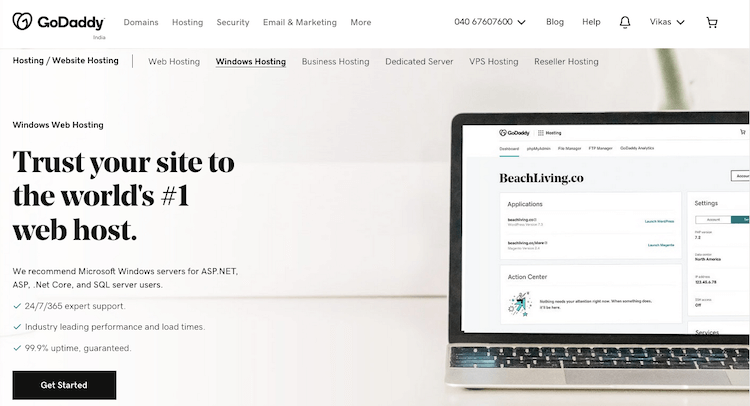 Godaddy might be the biggest domain registrar in the industry, but they also provide windows hostings for ASP.NET-based websites. Here you get to use the easy-to-use and straightforward Onyx Plesk control panel to manage everything in the best manner, and also supports one-click installation of Joomla, WordPress, and other software. In addition, you get access to a 200MB MSSQL database and free DDoS protection against any third-party malware attacks, even with the basic plans.
The economy plan will cost you only $5.99 per month, and it's suitable for a single website. In this plan, you get a free domain, unlimited bandwidth, and storage essential for any newly created website. You will have to pay extra bucks in the premium plan, and you get a free SSL certificate, website backup, office 365 email access, and lots of premium features. Even though the difference between the basic plan and the premium one is relatively minor, you should stick with your requirements.
Features of Godaddy:
Free SSL certification and unlimited bandwidth.
Automatic backup of data.
24/7 technical support.
Supports one-click installation.
---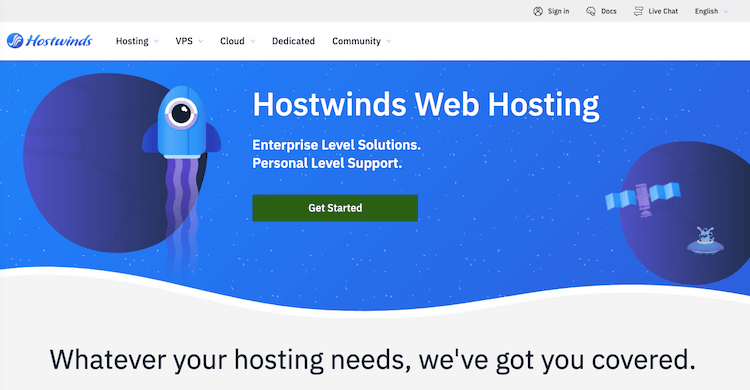 One of the best things we liked about Hostwinds is that it offers you both the options of managing and unmanaged VPS servers to choose based upon their preferences. Managed server plan is the most famous, and it comes with the 30GB SSD disk space and 1 TB data transfer that you can expend with the more premium plan. However, if you have good technical knowledge of handling servers, you can go with an unmanaged server plan that will cost you extra but offers you more advantages.
Unmanaged servers will give you unlimited bandwidth, storage space, and access to premium plugins and software, and this plan starts from $9.89 per month and can be extended to $340 per month. Using a cloud control portal, you can access all things in one place and manage them based on your needs. Both of these plans are based on the facilities they are providing to the users. These servers are looked up to by the technical experts every single hour of the day.
Features of Hostwinds:
24/7 support system.
Free domain availability.
Automatic database backups.
60-day money-back guarantees.
---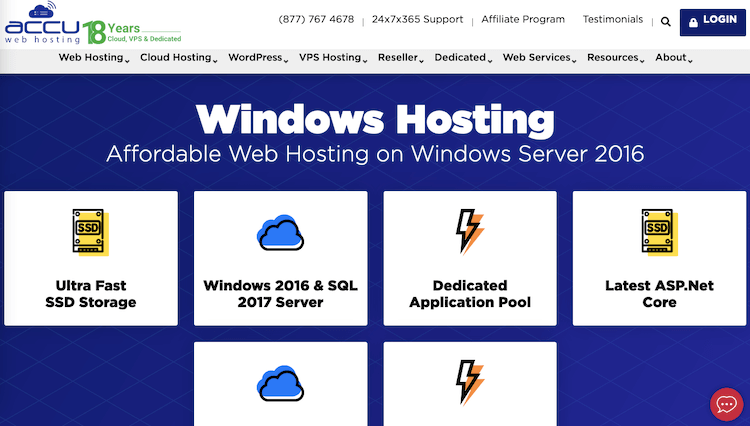 When you are building an ASP.NET-based website, the most important thing among all others is the trust you have to put in the hosting provider. Accu web hosting is famous for providing one of the best services for hosting simply premium types of windows sites. Windows hosting provided by this company is highly secured and truly powerful considering every factor, whether DDoS protection, SSL certification, excellent technical support system, etc. You will not regret even a single minute for it.
VPS hosting enables those short of budget and wants to enjoy the highly secured hosting connection. Their servers are located worldwide so that you won't have any issues with it—one-click installation of WordPress and many other hundreds of third-party applications. There are hardly any issues users have faced regarding the failed protection, hardware downtime, etc. The small business plan supports three websites and 30 GB storage, while the enterprise plan supports five websites and 50 GB of storage.
Features Accu Hosting:
Trusted and highly rated hosting provider.
More than 100K servers.
Excellent technical support system.
Anti-spam support system enabled.
---
Conclusion
So these are the best Windows asp.net hosting providers that can give you the true value for your money. Of course, when you have plenty of options to choose from, you can do lots of things, and that's why we have shortlisted this list to help you to some extent. Now, if you still have some doubts or questions regarding choosing the best windows hosting provider, you can leave a comment down below; we will be glad to help you out.