Minecraft is nowadays not just a random game you play, but it has become an essential part of our life system. Here you can do anything like building, breeding animals and various other imaginary things which we always wanted to do. Even though you can play Minecraft on their servers, sometimes you need to host the game on third-party servers, and for those that you need a reliable and fast hosting provider. If you are a gamer who wants to enjoy playing Minecraft on the dedicated server, then you are at the right place.
The basic requirement for playing Minecraft on the dedicated server is you need a double CPU, 2GB of RAM, and a high-speed connection. Nowadays, hosting providers have increased in tons of numbers, and it would be not very clear for you if you have never used their service for hosting Minecraft. So here we have made that task for yours easy by listing all the major hosting providers, which will help you choose the best one among all other options.
List of Best Minecraft Server Hosting Provider
After testing and reviewing tons of hosting providers, we decided to go with the top ones and listed a few of them here.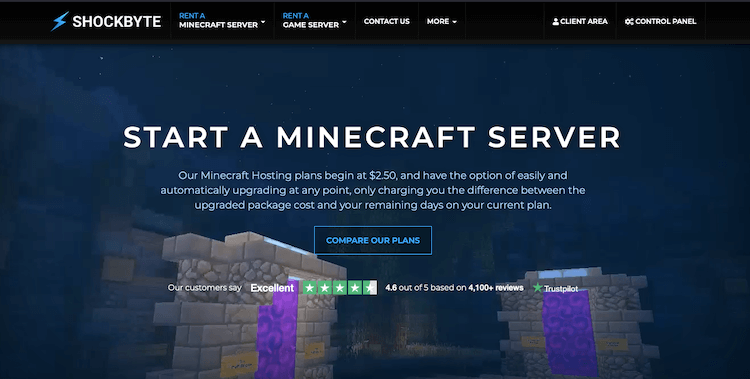 Shockbyte, initially based in Australia, is a gaming server providing company famous among gamers for durable and fast services. Their primary focus is on Minecraft and related games, where gamers usually need dedicated gaming servers. Shockbyte has managed to find the right customers, and they are genuinely committed to what they give to the customers. They claim to provide 100% uptime, and there are no interruptions from their side. You are also getting free DDoS protection from all types of malware attacks, protecting your data servers.
Whether it's Minecraft PC or Minecraft Bedrock, there are tons of options to choose from, and you can easily rent a gaming server according to your requirements. If you register for the first time Shockbyte, you would also get the free subdomain with your account. There is full customer support available 24/7 hours, you can always contact them for any queries, and highly trained professional technicians would resolve such issues in no time.
Features of Shockbyte:
100% uptime guaranteed.
Free DDOS protection.
Easy to set up and use.
A Multicraft panel is available.
---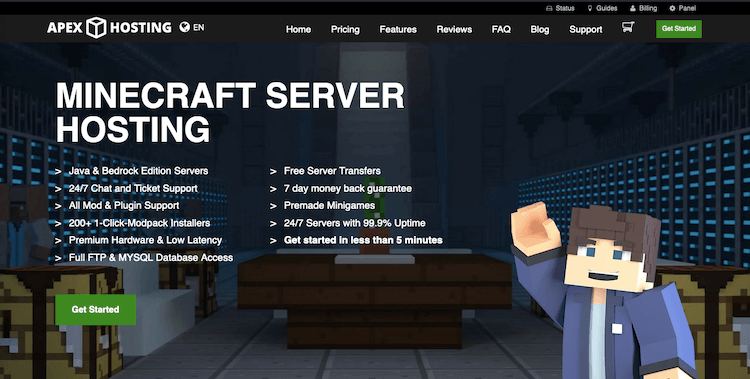 Apex hosting's primary focus is on building the dedicated and shared Minecraft gaming server switch every gamer can use to host Minecraft, and they are pretty great at it. Their basic plan starts with just $3.99 per month, which will offer you 1GB of RAM, dual-core CPU, and can host up to 12 players at a time. Of course, you can always extend plans and make required changes by calling their customer support system. Setting up your new Minecraft server is not that complicated, and it's a pretty straightforward process.
All the hardware systems used by Apex hosting are of the premium, and you can choose servers from various geo-locations. The customer support system is available 24/7, making it the most customer-friendly and valuable thing.
You also get full FTP and MYSQL database access when choosing to go with either of their plans. More than 99.9% uptime is guaranteed with the Apex hosting servers, which is quite significant. Their networks are DDoS protected from any third-party attacks, and you get a free subdomain with their basic plan, so don't think that any malware attack would stop you from playing Minecraft.
Features of Apex:
Powerful C-Panel system.
Automated backups of essential data.
Instant setup can be done.
One click installer.
Free SSL certificate.
---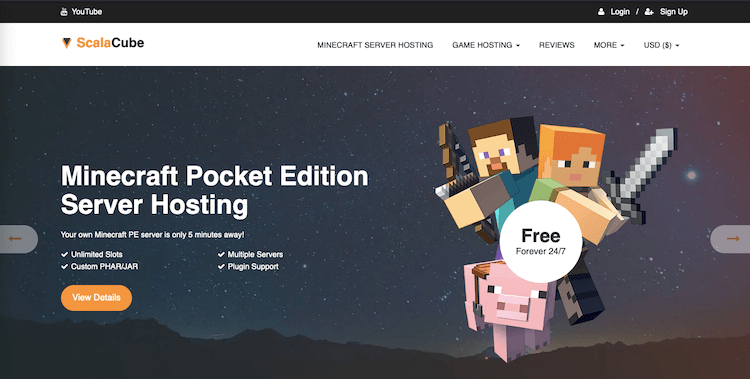 The best thing about using the services from ScalaCube is that you have plenty of options to choose from. You can go with the basic plan that starts with just $5 offers you 1.5GB of RAM, 30 players, and it's much of what a very basic Minecraft player needs. You can always extend your plans depending upon your requirements, and ScalaCube is easy to deal with. You can host Minecraft on servers from America, France, Australia, etc., and managing it is easy. ScalaCube's primary focus is on gaming hosting; it's the best option for every gamer who truly wants to experience the power of dedicated servers while playing Minecraft.
With unlimited bandwidth, HDD up to 250 GB of space, an excellent c-Panel for making required changes makes it easier for any newbies. The customer system is quite tremendous and responsive throughout the whole 24 hours. More than 99.9% of uptime is guaranteed when using scala cube's services. Using Sclacub's c_panel, it is easier for you to build a Minecraft pocket edition server and add multiple mods and plugins on the server. Other technical benefits you will be getting are free MySQL, fill file access, free domain, modpack support, and many other things.
Features of Scalacube:
High loading speed and excellent uptime.
Unlimited slots and DDoS protection.
Multiple plans are available.
Excellent customer support system.
---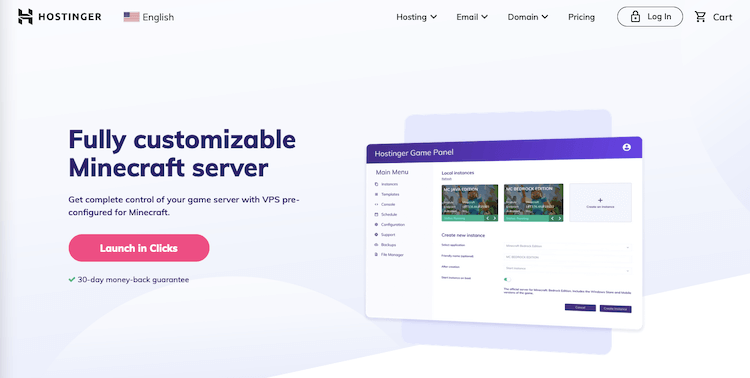 Hostinger is one of the oldest and the best hosting providers available in the market. Starting from Europe, they slowly managed to grow their top quality service in every part of the world. You can host Minecraft on any dedicated servers on the Hostinger and make the required changes after that also. Their data centers are worldwide, and you have plenty of options to choose from. There are hardly any hosting providers that give you the fascination of providing a dedicated server for hosting Minecraft, and Hosting is one of them. More than 99.9% uptime is guaranteed, meaning you will hardly face any interruption while playing Minecraft on Hostinger's servers.
Giving you more than 2GB of dedicated RAM and dual-core CPU in this Minecraft dedicated plan is what you need to play the game smoothly. DDoS protection, instant setup are what impressed us the most when it comes to Hostinger. Their customer support system works 24/7 hour and is pretty much responsive to every single query or question you asked. It can hold up to 70 players, and you can always upgrade the plan by talking to the customer system, so there are no issues with that.
Features of Hostinger:
One of the best-dedicated hosting providers for gaming.
Easy setup and manageable.
99.99% guaranteed uptime.
Dual-core CPU.
---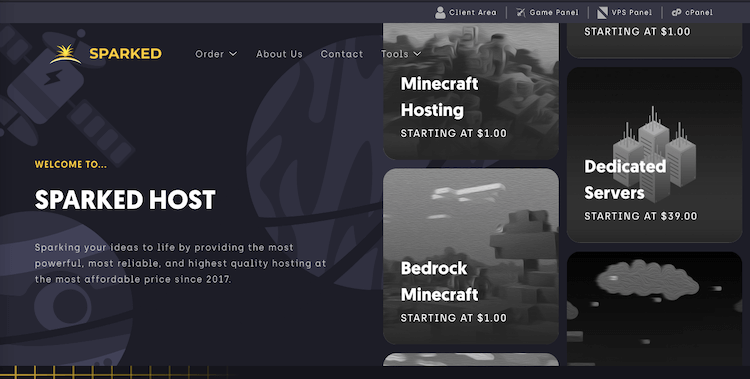 Sparkedost is dedicated to providing you with different server locations, easy setup and integration, free SQL databases, and other essential stuff. Their Minecraft servers vary from different angles; you can go for the most budget-friendly Minecraft server, which will cost you less than $1 per month. In addition, there are more advanced pans and better features when you upgrade the Minecraft hosting plans. The primary point which Sparkedhost got about customers is that they gave tons of various plans options to choose from.
A fantastic customer support system of highly trained technicians helps you solve any issues. Moreover, free DDoS protection and SSL certification you will be getting from their basic subscription plan. They are getting quite famous among Minecraft gamers, and the reason is their uninterrupted premium quality of services. The best thing we liked about Sparkhost is that they offer unlimited player spots even in their basic plans.
Features of Sparkdhost:
Choose from various plans accordingly.
Super budget-friendly.
Excellent customer support service.
Free DDoS protection and automated backup of data.
---
Conclusion
So these are the best Minecraft server hosting providers available at the most budget-friendly plans that every gamer would genuinely want. The services mentioned above providers are shortlisted after perusing their service quality and customer reviews so that you can go with any of them without any issue. Still, if you have any questions, leave a comment down below.