One of the best things about using node.js is that it lets developers use JavaScript for server-side scripting. It also lets you run various Javascripts for server optimization and related things. Of course, not everyone is fond of using node.js hosting for their newly created website for applications, but consider yourself one genius if you are planning to do that. Because for some people, since node.js is an open-source server environment, it makes things complicated for them.
You can do various things with node.js, such as optimizing the web pages to improve the speed. The best thing about using node.js is that the server would be faster, scalable, and optimized accordingly. Not everyone is fond of using node.js but considering its usability, you can go with it.
List of Best Node.js Hosting Providers
Since there are tons of options available in the market for choosing node.js hosting providers, we decided to create the best ones by analyzing them and reviewing them.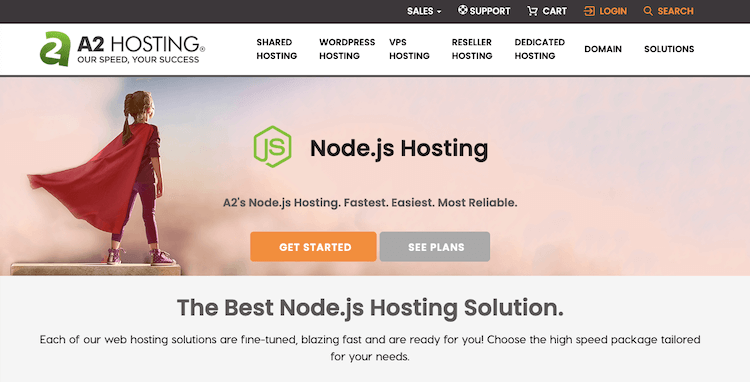 If we compare the node.js service from other hosting providers with A2 Hosting, you can see the major change that A2Hosting has managed to create various shared hosting plans for users. You can choose from various shared hosting plans, making them more affordable and using them accordingly. There are plans with VPS or dedicated server options also in which you will get full control but have to pay a little extra price for it. A2Hosting's node.js comes with three different plans starting from just $4.99 per month easily. 
The turbo boost plan starts at $9.99 per month, and it includes the best server optimization speed and lets you customize it accordingly. This plan is among the best of these options since you can have unlimited SSD storage, unlimited websites, unlimited email accounts. Unfortunately, we cannot say much about the bandwidth limit since node.js hosting is done on the shared servers and offers various bandwidth options accordingly. The best thing about A2Hosting is that there will be enhanced security from their side like server handling, dual hosting firewall, Reinforced DDoS attack protection.
Features of A2Hosting:
Various types of hosting options available.
Unlimited disk storage space.
The great value of money.
Automated backups of data.
---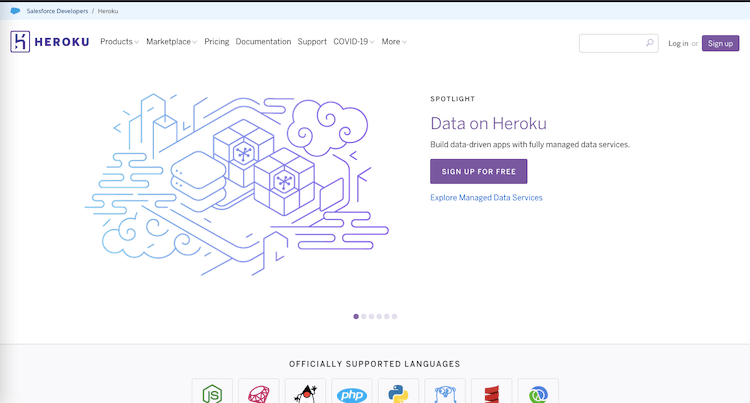 Heroku is one of the famous cloud application platforms famous for offering you free node.js hosting services. Yes, their most advanced feature is you can start using node.js free hosting services, which of course, would come with few limitations. The limitation that you can see is the limited disk storage, RAM, bandwidth, but for all the starter websites, it's a great option to try and test. Other than that, you can also experience the premium service from node.js in the form of paid subscription plans. The paid plans for node.js hosting come with various options that a person can choose according to their needs and requirements.
The paid plans of Heroku start with just $7, and you can get from these plans a free email account, unlimited domains, unlimited SSD storage system, and many other things. In addition, node.js hosted servers are fully capable of handling the traffic from various sources. You won't face uptime issues with them; any major to minor changes can be made with the help of a support system.
Features of Heroku:
It offers easy scalability.
Most developer-friendly.
One of the cheapest hosting providers.
Great technical support system.
---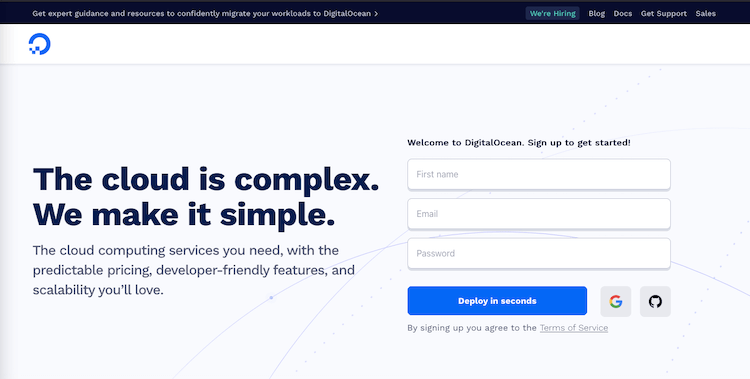 Digitalocean, which is famous for providing one top cloud hosting service to customers, can be a great option for node.js hosting. They let you create a new node.js droplet with just a few clicks. The best thing about using digital ocean is that it lets you create your own droplet, spending upon your own requirement and needs to make changes and use that droplet for hosting websites. However, we would like to clarify that using the digital ocean's platform for node.js hosting is not suitable for new users because of the technical steps you have to take here.
But you can always use third-party tools to manage the digital ocean's platform and make pressure changes. The best thing about DO is their cheap plans; they could charge you monthly and send you an invoice that will also be less than $5. You can always scale up the plan based on server needs, SSD storage requirement, bandwidth capacity, and other things. More than eight different data centers are available across the globe, from which you can choose your own server location and further optimize it.
Features of DigitalOcean:
Cheapest hosting plans available.
Easily scalable at any time.
Great technical support staff.
Integrate third-party tools to manage C-panel indirectly.
---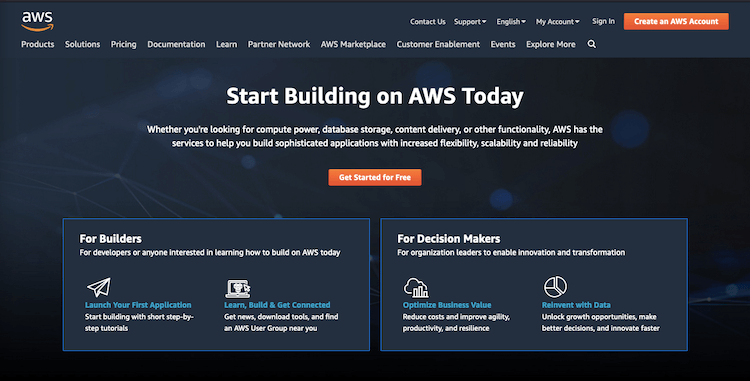 It would be quite unfair if we don't include the services from AWS, which are almost the biggest hosting provider on the internet, and the majority of the big sites are hosted on AWS. Still, one of their most active plans is a great option for hosting node.js applications. You can easily host node.js applications on the high-speed, fully optimized, easily scalable servers of AWS. There won't be any issues of uptime or downtime when you are using the premium services like this one.
You can always start with an Elastic beanstalk plan that gives you an option to manage, deploy, scale and do lots of things. If you are with codes and related stuff when you would like to use the services of AWS for sure because various options of customization make it so useful and great from the customer's point of view. The manual guide and tutorial videos are available on the AWS forum, from which you can learn to host websites and various applications on the node.js hosting servers.
Features of AWS:
Use the most advanced and powerful AWS servers.
Various types of plans are available for scalability.
Use the manual guide and technical videos.
Free DDoS protection, SSD storage, unlimited websites.
---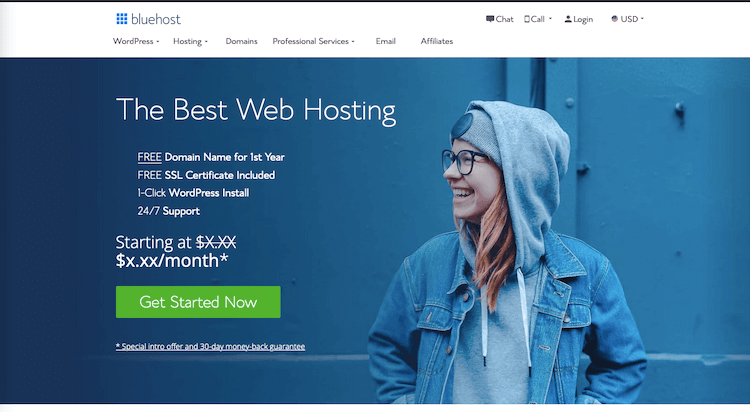 The last but not the most diminutive name on our list of best node.js application hosting providers is BlueHost. Here you can host tons of great applications and websites because of the availability of dedicated hosting plans offered by Bluehost. Their dedicated servers make it super easy to handle all types of traffic coming from various locations. The uptime guarantee of 99.99% makes it super user-friendly and useful in any condition. Furthermore, there is a free domain available for a new sign-up and easy backup of data, which is excellent considering the premium type of services we are getting from Bluehost.
There is a reason why so many developers go with Bluehost, and one of them has different types of VPS and dedicated plans available. The SSD storage capacity varies from 30-120GB and various bandwidth limits depending upon the type of plan you choose. Dedicated IP address, server speed optimization, and customization options make it the most trusted hosting provider on this list.
Features of BlueHost:
Super-premium dedicated plans.
Free SSL certificate, spam assassin protection.
Free domain and automatic data backup.
Thirty days money back guaranteed.
---
Conclusion
So these are the best node.js hosting providers available in the market; even though the list of options you have is tremendous, here we have decided to go with the top 5 only. We hope you liked these options, and if you have any doubt or questions regarding the same, leave a comment down below; we will be happy to help you out.