We all reach that level when it comes to using a personal computer where we ask ourselves do we need to buy the new PC because of the slow processing and some other reasons. Even though earlier it was not quite easy to change your PC or upgrade, nowadays you have plenty of options. One of them is using the best virtual desktop software; everything is done on a cloud basis in the virtual desktop space.
If you are running on low CPU processors, don't worry because there are tons of vital desktop software or platforms that you can use to run on any application numerous times. The development of virtual technology has allowed us to use virtual desktop platforms to do the basic to the advanced level of tasks on cloud-hosted PCs. It would be best if you had the server, and it will run on the high cloud servers, which gives you optimized and better speed than your PC.
List of Best Virtual Desktop Softwares
Now there is plenty of software that you can use for desktop virtualization. When you get plenty of options to choose from, it's good from one perspective, but sometimes it isn't very clear. Because someone who has never used any virtual desktop software would get into the dilemma, so we created the list of virtual desktop software.
#1. Amazon Workspaces (AWS)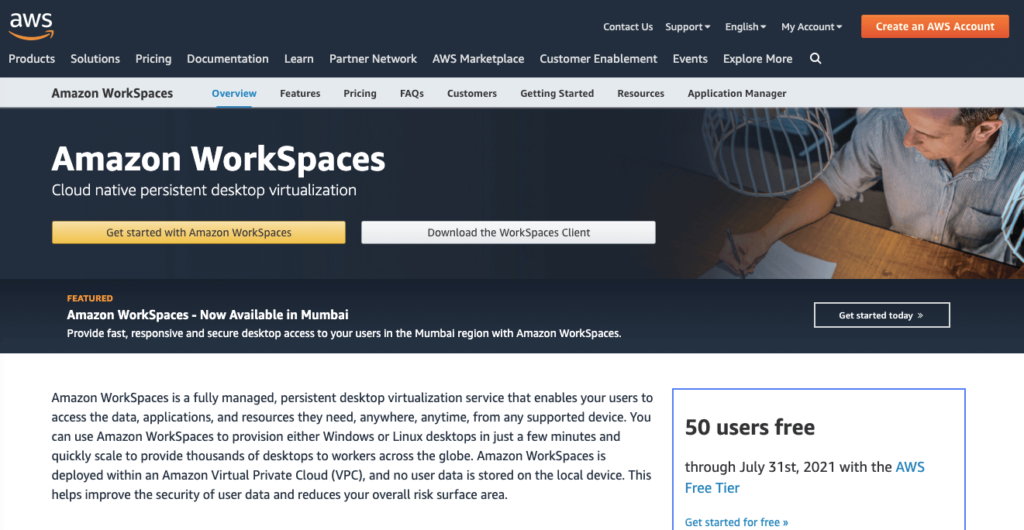 Amazon workspaces (AWS) is probably the best virtual desktop software that you can ever use. Because it has everything right from the speed, optimization, accuracy, high-end performance, etc. You can start with the basic plan where the virtual desktop could be hosted on the high-end servers of Amazon, which is fully optimized for everything. In addition, AWS is famous for using the PCoIP and amazon's SDX protocol to secure transmission and encryption of data.
You have plenty of operating systems in your hand from which you have to pick the best one. It offers Windows, Linux, and many other OS, so pick whichever you like. AWS can be run on any personal computer, whether you have windows or MacBook, iPad, or other tablets. The selective operating system already offers you various internet browsing options that you can choose, like google chrome, safari, even internet explorer also.
The pricing is not that much higher than our expectations, and for the new users, you can always try out their free trial version for upto the 40 hours per month basis. Of course, your payment will depend on the type of virtual desktop you are trying to use. You can add a powerful memory system, CPU, disk size, and many other things and you are billed accordingly.
You can cancel and start the subscription anytime, and there are no basic fees levied by amazon for using their cloud-hosted virtual machines under the trial version, so be free to try it once.
Pros:-
High-end CPU, GPU and storage facility.
Price based upon the hours of usage.
It provides an AWS security hub and application manager also.
24*7 customer service.
Cons:-
You have to add or assign users manually.
Any professional technical support requires you to pay.
---
#2. Citrix
Another great option that you can try and use is the Citrix virtual desktop services. Usually, people who are performing high-end tasks or playing games on the smartphone are seen to be using the Citrix virtual desktop. It supports all types of devices based on the mac os, android, windows, Linux, etc.; you need to sign in to your dashboard and activate the plan according to your choices.
Here you have plenty of plans to choose from, as the basic cloud-based desktop runs on Windows, Linux and other operating systems. However, you can always make additions to these softwares or applications based upon your requirement. The premium services include more servers, hard disk support, GPU, etc., giving you plenty of options.
Many professional graphic designers are constantly using the service of Citrix, and it's worth doing that. Because the virtual PC is so strong that you won't have any issues while using it. You can access and use the business communications tools like Skype, Zoom premium version without any issues, which has increased significantly because of the pandemic situation.
Pros:-
Good technical support system.
The encryption system works great and protects the user's data.
You can get remote access to the physical machines.
Cons:-
The limit of users is set at 25.
---
#3. Windows Virtual Desktop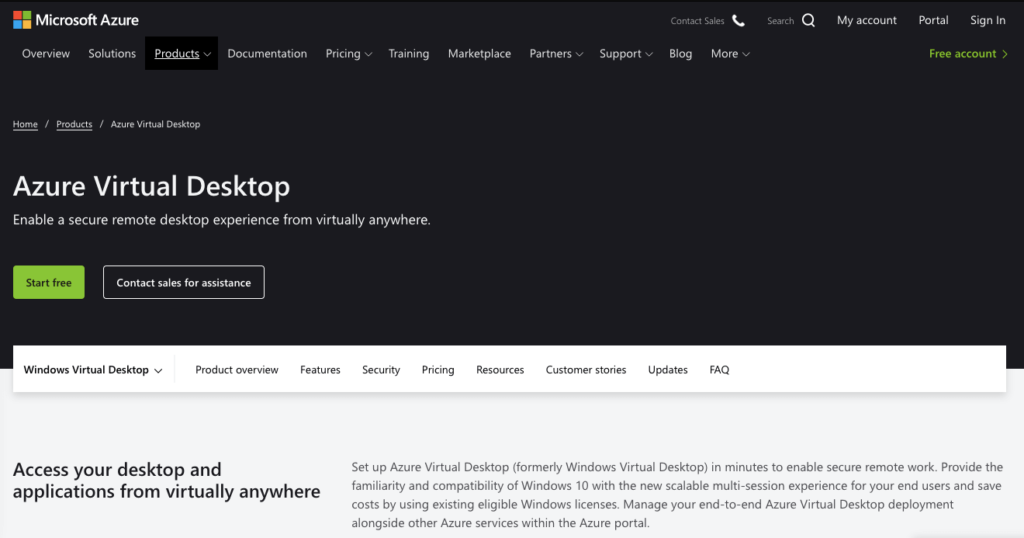 The list of the best virtual desktops could be incomplete if we don't include the Windows virtual OS system. We all have been and ARE fans of the Windows operating system because of the way it's designed. None other can match the brilliant office work layout it offers you. You can access the virtual Windows 7 or 10 machines through this service and use the inbuilt office 365 tool, the band of various applications for doing your office work.
The best thing about using the windows virtual desktop system is that you will use it according to your demand and requirement. Like you can add CPU, GPU, memory system, flexibility and use them accordingly. Usually, people face various issues when they cannot multi-function some office-related stuff, so if you are also into the situation, it will help you a lot.
This system uses Microsoft Azure for data protection and encryption to not have to worry about any data theft or related issues. In addition, you can choose to schedule the backup of data and enable the automatic failover that will protect all of your system's important data in case of an emergency.
Pros:-
Allows an unlimited number of users.
Works great on windows, apple and any other type of devices.
The data encryption and protection system is great.
Cons:-
---
#4. Shells
The new entry to the virtual desktop software market is of the Shells. It's a brand new company but getting quite popular among the users for its accurate and brilliant type of service. Shells are available on every type of device; whether it's a PC, TV or even a gaming console, you can always use the virtual desktop service. It runs on various operating systems, including Windows and Linux, and even different web browsers also.
A new protocol system named SPICE (simple protocol for an independent computing environment) connects various virtual desktops in the various architectures. Usually, when you choose the vital desktop application, you need to know more about it and how it functions. However, there is no complicated process involved when it comes to using the Shells because you have to log in to your account and access various things.
The plans of the shells are divided into various categories like basic, pro, plus etc., that you can choose and use based upon your requirements. The best among them is Shell's pro, which offers you a quad-core virtual CPU with 160 GB of storage and 8 GB of RAM. But, of course, you can also make other customizations based upon your requirement, and that's why so many users prefer shells.
---
#5. VMWare Horizon cloud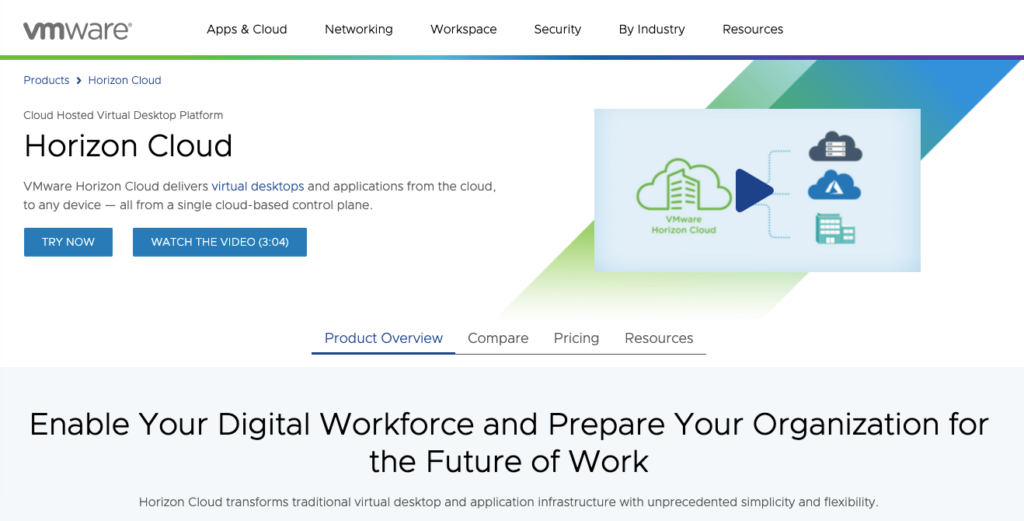 From the pros experience, I can vouch for the vmware horizon for their excellent virtual desktop services. You can use the vmware horizon cloud virtual desktop services to do the function and multitasking, but it's BYOL in the end. It means that you will use this platform only after bringing your own Windows license key.
One of the best features of using VMware is that it allows you to create customized virtual machines. Instant clone is the feature under which allows you to customize virtual machines by cloning from the parent machine. The further customization of machines is fully independent, giving you more access to add or remove any other things.
There are various options you get when it comes to pricing also. You can pay either fully or go the contractual way you pay on a different time basis. If you go with VMware's premium plans, you can get the Linux provisioning, skype business version, SSO, and many other things.
Pros:-
Hosted on IBM Cloud, Microsoft azure.
Works on all the devices and browsers.
Scaling up the complex machines becomes easy.
Cons:-
---
Conclusion
So these are the best virtual desktop software that you can use and access the various applications or software, which usually cannot be run on slow processing PCs. There has been lots of development in the virtual desktop industry, and because of the advanced games and applications, the usage of those things has also increased significantly. It gets quite confusing when you are getting so many options for the best virtual desktop software, so here in this article, we picked the top 5 and reviewed them shortly. If you have any doubt or questions regarding them, leave a comment down below, we will be happy to help you out.