Time is money, and money is time is an old saying, which still holds its importance, and in the upcoming ages or centuries, this statement will also be true. Because if we don't go as we planned and complete things by the deadline, it would severely impact our productivity and ultimately how we do the work. If you are trying to find the best ways to manage various types of work, you should consider using time and work management tools in the market.
Now, the market has become digitized, and you will not find anything worth more than managing your own time. So if you are working for soon, or some people are working under you then, tracking how well the task is getting done under the required time becomes quite important, and this post will help you in some ways.
Best Time Management & Tracking Tools
Since there are tons of time management and tracking tools for managing your work, I have come up with the top 5 that can help you choose to work efficiently and control everything.
#1. Clockify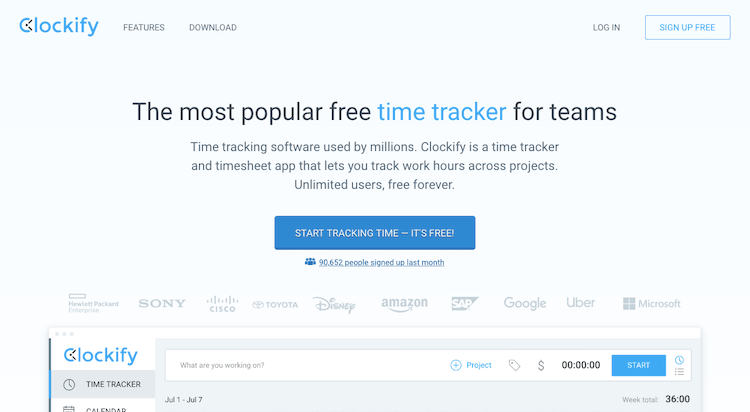 I have used tons of tools for managing time and other related tasks, but none of them offer the level of productivity that clockify did, and it's a hundred percent free of cost. It's a time management tool designed to help a group of people dedicated to some work and trying to complete it in the given time. If you are the type of guy, who would spend tons of money buying high premium tools, stop right there and start using this amazing tool.
You can track the time by using the timewatch; an unlimited number of members can use Clockify for an unlimited number of projects, so in a nutshell, you sign up for one, and then you will never get enough of this amazing tool. It's a tool that is designed for all the various types of platforms such as windows, mac, Linux, etc. The user interface and the usability is quite simple to use, and it's worth it.
Features of Clockify:
Track time on certain projects.
Unlimited usages to unlimited users.
Complete quality work each week and analyze results.
Use manual mode to enter hours.
---
#2. Timedoctor
Timedoctor is a SaaS product developed to help organizations and tons of different work holders complete their projects in the given period. This tool helps you with all the important decisions which can be made based on real-time data and further improves it also. If you are bothered about handling the tons of workload, this is the platform that can be helpful in various ways. This tool is a great option for anyone on the management level because you will get great insight into how much time employees are truly spending on the work.
If you look at the options, you will find how much productive, unproductive, idle time your employees are spending and what could be done to improve the working mechanism. When we are working on certain projects, we don't give much importance to the deadline, but that will keep you achieving the goals. The feature of "work from anywhere" lets employees complete their job from anywhere, increasing their happiness, ultimately resulting in better productivity.
Features of Timedoctor:
You get powerful insights about the important data.
It encourages work-life balance to avoid burnout.
You can control the employees' work correctly.
Comparing departments and various things across organizations.
---
#3. Desktime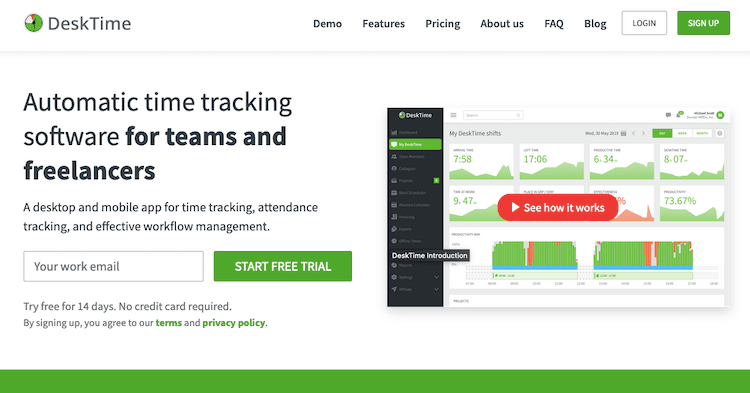 If you want to use simple time management and tracking tool, you can go with Desktime, which is made to help anyone who wants to use it for time tracking, attendance management, and making workflow productive. The tool is highly useful for productive geeks because it can detect your boring computer habits, where you are spending most of the time at work, and many other things. When you are given a report card about how all of your time is going, you can make more wise decisions.
You can dedicate time to the work and track the status of the various types of projects. The decisions we take based upon the time will help achieve larger goals easily, and that's why I love using Desktop on my smartphone also. You can set the automatic time and project tracking function and get highly useful insight.
Features of Desktime:
You can track where the time is getting spent.
Achieve the various types of bigger goals with it.
Check where employees are spending the majority of their time.
Use the in-built analytical tool to improve further.
---
#4. Hubstaff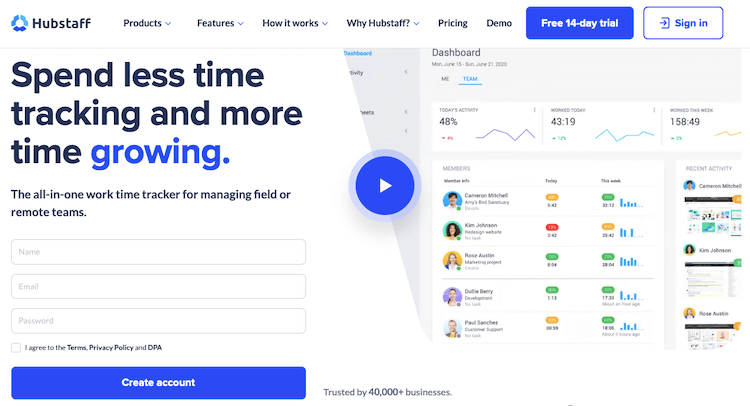 Hubstaff is a lightweight and easy-to-use time management tool that gives accurate data about how and where most of our time is going on. You can use it for various types of things such as productivity monitoring, reporting the work status, GPS tracking of the work which employees are carrying and plenty of other things. Hubstaff has a feature of online timesheets, where you can see how much time each employee has spent and what things they are working on.
You can also use the timesheet for automating the payroll of various types of employees. It can also generate the invoice automatically, which impressed me the most like you don't have to worry about paying little payments. It's a lightweight, clean and easy-to-use time management and productivity tool that significantly improves the performance of many people.
Features of Hubstaff:
It allows GPS tracking of employees' whereabouts.
It generates detailed reporting about your workflow.
Time tracking becomes easy with this tool.
An automated payroll system is available.
---
#5. Toggle
Toggle is layered trust and used by millions of users for making the work more productive and enjoyable than making it more mundane. Simple team and project planning can be done with the help of Toggle, and that's what we all need to have when working with employees. You can collaborate with teams and make a solid plan to succeed with no flaws of being unsuccessful. Toggle is made so that it helps in making the managerial decisions such as hiring the right person for the right job efficiently.
The makers' main objective behind this is to help you make the work smarter and harder. You can use the elegant tools' cool features to help employees do more work in less time by giving them access to all the required things with the help of Toggle. The user interface of Toggle is super easy and understandable, even for those who have never used such tools before in their whole life.
Features of Toggle:
It helps in remote working more efficiently.
This tool also helps to hire the best staff remotely.
It's a hub for managing time efficiently.
Use inbuilt features and analytical reports to make the right decisions.
---
Conclusion
So these are some of the best ways to use these types of time management and tracking tools, which will help you improve the work system under which you and your employees are working. Usually, we don't give much importance to the little things, but if you want to improve things and achieve bigger goals, investing in these tools will quickly bring you such results.