I have worked in the corporate office and now manage my own business; the most common issue I have always faced is documentation. Even though the era in which we live is quite advanced in terms of technology and related stuff, when it comes to sharing your process of work, thoughts, or anything, the documents are the only thing that matters the most. In a recent survey, it's been found that document-related issues have affected 21% of daily productivity loss.
When you cannot share or get the document in the required format, shape, or even size, it unusually affects the way you have been working on some projects. So to mitigate such type of loss here, I have brought you some great document collaboration tools which will help you do the work easily.
List of Document Collaboration Tools
Since there are tons of options available for document collaboration tools, here I have shortlisted some of the best ones only; I hope you would like them just like I did.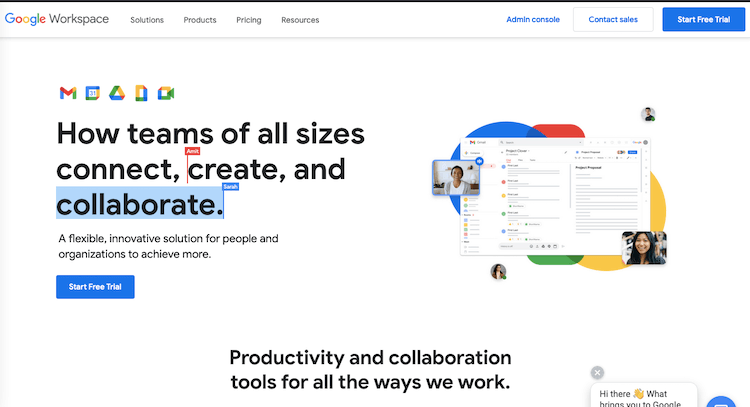 The list of best document collaboration tools would be incomplete if I didn't mention this amazing platform already used by millions of people to do and share their work. Through google workspace, you can use google docs to create the content and share your thoughts with your teammates through google drive, Gmail, and many other tools already integrated into the system. Google workspace integrates every single tool which is necessary for collaboration work. You can team up with your colleagues and chat with them on the go.
Since you are getting google workspace, you can have access to sheets, slides, forms, sites and many other essential tools which can bring the collaboration between the teammates more perfectly. You can highlight the texts, leave a comment, mention someone, and do many exciting things through it.
Features of Google Workspace:
It comes with a bunch of collaboration tools.
Easy to use and does not have any complex process.
It can be easily integrated with third-party tools.
It helps you to boost productivity.
---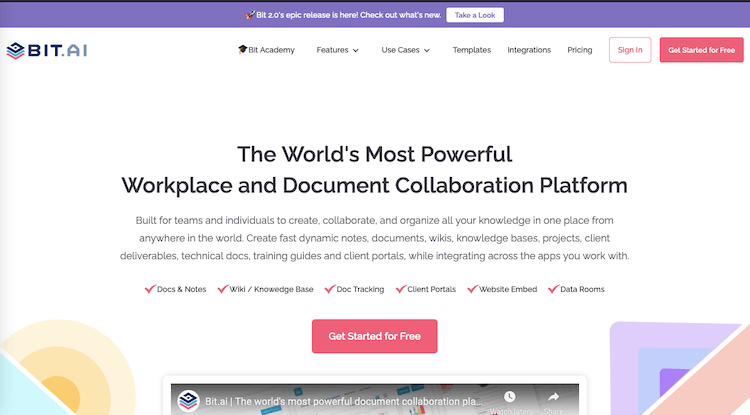 One of the few tools that will make you feel smart and productive is bit.ai. This tool helps you create, manage, and share the text documents not in the boring but in the most outstanding way. You can use this platform to collaborate with hundreds of people; you need to share the link of your doc file, and that's it. Another great feature that I like about this tool is that it lets you attach multiple types of media files to it, and that's pretty easy to do. Bit lets users share every media file, such as youtube videos, gifs, SoundCloud songs, etc., with just one click.
If you want to maximize the usage of document platforms, then this is the best option for you. Attaching pictures and videos will make your content look smarter and help you share your thought processes with teammates. You can also highlight the comment, open up the chatbot, share your thoughts, and do group chats. The minimalist design that the developers of this tool have used is far rich, and it helps to focus while creating the content.
Features of Bit.ai:
You can track engagement levels on certain documents.
Hundreds of engaging templates to start your work.
Highly customizable design, theme, color, font, etc.
It supports all types of cloud files.
---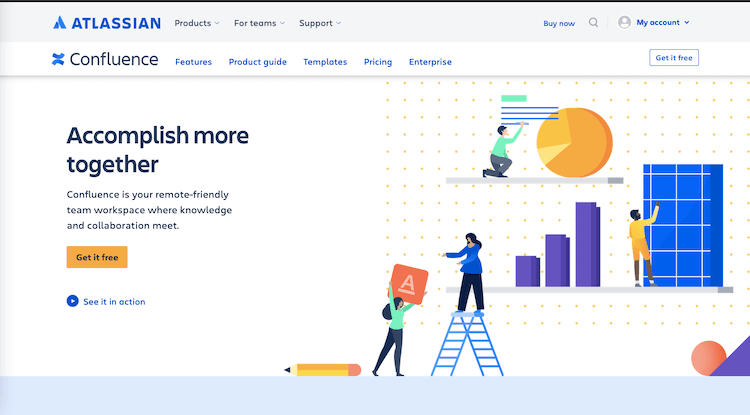 Atlassian's Confluence is another collaboration tool that lets users share the docs, images, pdf, and various files and collaborate for the work. The platform is developed using all the premium and high-end tools that will help you achieve a high level of productivity, which nowadays is missing among the jobs we do. You can track the progress of the work allocated to the teammates through the analytics and get some valuable insights about what types of changes have been made to the document.
Teammates can pin the comments, leave feedback, highlight some portions and do various other essential things for the work. There are two addons that Confluence offers to its users in the name of Confluence Calendars and Confluence Questions. The calendar can be used to track the project's deadline and how everyone is meeting up to to the work allocated to them, Confluence Question, on the other hand, lets teammates ask various doubts, questions and many other things.
Features of Confluence:
It lets users ask doubts, vote, leave comments and many more things.
Teams can share any type of file.
You can track the projects' progress through analytics.
Lots of templates can be used for free.
---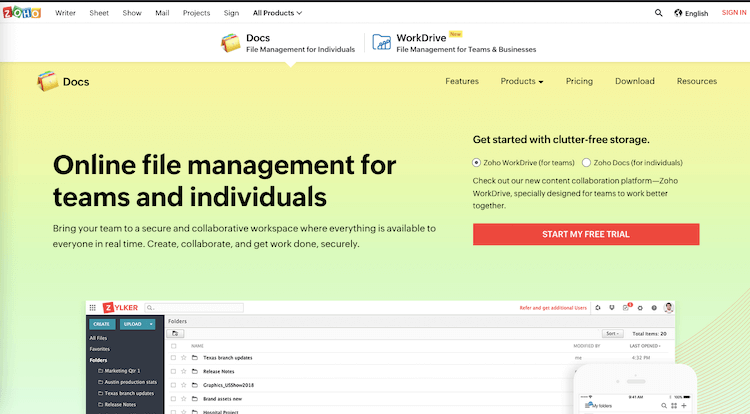 If you have google docs and liked that interface, then you would like Zoho Docs also. Zoho Docs lets users create, share, and edit the documentation with their teammates and make the most usage of their tools. Zoho docs autosave any changes done to it and let you share these files with anyone who will have just a link to it. The best thing about the Zoho docs is that it easily takes most of your work on the automation mode. Usually, people like to use that documentation file which will help them do the job the easiest way.
Zoho Docs is quite simple to use and does not make things complicated; you import, export, highlight comments, share files from the drive, dropbox and many other cloud platforms. You can start a group chat among your teammates, share your opinion about the respective work, and get more insights. You can protect your Zoho docs with a password, and it will be safe.
Features of Zoho Docs:
Integration with tons of cloud platforms.
It comes with 5GB of free storage.
Store, share and manage every business docs in one place.
Share your files privately in the most secure way.
---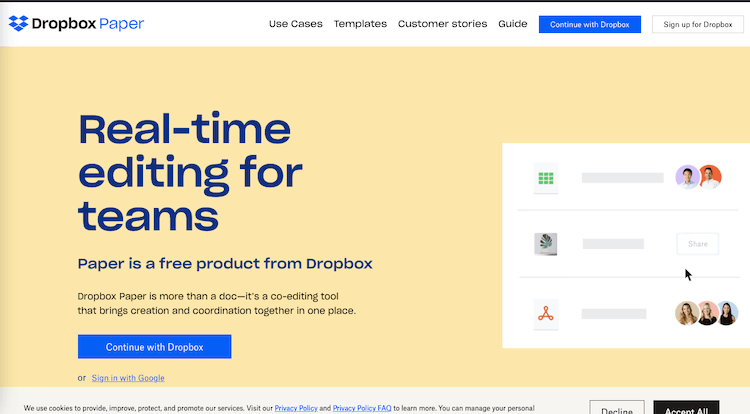 If you like to use an enriched documentation platform or tool, you should go with dropbox paper without any hesitation. Here you can share any media content, whether it's youtube videos, social media posts or anything, and still, the docs will not look bad at all. The developers behind it have given importance to the design, and that's why it never lets you feel down. You can share the documentation with just one click and add as many people as you want to the list.
You can start customizing or having the poll, chat, or anything that makes you and your teammates happy. Dropbox paper lets you mention other people with @, and it will pop up on their feed immediately that someone has mentioned their name to the docs. Dropbox has added some funny and unique types of stickers and emojis, which are more interesting than ever before.
Features of Dropbox Paper:
Powerful and lightweight documentation tool.
It's good for collaborating with fewer people.
Share funny stickers, emojis in the chat.
Share every type of content, images, video, sound etc.
---
Conclusion
So these are the various document collaboration tools that you can use to create and share the work and make things easier. Usually, we don't give much importance to these things, but they matter the most when you want to increase productivity and focus on getting things done quickly. If you have any doubts or questions regarding the usability, then shoot us a comment down below.