The way technology has grown in the last couple of years, it's uncertain how things will be in the future. If you are running a business online or getting a website on which you provide something valuable, you know the payment gateways have also changed because of bitcoin. The way cryptocurrency managed to grab people's attention is quite surprising, and you, as a website owner, should try to build a system to accept the cryptocurrency in the form of payments.
There are tons of different ways through which you can integrate cryptocurrency as payment gateways. However, if you have never used any of them or know quite a little, then you are at the correct place. Because in this blog post, I decided to review the top 5 ways for accepting cryptocurrencies on the website, and it would help you make the right decision for sure.
Best Methods to Aceept Cryptocurrency on the Websites
Even though there are tons of options to choose from when you are trying to integrate cryptocurrency as a payment option on your website. Here I have picked the top ones and reviewed them.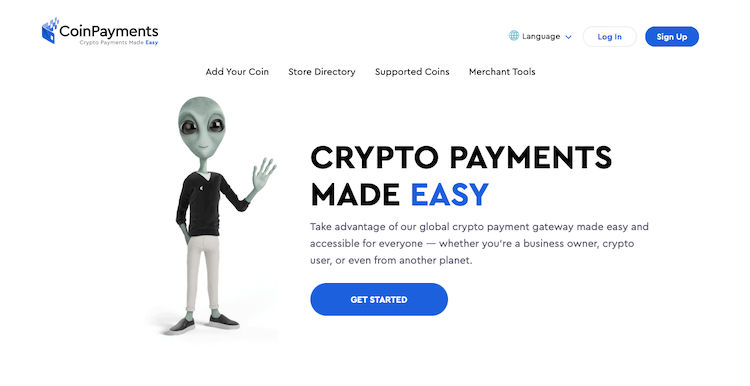 Coinpayments is one of the best and famous cryptocurrency payment gateways used by thousands of merchants online. Their payment system offers you access to cryptocurrencies in various forms. So whether it's bitcoin, ripple, bitcoin or any other cryptocurrencies, the customers can pay through any of them and do the transaction correctly. The safe and secured connection between the user's servers and the merchants is what makes them special; when you are with the copayments, nothing can go wrong for sure.
Even for the high volume of transactions, their commission rate is quite low and fixed at just 0.5% per transaction. Their technical support staff system is always there to help us to resolve any issues being faced while getting the payment in the form of cryptocurrencies. The simple and neat user interface provided by the coinpayments also helps customers to use the platform easily.
Features of Coinpayments:
It supports more than 1200 cryptocurrencies.
It allows airdrop of all new types of crypto coins.
GAP600 allows customers to make payments faster.
Multiple coin wallets are supported.
Automatic and fast process of coin conversion.
---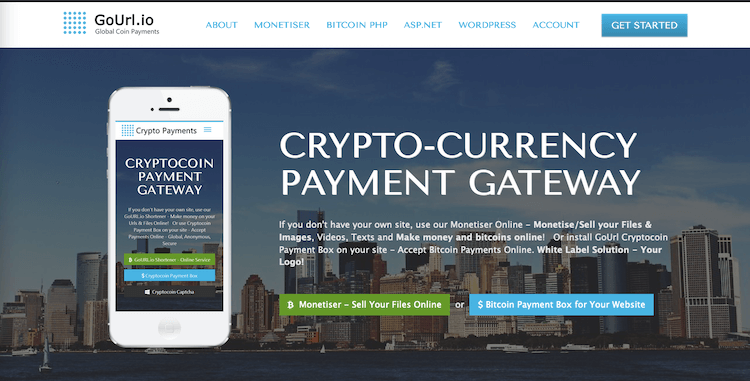 GoURL is getting quite famous among the merchants trying to integrate their business with cryptocurrency payment gateways. This is because GoURL works with Bitcoin and many other cryptocurrencies, you need to integrate their system on the websites, and you will receive the money directly from your bank account. The reason why bitcoin users love GoURL is that it offers the highest level of anonymity, in which every detail of the user is protected. Furthermore, you can use the WordPress plugin of GOURL to handle everything, and that's quite easy from a website owner's point of view.
GoURL offers customers a clear payment breakdown, making the payment of various cryptocurrencies in a matter of a few seconds. Customers love fast, secured payment gateway, and GOURL offers everything to them for sure. The fees of GoURL are relatively higher since they are charging a 1.5% commission on each transaction. But considering its usability, it's worth every single penny for sure.
Features of Gourl:
It supports multiple cryptocurrencies.
It provides a fast, secured connection for payment.
It allows merchants to set up 1-click payments using Monetiser online.
The wordpress plugin is highly useful and easy to operate.
---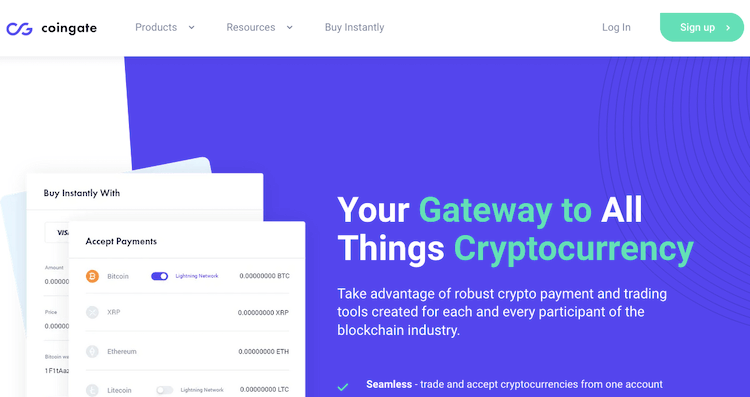 If you look at the history of cryptocurrency payments, then coingate started its operations back in 2014. The company is a renowned cryptocurrency payment gateway system that has been in the market for quite a long time. Many merchants use CoinGate online to accept payments in the form of cryptocurrencies, and that's the beauty of it. A few years ago, the company found Lightning Network as the solution for crypto network scaling issues. Your website has a lot of volume of transactions every single day, so coin gate is the best option for you.
It supports multiple cryptocurrencies such as bitcoin, ripple, ethereum, etc. Their smartphone application comes quite handy and you can do everything through that single app easily also. Coingate offers users tons of plugins, which you can use to incorporate the payment gateway most easily. Coingate charges a 1% commission on all the tops of transactions, and relatively the transaction speed is average compared to other payment gateways.
Features of Coingate:
Multiple plugins are available for the wordpress website.
It supports multiple user facilities.
Various types of POS applications are available for various smartphone users.
It supports multiple cryptocurrencies.
---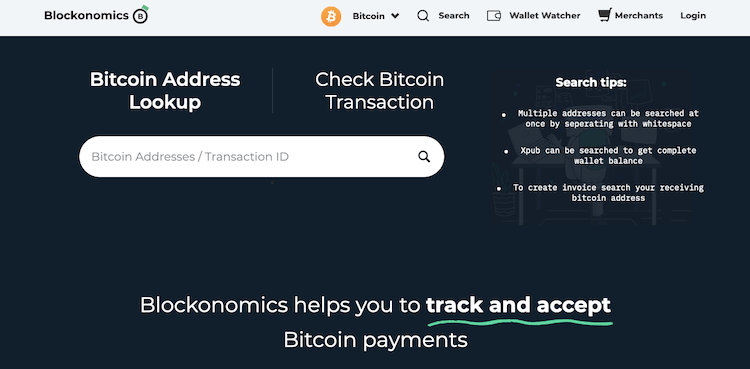 There are very few new bitcoin payment gateways that truly provide the worth of every single penny you spend on it, and Blockonomics is one of them for sure. This payment gateway lets users integrate Bitcoin and other cryptocurrencies on your WordPress, helping customers pay instantly for any transaction. Their backend mechanism is quite strong and responsive since you will not face any issues while dealing with a high volume of transactions. Blocknomics creates instant invoices for each bitcoin payment done by the customers and sends them when the transaction is completed.
The wallet watcher feature in this system helps you track multiple wallets and addresses. Their support system is covered across every part of the world. Highly trained technicians are in the backend who will handle every single issue if you face it. Integrate with the available plugin and start using it on your website quickly to access Bitcoin and other types of cryptocurrencies in the form of payments.
Features of Blockonomics:
It supports Bitcoin and other cryptocurrencies.
Automatically generates invoices for each Bitcoin transaction.
Each online sale will be deposited directly into the account.
Check Bitcoin history and use wallet watchers to optimize the platform.
---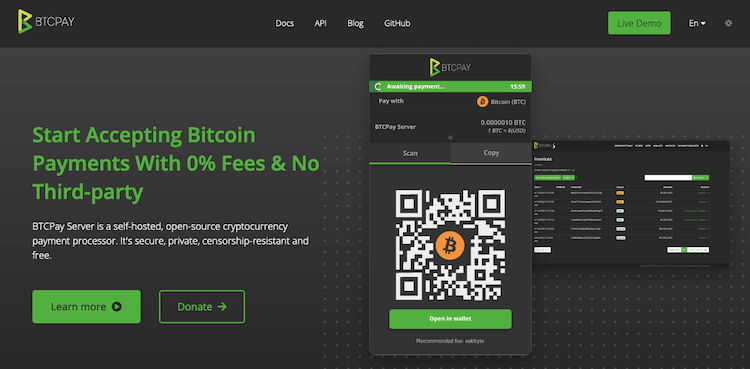 They are charging the lowest commission rate literally on each bitcoin transaction happening on your website. You can integrate cryptocurrency payment using the self-hosted or shared server and launch a payment gateway on your website instantly. You can control it using the smartphone application or through the WordPress plugin; everything is quite easy to use further. The native wallet management lets you manage the invoking and outgoing of funds and optimize it further.
The in-built system of the btcpayserver.org is created so that it will automatically create invoices with each cryptocurrency transaction that's made on your website. It helps you to track down important financial data and use it for various auditing purposes also. You can also create a point of sale app for your store and embed a tipping button on the website. In a nutshell, btcpayserver is the best option for every new merchant who has never dealt with cryptocurrencies before.
Features of Btcpayserver:
Easy to integrate on the website and manage it.
Manage BTCpay server through API automation.
Generate automatic invoices for each bitcoin transaction.
It's secure, private and offers anonymity.
---
Conclusion
So these are the various cryptocurrency payment gateways that you use on the website to accept money from your customers. Even though the market is filled with tons of payment gateways for cryptocurrency, the ones mentioned above are tested and relatively more reliable.