If there is one thing that I have learned in this pandemic, then it's picking up the best software to conduct the various types of visual meetings. Since my business went online, especially during the pandemic, I had to use various video conferencing meetings. At first, Zoom was the best and most prioritized application I used for every meeting. I am sure you are also one of those guys who are constantly using only Zoom to conduct any meeting.
However, if you want to try some different alternatives, this is the best post. Because I have used plenty of video conferencing software, I shortlisted some of them that will surely help you pick the best one.
List of Best Zoom Alternatives Software
Since there are tons of alternatives to pick for Zoom meetings, here I have shortlisted the top five ones only and reviewed them also.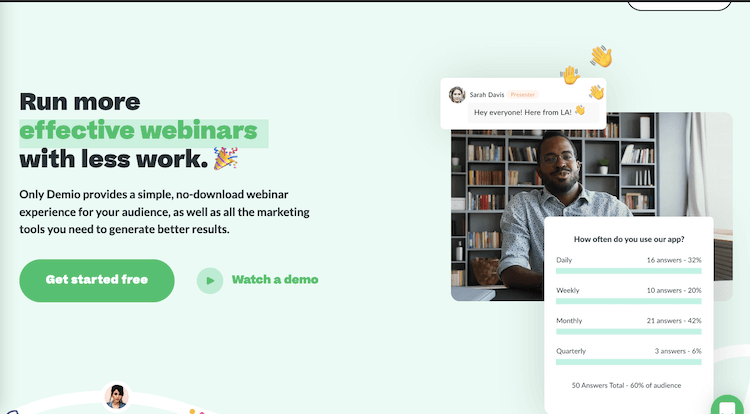 When you are trying to conduct an online webinar or just a formal meeting with many people, which is quite important, then Demio should be your first priority. Because this software has all the essential tools and features that make it the best alternative to Zoom. Very few applications exist that give you tons of customization options, and fortunately, Demio is one of those. Here, you can use the platform to brand the meeting you are conducting, which is the beauty of it. In addition, anyone can chat publicly or privately while the meeting is going on.
You can use the various types of polls options to make sure that members from the web conference can show their own opinion. If you look at the user interface, it's far richer and the best compared to Zoom. You will not feel any downtime issues since the developers behind this great application are working tirelessly to give a rich experience. You can choose the session timings and send the newsletter notification to participants in one go.
Features of Demio:
Use various marketing tools to gain more revenue.
Maintain and expand the network of people.
Event analysis gives insight into the webinar's participants.
Integrate Demio with the tools you are already using.
---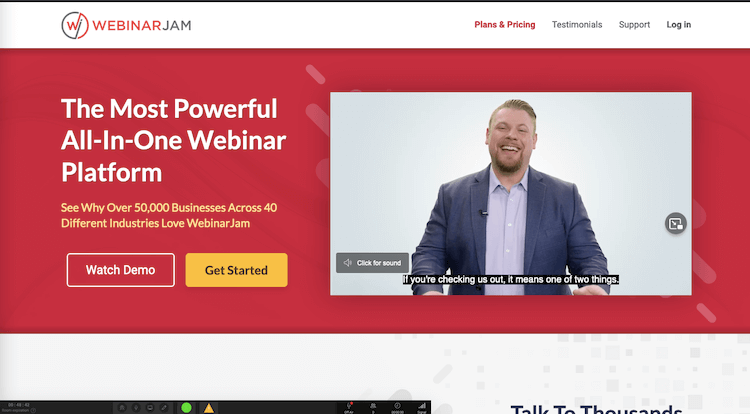 If you want to host a meeting that includes several types and a huge number of people, then Webinarjam is also a great alternative for Zoom. This software has managed to grab the attention of all business owners with its super unique and powerful features that make it usable for hosting any meeting. The user interface is quite slick and simple, which is what we need the most from applications like Webinarjam. You can use the sticky messages, create polls, show various presentations while the webinar is on, and do plenty of other things.
Webinarjam uses cloud-based technology to connect with thousands of people, so there will be no issues of downtime or anything like that. You can add six people as a host and up to 5000 as the attendees of the meeting, and that's why large to medium level enterprises go with this software than Zoom. The video quality is quite superb; you will see a high definition, 30FPS and both audio or video broadcasting through this application.
Features of Webinarjam:
It works for all types of devices.
Works perfect for giving presentation types of webinars.
You can highlight relevant comments and responses.
Live chat and Q&A sessions will be held.
---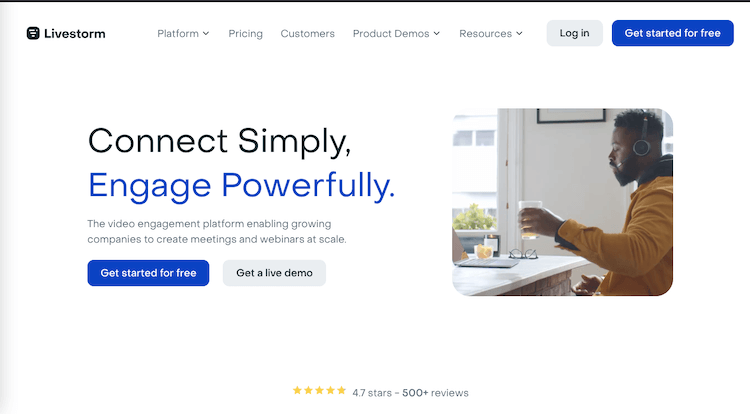 Livestrong lets you create an end-to-end video engagement platform that will be enabled to conduct various types of meetings or webinars. I have seen plenty of platforms use flashy and attractive designs to fetch more customers; livestorm instead went with minimalistic design. Trusted and used by already very big large companies and individual people, Livestrong has managed to grab the customers at a rapid rate. Both audio and video quality are top-notch; you will not see any technical issues while using it for sure.
Connect with the people and truly know what they think about your webinars using the feedback forms and event charts that will give you glimpses of how everything went. Livestorm is the best option to build a strong connection with customers since you can use multiple features for marketing various products also. You can email pages, chat with the audience and integrate other applications to make the best usage.
Features of Livestorm:
It works best for any online meeting.
You can experience powerful video engagement.
Integrate with other tools to get important insight.
Simple to use from a user's point of view.
---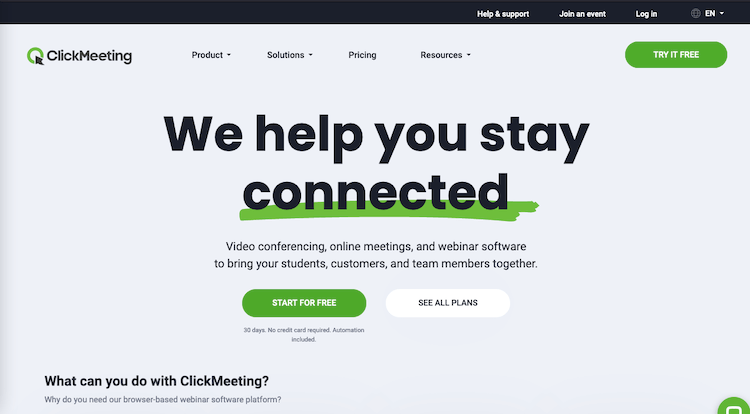 Click meeting is the type of video-conferencing application made to ensure that everyone who is using it gets the benefit from it, especially the host parties. The platform is well suited for those trying to promote their products or services to the largest group of people, which is why it has managed to grab attention so quickly. If you have been using Zoom for quite a long time just for promoting your products online, then it's time to change your choices. Clickmeeting is the best option to host large types of meetings and get the best usage.
Whether you are trying to conduct online classes or courses, everything can be done easily with clickmeeting. Clickmeeting has helped many people scale up their businesses by creating valuable and profitable webinars for various products. You will be amazed to see a great result in the form of various leads generated by using this software. Webinars can be held on demand; there is an option to do various things also.
Features of Clickmeeting:
Host multiple and large types of webinars at one go.
Integrate with multiple third-party tools.
High definition video and audio quality ensured.
Create polls, multiple chat options, and many other features.
---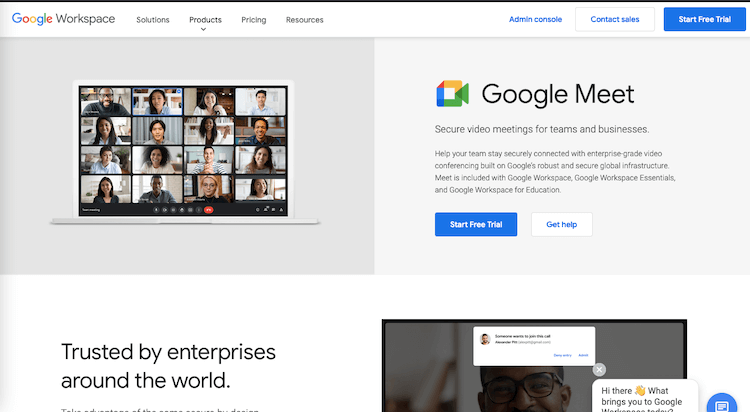 I have always preferred Google Meet over Zoom in each case because this platform gives you a seamless experience of enjoying the various types of meetings and webinars, and that's what you need the most. Google Meet is the best option since it's easy to use, and this platform does not give many technical issues compared to others. Trusted by plenty of people already, you can invite anyone to the ongoing meeting by sharing just a link to the meeting. If you want to create multiple rooms or add more third-party tools, then go with the premium plans, and you can do that also.
Enjoying the frictionless meetings in the highest qualities, and that's why google meet has become the priority for many enterprises, whether it's conducting online courses or the various types of webinars. Since your account will be linked with G drive, you can share any file with just one click. Add as many people as you want as the participants also, anyone can share their screen while the meeting is going on. If you are using Zoom for a long time and want to try something similar yet different in some ways, then go with Google Meet.
Features of Google Meet:
Simple and easy to use.
Upgrade plans and use the premium features.
Seamless and effortless conduct of various webinars.
Secured and p[rotected connection for every device.
High quality of video and audio is ensured.
---
Conclusion
So these are the best zoom meetings alternatives that you can use for conducting the various types of meetings and webinars. If you are the type of person who has always been trying to find the best alternative, then here you go.