Rather than Grammarly, there are many other grammar checking apps out there, which is essential for freelancing work as well as where the typing work is important the grammar checker tool helps out more. Freelancers, utilize it more because they know the benefits of using the grammar checker tool because correct grammar punctuation is in demand now. If you wondering which grammar tool to use to get better results. Give a few moments, to check out these 5 awesome quality grammar checking online tools.
But first, understand why grammar checking is necessary nowadays. There are many advantages such as in schools, business, blogging or if you work in big companies then they want a proper presentation and if using complex words then the correct grammar spellings are played vital role, And for also finding new words freelancer refers to use this type of tool.
Best Website to Check English Grammar
In that type of freelancing work environment, grammar checker applications become a more efficient program. They also work as plagiarism checkers and spell-checkers if you have used the actual word but in the wrong way then they correct it automatically. It saves you time by doing editing in each and every word of your content. So let's jump to the main points.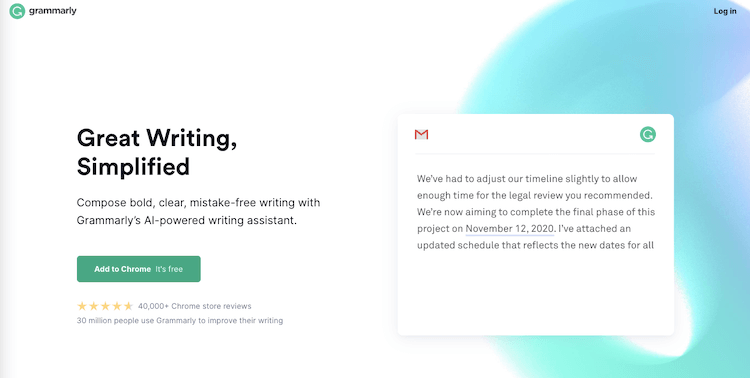 Everyone knows about the Grammarly tool is a well-known grammar checker apps out there, we also see many advertisements for it on online platforms like youtube and other sites. But actually, does it deserve the first position?
If you would like to buy the premium version of Grammarly if you would like more advanced features like the ability to detect passive abuse and checking for more good pronouncing words with powerful word correction by checking unlimited plagiarism then the premium version is best for your freelancing work. Otherwise, for normal use free version also offers a powerful range of features. If you are a beginner then it solves half of the Grammarly problems.
For the initial purpose of your blogging journey, You can start with the Grammarly website just copy and paste your words, and it will indicate the wrong wording with a red underline. Hover your mouse and simply correct those wordings. If you want to use Grammarly on daily basis the add a Chrome plugin or Microsoft Office download.
Grammarly isn't only an excellent option for checking your grammar and spelling well, but also to find out why something has been done wrong. And the best part is it easily integrates with Google Chrome, Google docs, sheets Microsoft Office, and Outlook. So if we're composing emails and doing messages, it informs you about your mistakes by checking documents.
Pros
Often The free version is enough for freelancing work.
The outcome is very accurate.
Most reliable and trusted among other grammar checker tools.
Cons
Not many cons but the premium version of Grammarly is somehow more costly.
---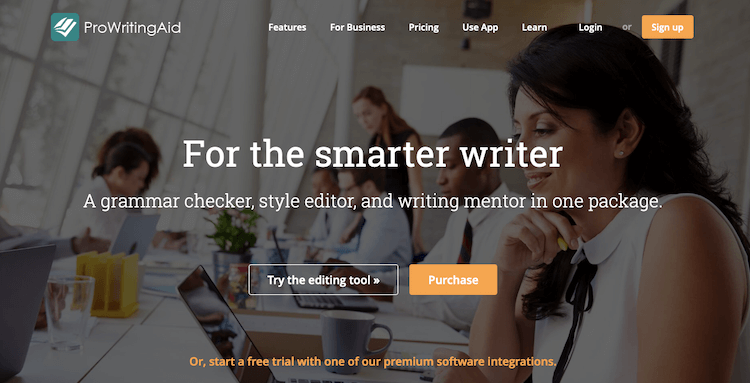 ProWritingAid is one of the most accurate grammar checkers programs. Rather than grammar and spelling it also corrects punctuation, and elegance issues, and provides in-depth feedback on your writing. This one is also the best choice for Fiverr and Upwork freelancers.
In ProWritingAid 20% link associated with code. Plus it is very convenient to use and easily connects with every device you want.
The web-based Prowriting editor is doing awesome without installing any software and extension, you can utilize it. And for Windows or Mac Prowriting has separate apps. You can also use the Prowriting extensions for popular browsers like Chrome, Safari, and Firefox. I personally tested the Prowriting Chrome extension it's very simple to use. And for improving your standard of writing it shows reports from time to time.
You will read their suggestions which work for you. What is better, however, the ProWritingAid Premium Edition has no limitations or word count restrictions. So you will virtually copy and paste the most important docs you have received and there should be no problem at all.
Pros
Offered a lifetime membership at an affordable price.
Integration with Scrapper is out there.
Plus provides many reports and self-editing to make your content precious.
Cons
There is a limit to 500 words in a free version of the Prowriting Aid online tool.
There is no monthly version. You want to commit to a year.
There are currently no mobile app versions available for iOS or Android.
---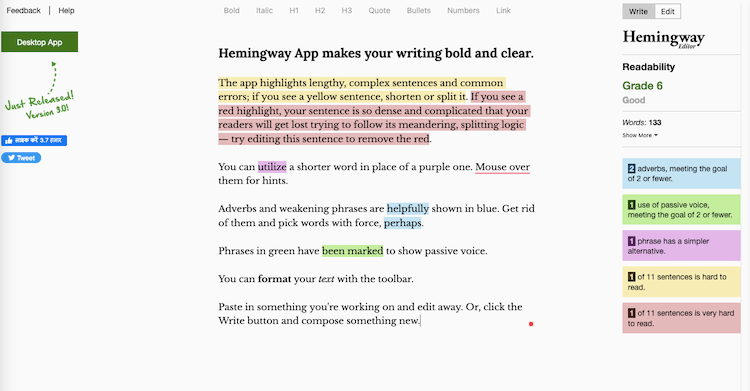 If you use more complex wordings, with long sentences then The Hemingway editor app will help you to improve your writing by exposing common errors spontaneously in your text to make it clearer. If you were writing content for a blog or youtube then Hemingway helps you a lot.
Hemingway labels your text by using different colors so easy to find out the flag complex sentences like for readable content ( It uses amber ) or for too hard to read ( It uses plum ). And for excessive adverbs, passive voice and complex phrases Hemingway uses the green, blue and purple colors respectively. If you are thinking to use it, there is a one-time fee of $ 19.99 for windows and Mac, both users.
Pros
The online version is free
The paid version is cheap, no monthly subscription
Powerful grammar and style checker
Alerts you the level of reading for your writing
Supplements for other devices you can use
Cons
Less features No plagiarist
And No translator option
No any inbuilt dictionary
---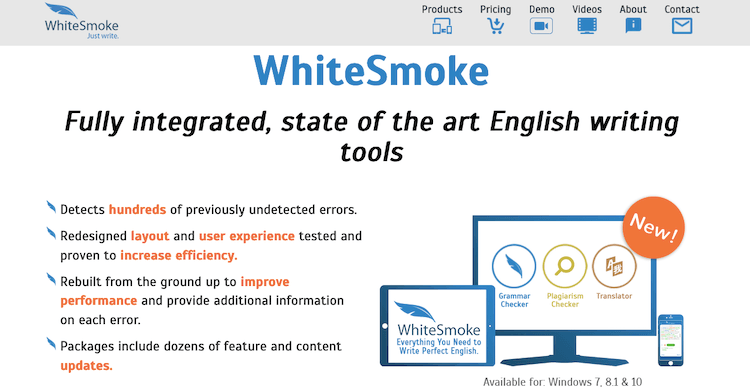 Whitesmoke is a comprehensive writing tool because you can connect with any device which is important for freelancers. It also helps you to enhance your sentence structure there are many languages available which check grammar with very narrow results. And for uniqueness, you can use the Whitesmoke plagiarism tool as well. Which is bundled with the premium plan. You can buy an annual license and share it with many members.
Pros
In premium version supports more than 50 languages and an automatic translation also works.
When you make an account you get 500 credits for plagiarism checker.
There are over 100 document templates available with paid versions.
But before starting read their "how to write" section for free, and also check many different types of documents available on their blog.
Cons
The free version is available only on the web platform and supports only 250 characters as of now.
The chrome extension "Free Whitesmock Toolbar" is doesn't available on their website. You need to download it from outsource.
The free version is limited with only the web version for use in all formats you need to purchase a premium subscription to the Whitesmoke tool.
If you decide to buy there is only an annual subscription that offers no monthly support.
---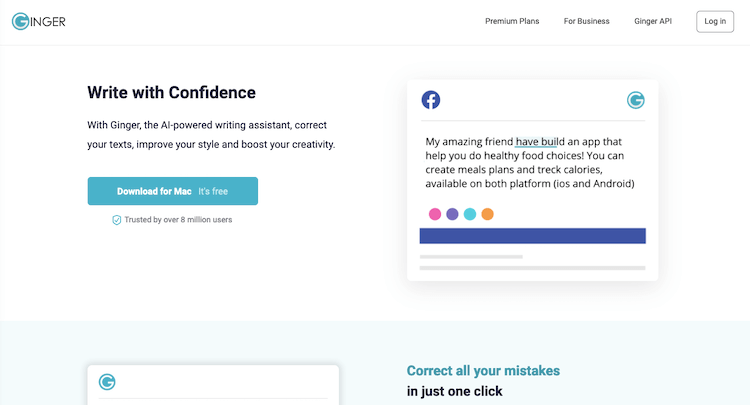 Ginger is also the best alternate option in this category. This grammar checking tool can do proofread and able to scan your entire work With a very huge range of writing errors. Such errors include grammatical, punctuation, sentence structure, spelling checking, and style errors.
If you add an extension This tool can easily find out the errors in your emails, texts, and social media posts, and provides correct wording based on your writing skills with a personalized practice session, For the next time, it works like AI and addressing your weak points and inform you by giving good feedback about why it goes wrong.
Pros
Supports translation in more than 60 different languages.
In the free version, you can do many tasks like see dictionary, editing window with translations, and text reader as well.
If you subscribe to Ginger Premium then you will get Personal Trainer with personal practice sessions
Cons
Still, there is no option to integrate with Google Docs.
If you only work through your text then Ginger is not handy to use.
The free version of ginger comes up with limited feedback and word suggestions.
Currently, it's only compatible with only windows. So the Mac user can't take advantage of ginger as of now.
---
Conclusion
There are many grammar checker online tools are available on the internet for freelancers that allow you to see your grammar error, punctuation, plagiarism, and many other features they offer. Some of them are free with some limited wording. So just visit their official website and checkout. The Top 5 tools which I mentioned above are the all-time favorite of many users. Just Copy and paste your text for analysis and the rest of the work will be tool by the grammar checking tool itself. Hope you like this review feel free to comment if you have any question about how to use the tool.