If you are looking for a Temporary email creator then you are in the right place. In this article, I will share the best temp mail app to create Disposable Temporary Email addresses from Android mobile. Yes! you heard right. Now You can use your android as a fake email generator to make a temporary email id for email verification purpose.
If you don't have an Android device to use the temp mail Android app then you can use fake email generator sites to get a random temporary email address to use in Facebook, Twitter and others. It's really the best way to get an email address without signup you can easily create an unlimited email id in a second.
There are many temporary email generator app on the PlayStore. But the problem is to find out which temp mail is the best one to send and receive mail. (Only some temp mail provides temporary email send to anyone.) . On the temp mail app, Only you have to enter the fake name which you want to make a fake email for verification. That's it! It will generate a random email id.
Temporary Email Address Creator App
Below is the best temporary mail generator app for your Android phone. Why wait? Let's download from Google Play Store and generate a fake email address.
#1. Temp Mail – Temporary Email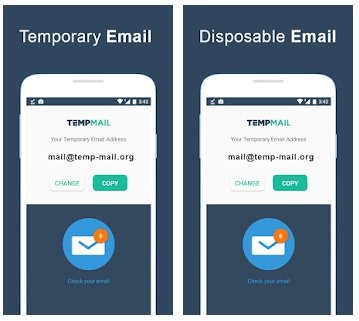 Temp mail is the most popular app for temporary & disposable email address. You can install the temp mail app on your smartphone. It provides. temporary, anonymous disposable email address for free. Temp-mail is similar to 10minutemail, mailinator, tempmail, throwawaymail, guerrillamail etc.
Also Read: Top 5 Best Disposable Temporary & Fake Email Generator Online
#2. Guerrilla Mail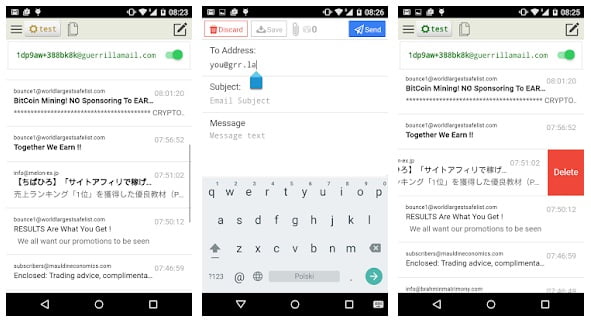 Guerrilla Mail is a famous disposable email address provider. It's really a very useful app to create a temporary email id and send it to whomever you don't trust. You can also use this to send email from the temp mail application.
#3. SpamBox – Anonymous Temp Email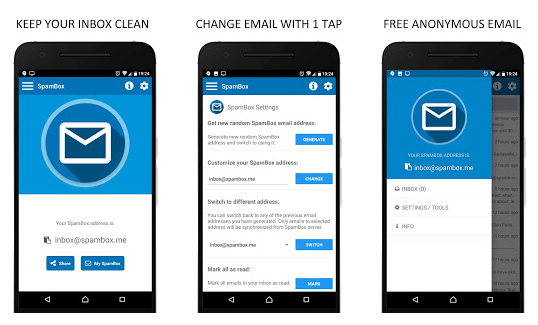 spambox app is similar to temp mail & guerrilla mail. If you want to keep your personal email inbox clean then you must use this app. Let's use the spam box app to get a real email address without signup.
Also Read: Top 5 Free Web Hosting provider to Host Own Domain
#4. Temp Emails – Temporary & Disposable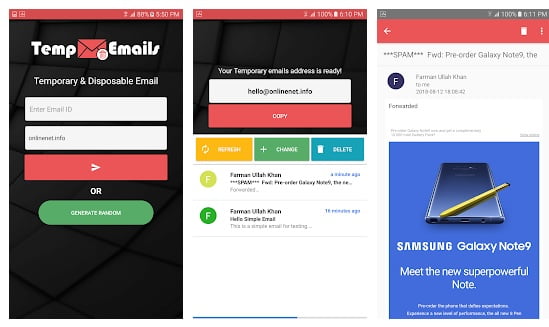 TempEmails is a free temporary & disposable email creator app that help you to manage how and when to receive certain messages via email. You can easily create an anonymous and temporary email generator.
#5. NoMail: Temporary Inbox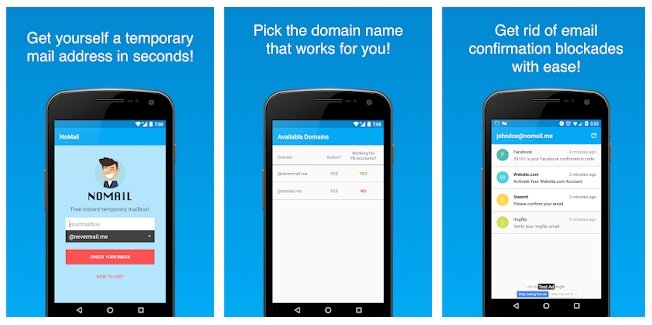 Nomail gives unlimited email id without signup or login. It provides a @nevermail.me or @momail.me type email extension. It's completely free.
Conclusion
So, These were the best app to create a temporary and disposable email address. Now, It's your time to tell us which is your favourite disposable email addresses creator.
If you like this please do share this with your friends on Social media.